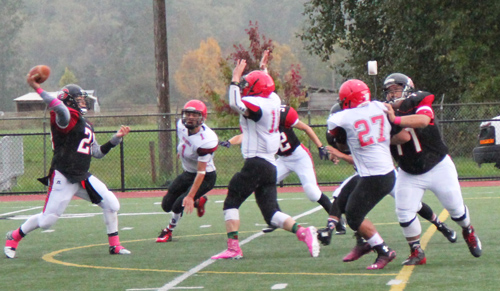 by Micheal Rios, Tulalip News
Coming off their first win of the season, a 78-48 victory over Crescent High School, the Tulalip Heritage Hawks (1-3) were looking forward to a competitive game against one of their rivals, the Neah Bay Red Devils (3-0). The Red Devils are the back-to-back WA State 1B champions, currently ranked #32 in the nation, and ranked #1 in the state. The Red Devils have been destroying teams by an average margin of 37 points per game and appear prime to repeat again as 1B champions.
The game was played at Quil Ceda stadium on Saturday, October 10, where clouds opened up to rain showers just before kick-off.
On the opening kick-off the Red Devils scored on an 87-yard kick return, completed the 2-point conversions, and took an 8-0 lead over Tulalip Heritage less than 15 seconds into the game. On the Hawks ensuing possession they went 3 and out, but their 4th down punt attempt went awry as the snap was low and the ball was fumbled. The Red Devils took over on downs at the Hawks 22-yard line and on 1st down scored an easy touchdown to take a 14-0 lead.
It would be that kind of day for the Hawks, as the Red Devils were just too good, took advantage of every Hawks miscue, and continued to pile on the points.
Down 0-44 with 90 seconds left in the 1st quarter the Hawks got on the board. From their own 45-yard line, quarterback Willy Enick dropped back and connected to Robert Miles on a 15-yard throw. Miles shed a would-be tackler and was off to the races for a 55-yard touchdown.
The Red Devils would add another touchdown right before the end of the 1st quarter, giving them a 50-6 lead over the home team after the opening quarter.
Early in the 2nd quarter Willy Enick again connected with wide receiver Robert Miles for a 74-yard catch and run touchdown for the Hawks. This time it was a well-timed throw by Enick that caught Miles in stride and led him past the Red Devils secondary for the score. The 12-50 score was the closest the Hawks would get unfortunately.
The Hawks would be held scoreless for the remainder of the game and would go on to lose 12-72. It was definitely a humbling experience for the home team who with the loss now sit at 1-4 on the season. Next up is an away game at Clallam Bay on Friday, October 23.