Fry bread is an incredibly popular food; everyone who tried them loves them. You might love it, but did you know it originated in a painful way?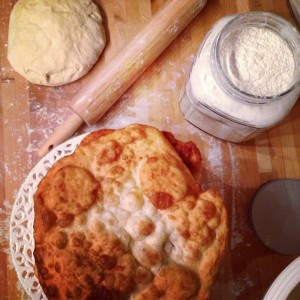 Source: Native American Encyclopedia
If you have ever attended a Native American PowWow you have probably noticed vendors selling a large doughy piece of bread called fry bread. Fry bread is an incredibly popular food, very much like an unsweetened funnel cake. American Indian fry bread might seem like a traditional food but it originated in a painful way. The most helpful hint that you can be given about Native American fry bread is to understand how and why this food came about. Native American fry bread may be a symbol of their culture. However, its beginning was steeped in tragedy.
History
Fry bread was first made approximately 144 years ago after the United States forced the Navajo to complete the "Long Walk," which was a 300 mile walk where many people lost their lives. These Navajo people were moved to a land that was not fertile for traditional vegetables and beans. They were then forced to live on government canned goods: flour, sugar, salt, baking powder, powdered milk and lard. The Navajo people began using what they had and they created fry bread. Fry bread became a symbol of their survival and is always present at PowWows.
Ingredients
Fry bread is made from very simple ingredients. In order to make a dozen fry breads you will need: 2 cups sifted flour, 2 teaspoons baking powder, 1/2 teaspoon salt, 1 tablespoon shortening, approximately 1 cup water, and approximately one cup of oil. The recipe, as well as the style of cooking, has remain unchanged.
Preparation
First sift the flour, baking powder and salt together. Then add the shortening — a helpful hint is to use a pastry blender which will help incorporate the wet and dry ingredients. If you don't have a pastry blender use butter knives. The next step is important, add just enough water to make a soft dough. If you add too much your dough won't have the right consistency. Knead dough until smooth. Roll dough into small balls. Cover dough with a damp towel for ten minutes. Roll the ball in your hands until each ball flattens into a 4-inch round discs. It is important that you cook the dough in a skillet to keep the right texture of fry bread. Pour oil in the skillet and heat, ensure that you have at least an 1 inch of hot oil. Fry each round of dough until it becomes a light golden brown, turn it over once. The bread will puff up as it fries. Drain the fry bread on a paper towel when it's done.
Serving
Fry bread is delicious by itself or you could serve it a multitude of ways. Drizzle the fry bread with a tiny bit of honey and powdered sugar or just add a little bit of jam. Many people cut a slit through the fry bread and stuff it with different foods including ground beef and beans. Another traditional recipe is the Indian Taco, the fry bread replaces the corn tortilla of a traditional taco. Fry bread is a very good bread but you should be mindful of what you are eating. Remember that this food is a story of resiliency and survival .