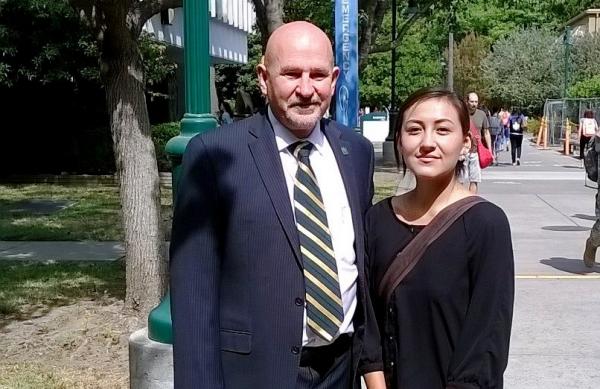 One week after 19-year-old Native American student Chiitaanibah Johnsonof California State University, Sacramento says she was disenrolled from her U.S. History class for disagreeing with her professor over the existence of Native American genocide, Johnson and her family met with Sacramento State President Robert S. Nelsen to discuss the matter. Though Johnson and her family say the meeting was cordial and sincere, they feel disappointed and say they fear neither the school nor the president will be taking any action that will satisfactorily address their concerns.
President Nelsen agreed to meet on Thursday with Johnson as well as her mother, Martina Johnson, father Kurt Johnson and Cindy La Marr (Pit River and Paiute), Executive Director of Capitol Area Indian Resources, Inc.in Sacramento, an organization that advocates for the academic and cultural rights of American Indian students. Nelsen told the family and the University has told ICTMN in an email that the President will also be meeting with Professor Maury Wiseman, the professor involved in the matter, at a later time.
READ MORE: History Professor Denies Native Genocide: Native Student Disagreed, Then Says Professor Expelled Her From Course 
Sac State History Dept Tweets – "Student Not Disenrolled"
Sac State and Native Student Seek 'Positive Resolution' on Native Genocide Class Disenrollment Issue
Johnson says she was comforted by the meeting's informality but fears a viable solution may never happen. "The president was respectful, open and I didn't expect it to be just him," she said. "I thought someone would be recording it or there would possibly be a lawyer present, but there wasn't.
"But when we pressed for a solution," says Johnson, "the president told me that his hands were basically tied. I thought at least the professor's class might be monitored or evaluated on some level. But the professor is still teaching and going on with his class."
Cindy La Marr, who has worked with public schools and universities for many years for the benefit of Indian country, says she was not as impressed by Nelsen's cordial demeanor. She told ICTMN that some of Nelsen's proposed solutions were not sufficient. La Marr said Nelsen told them about a proposed University 'California Native American Day,' on September 25th that would hold seminars on Native Americans. "I asked if the instructor would be required to attend this, and he said, 'No.'"
La Marr says that when she and the family asked if there was going to be any disciplinary action against the professor, President Nelsen said Professor Wiseman was protected by his faculty's labor union. "I asked if there was a vetting process for hiring part-time adjunct faculty and he said he did not know," Lamar told ICTMN. "He said he was new and there were binders full of policies that protected faculty that he had not reviewed. I asked if part-time adjunct instructors were protected by faculty labor unions. He said, 'Yes.'"
La Marr says after the Johnson family's repeated attempts to ask if the professor would be disciplined were deflected, they decided to leave. "I continually asked, 'What is your plan?'" Martina Johnson said. "The President just told us, 'It is out of my hands.'"
In addition to speaking to ICTMN, student Chiitaanibah Johnson also issued a written statement addressing her thoughts on the meeting.
The President was fair, open and welcoming in hearing my concerns. I appreciated his candor regarding the bureaucratic and regulatory restrictions his office is subject to with regards to the limited actions he is allowed to take with regards to the issues at hand.
However, I am particularly concerned that while CSU-Sacramento officials are working to transfer me into another course, Professor Wiseman, under protection of the faculty teacher's union and legal team, is still teaching under no observation or supervision while under investigation and that curriculum changes to actually address GENOCIDE are even less likely. 
Having met with the CSU-Sacramento President, a fair and reasonable resolution to these issues appears unlikely within the current bureaucratic bounds of the university.
There are three very important points we want to make very clear:
·         Genocide is and always has been wrong.
·         Teaching otherwise is wrong.
·         Instructors demonstrating such lack of academic rigor and acting in a manner both aggressive and intimidating manner of stifling student questioning should be held accountable in a manner both fair and timely.
Chiitaanibah Johnson's father Kurt Johnson added to his daughter's remarks and told ICTMN, "The professor's statements were a product of a direct lack of academic rigor. Academic freedom does not preclude academic responsibility."
ICTMN has reached out to Sacramento State regarding the meeting. University spokesperson Elisa Smith replied in an email with the following statement:
President Nelsen had an extensive, fact-gathering meeting with Ms. Johnson and her family as he attempts to achieve a positive resolution in this matter.  He also is meeting with Prof. Wiseman.
As the fact-finding continues, and because this is an ongoing personnel matter, we cannot comment further at this time.
In the meantime, President Nelsen's message to the campus earlier this week speaks for itself:
We at the University believe in academic freedom, and we also believe in civility and rigorous academic research. Our standards must be high, and we must follow the processes that we have put in place to ensure that the rights of students and faculty are protected.
Johnson says when she first returned to the school after the incident, she felt as if people were looking her way but not overtly staring or being intrusive. Though she says she is disappointed in the outcome thus far, she is encouraged by the outpouring of support from Indian country.
"It is what it is. I had no idea what to expect based on what happened but I told myself not to be not to set on the idea that the professor would be reprimanded," she says. "I thought they might make him apologize or something else. The president basically said his hands were tied and there was only so much he could do.
"I feel unresolved about the issue.  But my mom says, 'There are Indian people all over the country that are supporting you because they know the truth and they know you stood up for them.'
"There is a conversation now," says Johnson. "And people are talking about whether genocide has happened. My father said something that really affected me. He said, 'Even if nothing else happens, the circulation of this story and the effects on conversations across the country are more than my own grandfather could have done.' If I had done something like this back then, it could have gotten me killed. But here I am.
"I didn't realize how good having the blessing of so many Indian people would feel. I've only known the natives of the outer rings of my family or in college, but I've never felt so connected to Indian country."
Read more at 
http://indiancountrytodaymedianetwork.com/2015/09/12/native-student-and-family-disappointed-after-meeting-university-president-re-native