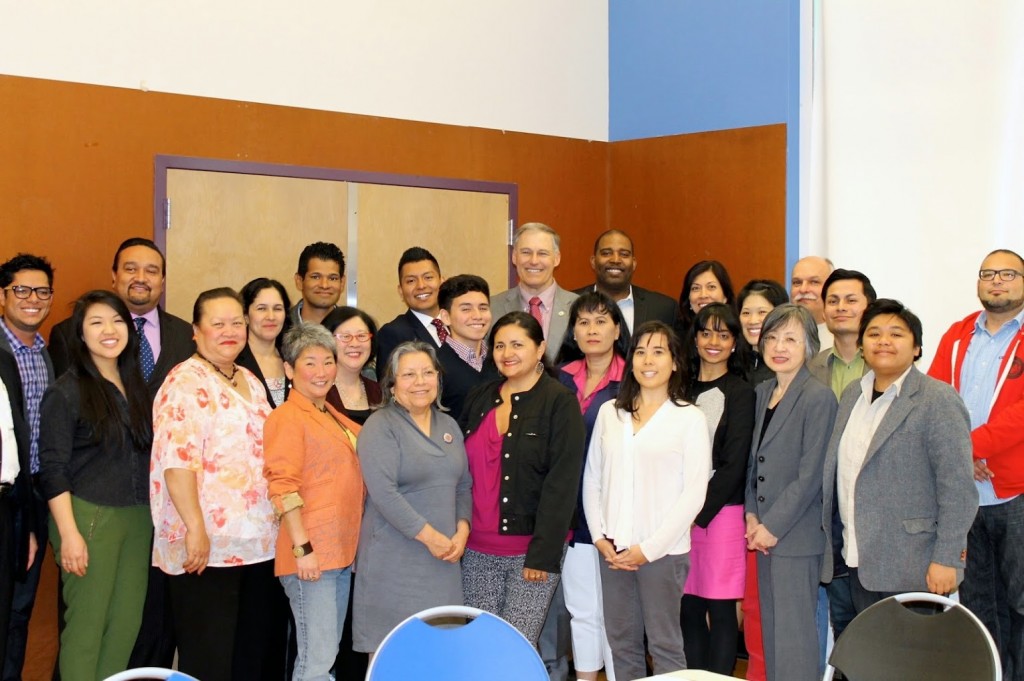 By Daryl Williams, Tulalip Tribes Natural Resources
Tulalip was invited by the Communities of Color for Climate Justice Organization to meet with Governor Jay Inslee on April 10th to discuss climate change issues affecting air quality, clean energy and transportation.
The Governor talked about his Cap & Trade bill which would limit the amount of carbon air emissions that could be released into the atmosphere within this state.  The bill has broad popular support, but the Governor is struggling to get it through the legislature.
He has introduced legislation to help encourage development of clean energy projects that would allow the State to shut down the last remaining coal energy facility within the State of Washington.
He has introduced bills to encourage the use of electric vehicles to help reduce automotive emissions and to set a low carbon fuel standard.
He admits that all of the bills need work to address the issues in a way that they can be agreed to by the state legislature and meet the needs of the people in the State of Washington.
People of color are hit harder than the rest of the population from the impacts of climate change, especially air quality.  We have areas in the  state with a high prevalence of asthma to air quality issues related to carbon emissions.  The Governor used an area along the Duwamish River as an example.
Some of the people in the room were asking for a new State Environmental Justice Advisory Board to be created like several other states have done.  The advisory board could review issues concerning air quality, transportation and other environmental issues and their effects on economically disadvantaged communities.  The Governor did not seem to be very open to the idea due to the State trying to reduce the number of advisory boards and commissions the state has, but thought that the duties may be wrapped into an existing advisory board.
Some of the other people in the room would also like to make voter registration easier.  One state automatically registers people to vote when they obtain their drivers licenses.
Even though the meeting was on climate change issues, we also talked for a few minutes about the states proposed new water quality standards based on higher fish consumption rates, but increasing the cancer risk rate at the same time.  The Governor thinks that increasing the cancer risk rate can be mitigated by his bill for reducing the amount of toxics released in to the environment.  The water quality standards do not include many toxins that are released through various industrial processes and used in manufacturing.  The governors bill would have helped to reduce the usage or eliminate their uses altogether.  But there are hundreds of such chemicals in existence today with more developed every year and the bill would have only address a few each year.  The bill failed to pass the legislature this session.