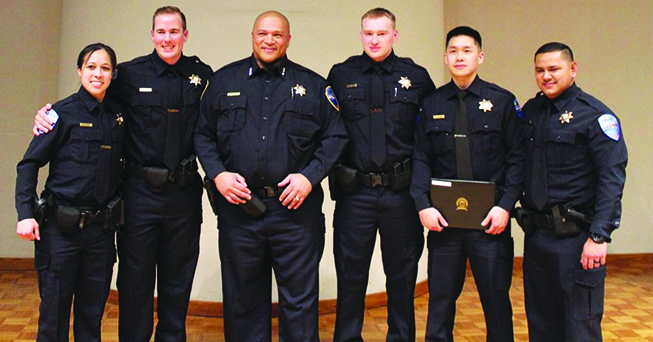 By Kalvin Valdillez, Tulalip News
Thirty new police cadets graduated from the Washington State Criminal Justice Training Commission's Basic Law Enforcement Academy (BLEA) on March 15, officially becoming police officers. The graduating class, known as class 763, consisted of recruits from numerous police departments across the state. Among the graduates of class 763, were Officers Aissa Kline, Frankie Fernandez, Forrest Hutter, Haison Doung and Alexander Nelson of the Tulalip Police Department (TPD).
"I'm sure a lot of you have been told by family and friends that this probably isn't the best time to become an officer of the law, but I have to say now is the perfect time," expressed BLEA TAC (Trainer, Advisor, Counselor) Officer, Steven Grossfeld to the graduates. "Now more than ever, we need good officers who will use their best judgment during every interaction and bravely protect the citizens of their communities."
The training is a 720-hour, twenty-week course, which takes place at the BLEA campus in Burien. During the course, recruits learn about criminal law and procedures, traffic enforcement, cultural awareness, communication skills, emergency vehicle operations, firearms, crisis intervention, patrol procedures, criminal investigations and defensive tactics to provide safe and effective law enforcement services.
"The course overall was a great experience," says BLEA Graduate and new TPD Officer, Frankie Fernandez. "I'm glad I attended because you learn both academically and physically and get the best of both worlds."
TPD had the largest number of recruits in the graduating class and are expecting even more graduates in upcoming months from both the BLEA as well as an academy in New Mexico.
"There were five of us total in class 763," states Officer Aissa Kline. "I'm glad we were able to share this experience together, it brought us closer definitely. I look forward to working with them side by side while serving our community."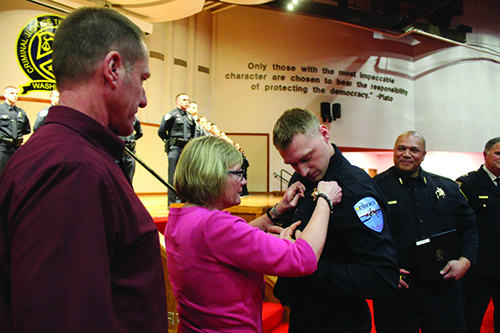 The TPD graduates received their certificates from Interim Tulalip Police Chief Sherman Pruitt and their families had the honor of presenting and pinning the official TPD badges.
"I'm really proud of them," Chief Pruitt beamed. "One of the things I always say to them is represent TPD with pride. All five of them took care of one another because at TPD we're a family. This is no joke; the academy is really hard. But for them, the real work begins now because they've got to start making decisions on their own. They have to use all the skills and everything they learned at the academy and implement them in reality, because at the academy it's a lot of scenario based training. So now when they hit the street, they're dealing with real situations, real problems and real people. The instructors at the academy are phenomenal and do a great job preparing them. I know that when they leave here, they're coming to TPD well trained. I'm thankful to have [the new officers] as part of the TPD family and they definitely represented Tulalip with pride."
For more information, including how to become an officer at TPD, please contact (360) 716-4608.