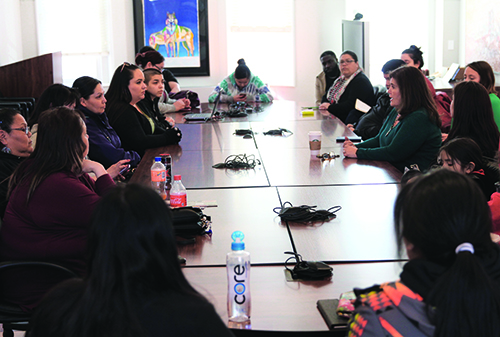 By Micheal Rios, Tulalip News
When the Tulalip Tribes Board of Directors passed a motion to support the March for Our Lives event in Washington, D.C., they followed through by sending a delegation of twenty individuals to support the Tribe's national efforts to stop gun violence, specifically to put an end to mass shootings.
The Tulalip delegation was comprised of those most affected by the Marysville-Pilchuck High School shooting; the families of victims and survivors, along with a support group of community members. With a heartfelt message that could only come from those who have known great loss and tragedy created by gun violence, this normally private and reserved group visited Capitol Hill and advocated for gun-law reform.
When it comes to potentially saving innocent lives, the silence was broken so that the families could speak their truth, giving voice to those who couldn't be there in person, but were undoubtedly there in spirit.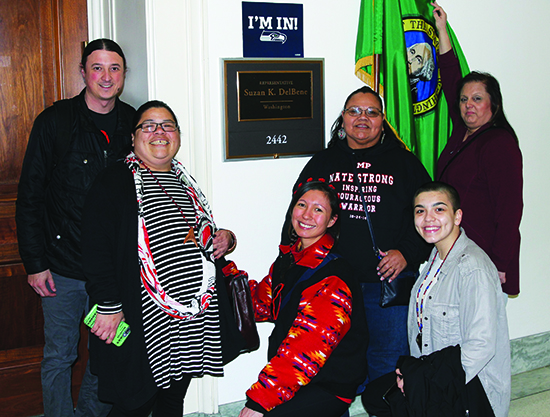 Mothers of MPHS shooting victims, Lahneen Fryberg, Lavina Phillips and Denise Hatch-Anderson shared their stories and experience with gun violence, then advocated for stronger gun legislation to representative Suzan DelBene, U.S. Congresswoman representing Washington's 1st District. Then they spoke with the office of Rick Larsen, U.S. Representative for Washington's 2nd congressional district.
Next up was the office of senior U.S. Senator from Washington, Patty Murray. Then they met with legislative aides to Maria Cantwell, junior U.S. Senator from Washington.
"Gun violence is a topic of national concern. Our entire community was devastated in varying ways, whether you were directly or indirectly effected by the Marysville-Pilchuck shooting, it hurt deeply," said Deborah Parker, who coordinated the day on Capitol Hill. "The families most affected by gun violence were able to speak out against the violence occurring nationwide.
"For many of the families who lost a loved one, the sentiment was consistent – it felt like it happened yesterday. The pain was real and the hurt pervasive. Our families who have suffered the greatest loss of their lives have a powerful voice and should never be silenced. As difficult and painful as it was for our families to bring forward their devastating memories, they did it. They spoke eloquently and candidly to U.S. government representatives about their experience with gun violence while offering policy solutions."
Keeping their momentum, the Tulalip delegation made their way to the set of "The American Indians' Truths" radio show for WPFW-FM hosted by Jay Winter Nightwolf. Again, the families shared their truth. Speaking on her experience was Keryn Parks, a seventeen-year-old student who was forced to bare witness to the MPHS shooting.
"I was hesitant to even speak and share my story," expressed Keryn. "Nothing happened to me physically and I do feel tons of guilt that nothing did. Maybe one of these moms would have their baby still with them if I sat somewhere else. It was a huge weight off my chest to speak and let everyone know how I feel for them. These mommas need all the loving, healing words they can take.
"As a group, we were so strong and powerful anywhere we went today, and that was felt by everyone who listened to us. It was a day of reopening wounds none of us wanted or even thought we were going to reopen. It was powerful and real. Above all else it was healing."
The final destination on their Capital Hill visit was to the Embassy of Tribal Nations. Though it was the last stop, it may have been the most impactful as the three moms, Lahneen, Lavina and Denise, shared details of their experience they had never shared before. Tears flowed from everyone in the room who sat in absolute awe of what was being said.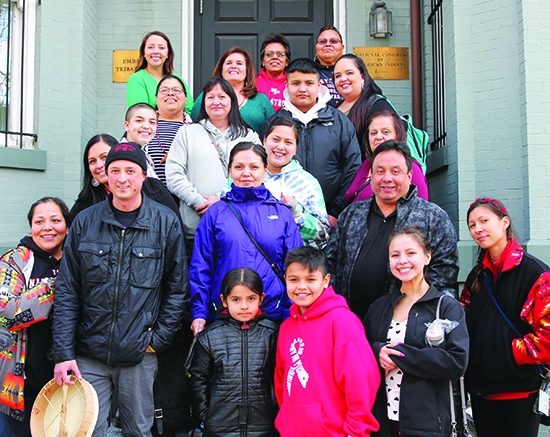 In attendance was Jackie Pata, Executive Director of the National Congress of American Indians. She stated afterwards, "My life has been forever changed by these Tulalip families. They have exhibited so much courage and strength to come forward and share their story. I will not forget them in the work I do."
"Being there, with the families, was powerful and extremely healing," said Matt Remle, who accompanied the families and supported them with his spiritual leadership. "Privately, over the years, I have shed many tears over what happened, but this was perhaps the first time that I was able to be with others and openly cry. Mostly what I took away from them is their bravery and courage. I don't know much, but I do know that we simply need more love and compassion for each other, to support and give of ourselves to help others. That's not politics, that's living how we were meant to be."
Being an effective advocate for legislative change, such as laws that can make a significant impact at reducing gun violence and putting an end to mass shootings, requires building strong relationships with our members of Congress and their staff members. It is important to use every opportunity to reach out and maintain these relationships. The Tulalip delegation did an admirable job honoring their loved ones lost to gun violence, while advocating for gun law reform.
"This Capitol Hill trip was for those families to voice their concerns and find healing in the process," added Deborah Parker when the day's itinerary came to an end. "It was a blessing to witness the transformation of everyone who took this journey. The mothers, and their support network, stood together for their truth while seeking justice. None of us would ever want this type of violence to happen to anyone else. It was clear, gun violence must stop."