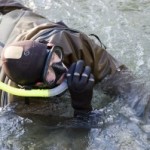 Northwest Indian Fisheries Commission, http://nwifc.org
The Upper Skagit Tribe and the University of Washington (UW) are doing a two-year study examining seasonal habitat preferences for yearling chinook and steelhead in the Skagit River.
Not all juvenile chinook salmon migrate out to sea right away. They spend a few months to two years in freshwater and estuarine habitat. This study will help researchers learn more about the fish that stay in the Skagit watershed's freshwater habitat during the first year of life.
The research addresses a known data gap in the Skagit River Chinook Recovery Plan and will help inform recovery efforts for Puget Sound steelhead. Both populations are listed as "threatened" under the Endangered Species Act.
"We're finding out about habitat preferences for a very significant life history type," said Scott Schuyler, natural resources director for the Upper Skagit Tribe. "That will help us decide where to focus our rebuilding efforts."
The research team is a partnership between the UW's School of Aquatic and Fishery Sciences and the Upper Skagit Natural Resources Department. The team is conducting night snorkel surveys over a two-year period to monitor where the fish are each season. Juvenile habitat use varies throughout the year, because of factors including water temperature, stream flow and competition pressure from other fish.
"We expect to see the largest number of juveniles in the late summer, when the habitat could reach its carrying capacity," said Jon-Paul Shannahan, a biologist for the Upper Skagit Tribe. "The habitat needs for each species changes over time as the fish grow, and we are hoping to better understand this relationship."
For each snorkel survey, the researchers collect detailed habitat data. The types of channels surveyed included large mainstem channels, secondary channels, tributaries, and floodplain channels throughout the known spawning distribution of chinook.
For information, contact: Jon-Paul Shannahan, Upper Skagit Tribe, 360-854-7089 or jonpauls@upperskagit.com; Kari Neumeyer, NWIFC, 360-424-8226 or kneumeyer@nwifc.org.