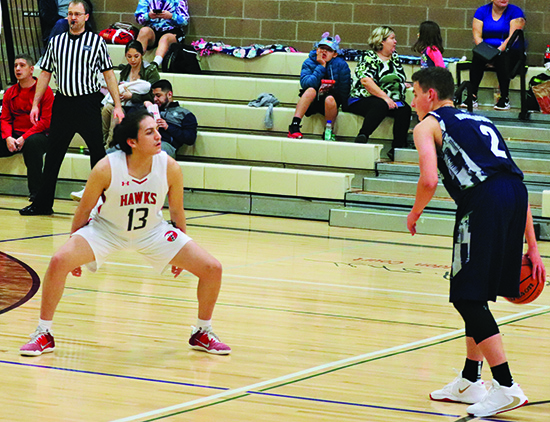 By Micheal Rios, Tulalip News
The Tulalip Heritage boys basketball program is coming off of back-to-back years in which the team won at least 20 games and made it past District, Tri-District and Regional playoffs, all the way to State. An historic achievement for any program.
Now, entering the 2019-2020 season, the Hawks look to repeat past success with its current roster of rez ball hoopers. Gone are four seniors from last season, but in their place are five current seniors including standout guards Leno Vela, Josh Miranda and Isaac Comenote. They took to the court on Saturday, December 7 in their season opener. A home game versus the Darrington Loggers.
Tulalip struggled mightily from the jump. Shots weren't falling, no one was rebounding and meanwhile Darrington took advantage of every opportunity afforded to them with a taller, heftier lineup. The score was 4-19 after the opening quarter, and that deficit ballooned to 11-40 at halftime.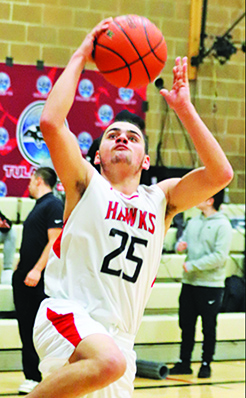 In the 2nd half, the home crowd was anxious for some kind of spark to ignite their team's offense. It never happened. Instead, the lack of shot making and rebounding continued. Tulalip ended up on the wrong side of a lopsided 32-68 loss. It was the lowest scoring output from a Tulalip Hawks team in nearly 3 years; a December 28, 2016 defeat to Lummi, 31-65.
With only two days between games, the boys had to make use of some selective amnesia and quickly forget about everything that went wrong vs. Darrington and focus on their next opponent. Tulalip hosted the Highlanders from Providence Classical Christian on Monday, December 9.
What a difference a game makes. The Hawks came out firing on all cylinders offensively, while relentlessly locking up Providence defensively. Jumping out to a 25-9 lead at the end of the 1st quarter, the boys kept the pedal to the metal and took a 39 point lead into halftime, up 52-13.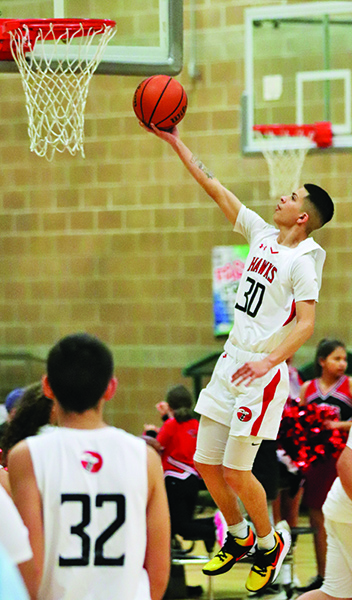 During one stretch, senior point guard Leno Vela went on a 16-0 run all by himself. He caught fire from downtown hitting four consecutive 3-pointers and then came up with back-to-back steals that he converted into layups. His scoring barrage fired up the home crowd and his fellow teammates who cheered him on.
"My shooting felt really good and my teammates found me when I got hot," said Leno afterwards. "They trusted me and I was able to come up with buckets."
The Hawks defense continued to feast on a Providence team that struggled with ball handling and routinely coughed up the ball via steal or bad pass. And with every turnover forced came the accustomed run-and-gun offense Tulalip is known for. All the starters scored multiple buckets in transition and hit a 3-pointer.
At the end of the 3rd quarter, Tulalip led 73-18. With the result no longer in doubt the bench came in to finish the game. The final score was 81-27. Leno led all scorers with 33 points, while Josh Miranda added 13 points.
A 54 point victory over Providence is a good way to wash away the stain from their opening loss to Darrington.
"We played our style of basketball tonight. I wanted them to be aggressive and attack the basket because we really didn't do that in our last game," explained Coach Fryberg after the blowout win. "Their aggressiveness resulted in lots of looks close to the basket and got them to the free-throw line. Defensively, we locked in early and pressed the issue throughout."
Tulalip basketball is on the road for their next 3 games. They'll return home on Thursday, December 19 for a matchup with Grace Academy.