By Kara Briggs-Campbell, Tulalip News Guest Writer 
Weeks and months after the tragic events of Oct. 24, many Tulalip youth are likely to still be grappling with deep feelings and complex emotions associated with grief, experts say.
The key for adults and even peers will be keeping a lifeline of connection with tribal youth as they move from feelings of shock and trauma to grief and loss.
"The hardest part with teens is that their developmental task in normal times is to push away from their parents," said Alison Bowen, Family Healing Program Coordinator for the Tulalip Tribes. "It's like, 'Love you, mom. Gotta go.' Yet even as they are pushing you away, the challenge is how to reconnect with them in this time of trauma."
Sudden behavioral changes are one of the signs that an adolescent or teen is struggling emotionally. These shifts can include examples such as, a youth, who usually rises early to get ready for school, suddenly doesn't care; An outgoing kid isolates herself or himself; A teen detaches from his or her friends.
"If all of sudden any kind of big change happens that is what you want to watch for," Bowen said.
The people most likely to notice such changes are friends of the same age group. That's why specialists say the best thing now is to let the kids be together, whether they are playing basketball, making art, talking or even sitting still together.
A major concern is if a youth is thinking a lot about death, or meditating on a past hurt, or unable to think about anything but the recent losses of life.
"It is important to listen and do what you can to encourage the person to get help," said Dr. Richard McKeon, Branch Chief of the Center for Mental Health Services.
For the very most vulnerable, the concern is preventing youth suicide—knowing that among American Indians aged 10 to 24 suicide rates are higher than in the same age group among other races.
"It is important not to be frightened to ask the question whether someone is thinking about suicide," he said. "The research shows that if you ask a youth and they say no, they aren't going to start thinking about suicide because you asked."
"But if someone appears to be depressed or hopeless, it is important to ask the question and not to panic if the answer is yes," McKeon said. "For a person who is in trauma and potentially thinking about suicide it is essential that make a connection with someone."
One way a teen could support a friend is by helping them to make contact with a trusted adult. Sometimes that adult is a parent or a favorite aunt, uncle or grandparent. Other times it may be the Native liaison at school or a staffer at the Tulalip Boys and Girls Club. Ultimately the youth might need mental health counseling, but in the immediate term, a trusted adult can make all the difference in the world.
"We know in the days ahead we are going to have more kids dealing with grief and anger and more kids who are anxious and scared," Bowen said.
The best ways a friend can help now are to be available, to listen respectfully as the person who is sad or in trauma pour out their feelings, or sit quietly if they just want company.
"It's hard that we're asking people to take care of the youth when everyone's hearts are so heavy," Bowen said. "That's why it can't only be a family looking after their own kids, it has to be all of us pitching in to help."
Where can I call for help?
To report an emergency dial 911
National Suicide Prevention Line: 1-800-273-TALK (8255)
Snohomish County Crisis Line: 1-800-584-3578
Crisis TEXT Line: Text "Listen" to 741-741
24 Hour Crisis Line: 1-866-427-4747
TEENLINK: 1-866-833-6546
Tulalip Tribes Behavioral Health Family Services: 360-716-4400
Tulalip Tribes Mental Wellness Director Sherry Guzman: 360-716-4305
A letter of hope to Tulalip tribal youth from a survivor from the Red Lake Nation
Justin Jourdain was a ninth grader when he witnessed the school shooting at Red Lake High School. A Red Lake tribal member, Justin was friends with classmates who died and others who were injured. Now a Red Lake Nation police officer with a family of his own, Justin wanted to travel to Tulalip to meet with and encourage tribal youth in person, but his work schedule got in the way. So Justin has written an open letter to Tulalip youth and provided it to the See-Yaht-Sub.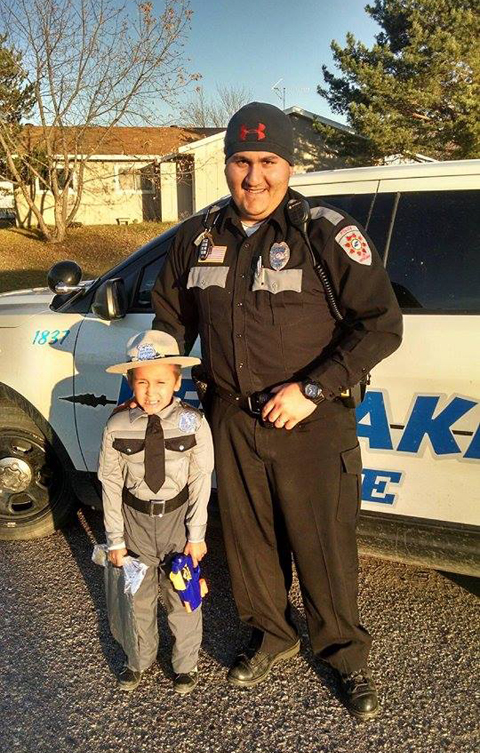 Boozhoo! This is the way we greet each other in my tribe, the Red Lake Nation in Northern Minnesota.
You may not realize it right now, but everything will get better with time.
If you witnessed this tragic event or you were at school that day, you will always remember, as I do those terrifying moments. But in a few weeks and then a few months, it will get easier. You will gain perspective from having lived through this traumatic time in your Tribe's history. Believe me, surviving can change your life for the better, if you let it.
In the days after the Red Lake School shooting, survivors from Columbine High School met with my classmates and me. The contact with the others who had the same experience gave me the courage to hope again for the future, though I lived with the memory very strongly until 2008 when I graduated from high school, and that helped me to find closure.
I know firsthand how important it is to meet people who share this still unusual experience. That inspired me to go to reach out to other students at schools where this has happened. I feel that it helps just to meet and spend time with someone who knows what this experience felt like. It is important to the healing process to feel that someone knows what it was like.  In time, you may have the opportunity to help someone else heal, though it is always my hope that nothing like this ever happen again.
Healing will be a long process, but you will get better. You will remember for the rest of your life. For me nine year later, I can still remember that day as if it were yesterday. But I've learned to deal with the pain and continue living. You will learn to cope as I have.
Today I am married and I have a six-year-old son. For the last four years I have worked in law enforcement for my tribal police. I am 25 years old.
In 2005, I was freshman in high school and I couldn't conceive of all the good things ahead. But stick in the back of your mind that the rest of your life is waiting for you to live it. Believe that things will get better as you let go of the pain and move forward in your life.
Your friend from the Red Lake Nation,
Justin Jourdain