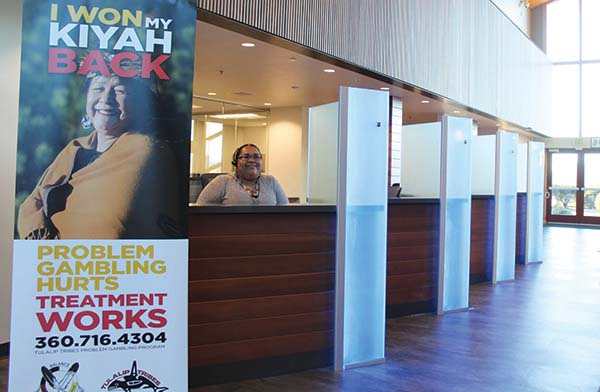 By Kalvin Valdillez, Tulalip News 
Tulalip community members who pass by the Karen I. Health Clinic on their daily commute may have noticed recent construction occurring at the front of the building. Over the past few months, many people have seen a small, new addition being built at the clinic that will serve as a conference room to its faculty. What many may not know, however, is the entire clinic also received renovations. Unless you have recently received care at the health center, you are in for a big surprise upon stepping into the clinic.
One of the first things you may notice is how clutter-free the lobby is. Where once stood a totem pole is now a spacious open area where patients can register at one of the five new check-in stations.
"It has that beautiful longhouse look with high ceilings, made of cedar, which helps with the acoustics," explains Tulalip Health System Administrator, Jim Steinrick. "Our focus with the lobby was to make it welcoming, warm and cleaned up. There are four new check-in areas with lighted panels that go off and on. There will be a sign that says 'if you see a blue light come on up and we'll take care of you'. Around the corner we also have our ADA compliant, lower counter check-in area for people with wheelchairs."
The idea of the check-in stations came about upon a visit to the Monroe Providence Clinic. According to Tulalip Health Information Manager, Jennie Fryberg, the entire remodel initially began with a need to centralize check-ins. Prior to the renovations, patients would often become frustrated after waiting in line at the wrong check-in stations. Now patients can check-in at any of the new stations for any services at the clinic.
A few short months ago, once you were finally checked-in at the clinic, the waiting game began. The Health Clinic made changes within the facility that are sure to cut that wait time significantly, beginning with four new healing rooms for acute care.
"We separated the acute walk-in care from scheduled patients," says Jim. "So, if someone comes in and needs to be triaged, the nurse will bring them into one of the four new healing rooms."
"Before we were tight on rooms because the scheduled appointments took all the healing rooms," added Jennie. "We have two new acute care doctors so we can get patients in, out and through faster so they aren't having to wait as long."
The new healing rooms feature state-of-the-art equipment as well as hands-free lighting and water faucets. The previous healing rooms also received a make-over with fresh paint and hardwood floors, as did the hallways. The clinic placed a referral station near the healing rooms, by the entryway to the lobby, so referral specialists can assist patients on their way out.
The health clinic has also gone paperless, converting all of their patient's health records to electronic format in a system that is able to communicate with both the Everett Clinic and Providence. The decision helped create a lot more space during reconstruction resulting in the expansion of the clinic's lab and dental areas. The lab received new equipment and dental received three new chairs, which will be used to prep patients before seeing the dentist.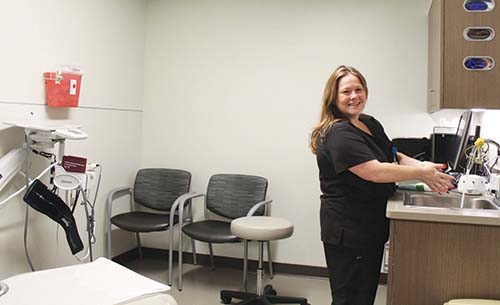 Another space enhancer is the consolidation of the doctors and nurses workspace from individual offices to an open work area known as the hub.
"The hub will have doctors and nurses all together, so everyone's on the same page" Jennie explains. "We did away with all the doctor's offices. We wanted to open it up so the whole team can be together and communicate more efficiently."
Inside the hub is a large flat screen TV that displays the clinic's new Versus Tracking System.
"When our patients check in at the desk, they'll receive a sensor to carry with them," says Jim. "We'll have a big screen where we'll be able to tell where they are. So if they're waiting in one place too long, we can check on them and let them know we'll be right with them, instead of letting someone sit and wait for twenty minutes."
During the brief wait after checking in or after receiving care, the patient can visit any of the services that are conveniently located in the lobby including Alternate Resources for Elders, Everett Optometry and two additional referral desks.
In an effort to treat the whole patient and provide wrap around care, the Health Clinic is welcoming eight new behavioral health specialists to the team. The specialist will be readily available to meet with individuals seeking mental health care.
"When we work as a team on a patient we focus on the whole body, so teeth, eyes, mind, body and spirit," Jim explains. "We can have the specialist meet with the patients while they're here and take care of the whole person. We're working on destigmatizing mental health. Some people say it's too personal, but it's like dental.  The old adage is the mouth is part of the body, well so is the mind."
The conference room that many saw constructed over the Fall was a much needed addition. In previous years, large meetings would often take place in the employee break room, which received a makeover as well.
"We've integrated to a health system now," states Jim. "We used to be the clinic, behavioral health and recovery, and chemical dependency. Now we're one health system and part of the same health team. I want to make sure that our Tulalip tribal members know that we're doing this so we can provide better continuity of care, so we're more seamless. And also that this is a good place to come and when they come here, they will get good customer service and good quality clinical care. I think there are some misconceptions out there about the care that's given here, once people are in here, they will really see the changes we made."
Jennie adds, "As a Tulalip health system, our whole purpose is to take care of the patient as a whole and to smoothly get people in and out easier. Its good changes that were doing and it's to better our services. So we're hoping to get some of our Tulalip tribal members back here to see the changes that we are making for the betterment of our community."
Be sure to visit the newly remodeled Health Clinic and for more information please contact (360) 716-4511.