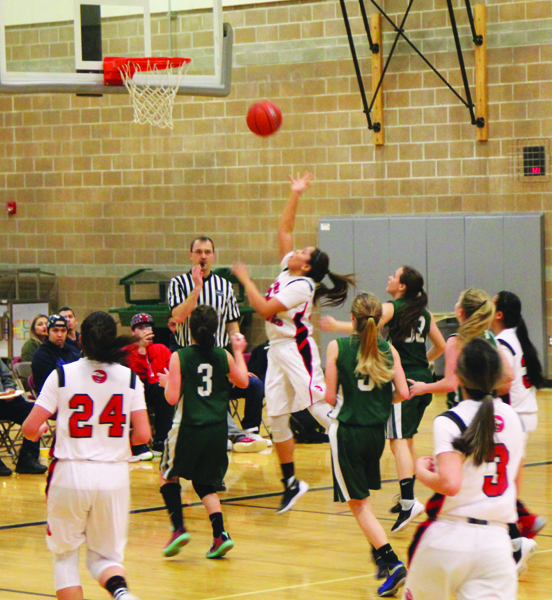 By Micheal Rios, Tulalip News 
The undefeated 2016 District 1-1B champions Lady Hawks opened their Tri-District tournament with a home game on Saturday, February 13. Their opponent was the Mount Rainer Lutheran Hawks.
The Lady Hawks started the game in typical fashion, taking a decent lead only minutes in, but up 8-0 their star player Adiya Jones found herself with two quick fouls and had to sit the remainder of the quarter. With Adiya on the bench, the Lady Hawks struggled to find their offense, while Mt. Rainier fought their way back. At the end of the opening quarter the Lady Hawks only led by 2 points, 11-9.
When Mt. Rainier managed to tie the game at 11-11, coach Bubba Fryberg inserted Adiya back into the game. Adiya scored a couple quick baskets to give her team a 15-11 lead, but then picked up her 3rd foul on a charging call. Again Adiya was forced to the bench and the Lady Hawks had to manage without her. It was Aliya Jones who took the reins on offense and picked up the team's energy on both sides of the ball. At halftime the home team led 25-22.
Starting the 3rd quarter, Adiya took out her frustration on the entire Mt. Rainer team by playing smart basketball and posting up the smaller Mt. Rainier players over and over again. Her post play made Mt. Rainer double and even triple team her, which opened up her teammates for high quality shots. Keryn hit two 3-pointers, while Aliya got into an offensive groove hitting 8 out of 10 shots. The Lady Hawks pushed their lead to 10 points, 52-42 at the end of the 3rd quarter.
In the final quarter, the Lady Hawks used their team defense to hold Mt. Rainer to only 10 points, while their excellent ball movement continued to yield good offense. The victory was no longer in question and the Lady Hawks won 67-52. They were led by Adiya's 23 points, 17 rebounds and 9 steals, but it was Aliya's 20 points that proved to be the difference, as she kept the Lady Hawks afloat through Adiya's foul trouble.
The now 21-0 Lady Hawks play Seattle Lutheran next in the quarter-finals of the Tri-District tournament.