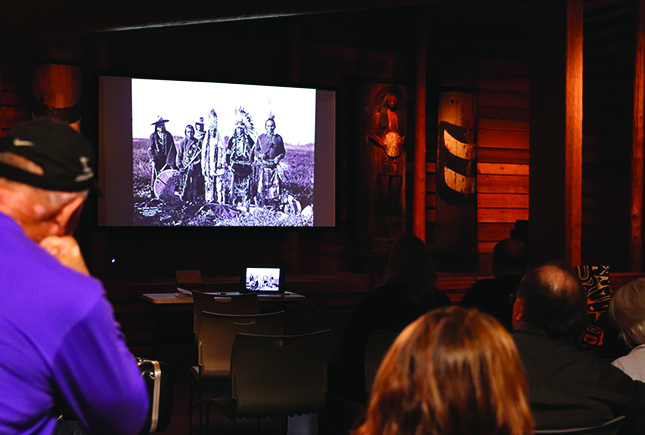 By Kalvin Valdillez, Tulalip News
Cinephiles from near and far gathered at the Hibulb Cultural Center (HCC) on the afternoon of September 21. The always popular film festival welcomed the works of local filmmakers who wished to showcase their modern storytelling abilities with the community. Each year, word about the festival spreads throughout the region, continuingly expanding the list of films on the following year's docket. Now in its seventh year, the festival saw its largest attendance, as well as the largest number of film submissions to date, supporting local artists and encouraging them to share their stories through film.
"The inspiration behind the festival initially was to celebrate films and filmmaking, to showcase communities in our area and around the world the values that keep them moving forward, and to elevate the perspectives and voices of our community and our ancestors," said Lena Jones, film festival organizer and Hibulb Cultural Center education curator.
The festival began with a lifetime achievement award ceremony, honoring two Lummi tribal members for their work in the film industry, actor and storyteller Swil Kanim and playwright and filmmaker Darrell Hillaire. Both individuals are locally renowned. Swil is known for many his talents as a violinist and Darrell is the founder and executive director of the multimedia production company, Children of the Setting Sun, which produces contemporary Coast Salish content on film and podcasts. Darrell also allowed HCC to hold an exclusive screening of his new thirty-minute project, Waiting for God, a story of a young Lummi girl's journey to finding herself, as well as the way back to her ancestral homelands.
"I had the honor of being recognized today, but I represent a whole team," Darrell expressed. "I'm proud of our team because we're in the middle of a lot of work and we don't get to celebrate enough, so we came here to celebrate with the Tulalip people and it means a lot to me. We try to meet the young people where they're at, with all the technology of today like podcasts and short films, and introduce them to the stories of our ancestors. This a great way to preserve history. As our elders move on to the next life, we need to capture their stories about their time here."
It was showtime after festival-goers enjoyed a lunchtime feast prepared by Tribal member Chandra Reeves and her daughters, one of whom gave a heartfelt welcome speech to the visitors. For nearly six hours, the attendees were treated to a selection of visual art created by ten filmmakers, both tribal and non-tribal. This year's viewing had a good amount of variety, ranging in a number of genres, for a total of eleven films. 
Inspired after his first submission received a standing ovation at last year's festival, local music composer and film scorer, Ed Hartman, returned with two new projects this year, including Time for No One, a four-minute short film where Ed displays his piano skills set to images of the World Trade Center. Perhaps his most impressive piece submitted thus far, Ed worked diligently for an entire year, preparing a scored edition of As the Earth Turns, an unreleased Seattle-based silent film made in the late 1930's. Ed's music had movie goers on the edge of their seats during suspenseful moments, and fully invested throughout all of the movies emotional scenes.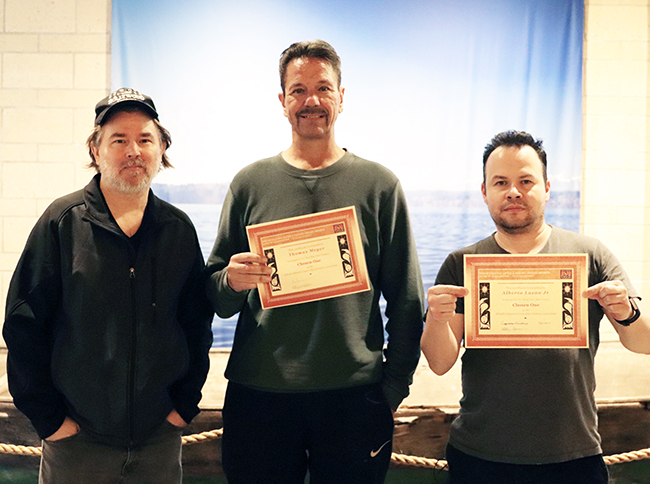 A crowd favorite this year was a fantasy film which involved a battle between elves and vampires titled Chosen One. Written and directed by Thomas Meyer, Chosen One has been featured at several national and international film festivals, winning awards for Best Fantasy at many of them.
Music, paintings, carvings, treaty rights and decolonization were the topics highlighted by eight Native American filmmakers who submitted one project each this year. Over the years, HCC has made it a point of emphasis to encourage local Native creatives to explore the medium of film to express their views and share what it means to grow up Indigenous in the Northwest.
"We're very proud of our artists and storytellers," Lena stated. "They remind us of how wealthy we are and how important it is to remember our values. Filmmakers, as artists, help us do that as they share the stories and heroes of our culture. They give us role models of how we can support our environment or our community."
The art of storytelling has been passed down through the generations since the beginning of time. Our stories are shared to teach youth valuable lessons and they often incorporate our traditional language, dances and songs. Indigenous stories explain the mysteries of the universe like how the sun, stars and moon came to be and emphasize cultural values like respecting our elders, helping our communities and practicing our ancestral teachings. As technology advances, storytellers will continue to explore new forms of storytelling through art, publications, music, film and animation. Attention will be brought to social issues and current world problems like climate change, declining fish runs, MMIW, suicide and overdose, promoting awareness to protect our people, waterways and land, and begin the healing process from years of generational trauma.
Among the many standout Native films was a documentary called A Quiet Warrior, which follows the life and works of the late and highly respectable leader of the Yakama Nation, Russell Jim. Russell was an environmental activist who dedicated his life to protecting the Colombia River waterways. During World War II, a nuclear reservation was established in the nearby town of Hanford where they produced plutonium. Russell fought the U.S. Department of Energy in court to prevent Hanford from becoming a repository for nuclear waste and endangering salmon and local wildlife and habitat.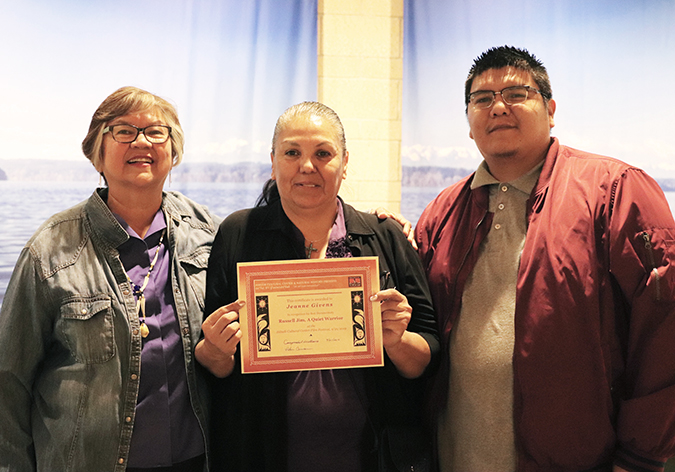 "I met Russell several times and I found him to be such an intriguing individual," said filmmaker and Coeur d'Alene tribal member, Jeanne Givens. "He was a person who walked in so many worlds, most importantly the political world. He didn't just know political people, he helped write the Nuclear Waste Regulatory Act, very important work."
While the film festival carried on through the night, the crowd enjoyed thought provoking and interesting pieces that touched on the effects of colonization, such as We Only Answer Our Land Line by Cherokee and Klamath tribal member Woodrow Hunt, and the two-hour award winning special feature ωαατšι?αƛιν: Coming Home by Brandon Thompson of Huu-ay-aht First Nations. HCC was also sure to incorporate Indigenous art into the program with Makah War Clubs by Jason Roberts, which delves into the traditional weapons of Northwest tribes as well as A Modern Creation Story, which follows Tlingit Artist, Preston Singletary, as he combines the past and the present by creating traditional designs through glass art.
Perhaps the film of the evening, the reception of Could You Imagine? came just as much of a shock to the filmmaker as it was to the attendees. As the five-minute video ended, nearly every person in the HCC Longhouse exchanged stunned looks after they witnessed the works of an artist by the name of MomentumX. Combining many elements of his background, MomentumX incorporated his Swinomish heritage, passion for music, artistic abilities and storytelling talents into one project. Between two long thirty-two measure rap verses, he urged his audience to study their treaty rights and utilize the power of their voice. Not only was MomentumX rapping in the video, he was also spray-painting a large 3-D Salish design onto a canvas. The time-lapse music video impressed the festival attendees who erupted in loud applause by the end of the film. And when Marcus Joe, a young man who sat at the back of the room, introduced himself as MomentumX the crowd rose to their feet and praised him for his talents.
"It's important that we use our own voice and create our own art," Marcus expressed. "As an Indigenous youth who grew up in the big city of Seattle, a lot of times I felt alienated and alone. But I always knew who I was and was proud to be Indigenous. It's important that we tell our stories, our true story, because it was already told wrong once. It's up to us to set the record straight and let people know who we are in today's society."
"He did all of that on his phone," said film festival judge, Robin Carneen, still in awe over the MomentumX video. "A hip hop Native American film, wow. It just goes to show how prevalent technology and social media is today."
The film festival aims to preserve the traditional teachings of Native peoples in a modern day format that future leaders can look back to reference or draw inspiration from.
"We hope folks watch the films and are inspired to recognize how important our ancestral culture is to the recent environmental and cultural needs of the nation," Lena stated. "We hope our younger ones will build their storytelling and technical skills and support their elders work in the communities by sharing important Native perspectives. We hope filmmakers will continue to share their work here and come together for an enjoyable day, viewing the films at our festivals."
The Hibulb Cultural Center will continue their monthly film series, the next event is scheduled for October 17. For more information, please contact the museum at (360) 716-2600.