By Kalvin Valdillez, Tulalip News 
For a brief moment, the smokey, hazy air from local forest fires dissipated and blue skies were visible in Tulalip on the evening of August 18. The timing couldn't have been any better because the Tulalip Foundation planned for a spectacular outdoor event at the Hibulb Cultural Center, which involved cooking salmon traditionally over an open-flame fire pit. Over two hundred guests arrived at the museum for the second annual Salmon Bake Fundraiser in benefit of the Hibulb Cultural Center. 
While dinner was prepared the guests toured the museum's exhibits, learning of Tulalip's history and culture. The cultural center's upcoming exhibit Interwoven History: Coast Salish Wool is due to open this November, and fundraiser attendees got a sneak preview of some of the blankets and artifacts as well as some of the works by Coast Salish Wool Weaver, Tillie Jones, in the museum's longhouse. Guests also used this time to bid on a variety of traditional art created by Tulalip artists, such as baskets, blankets, beaded earrings, drums and paintings, donated for the silent auction. A number of guests entered a raffle for the chance to win a framed art piece by James Madison or a gift basket donated by the T Spa at the Tulalip Resort Casino.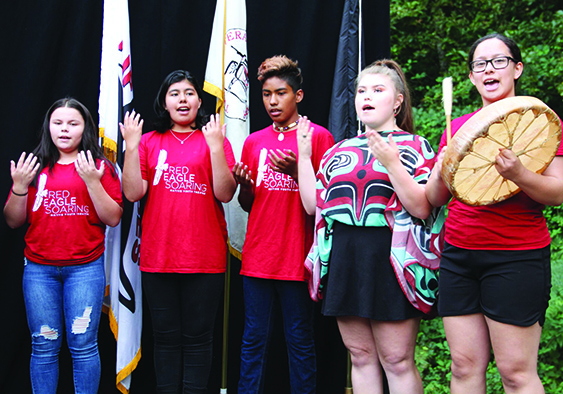 Once everyone grabbed a plate full of salmon, they sat down to enjoy each other's company while Tulalip tribal member and Hibulb Cultural Center Museum Assistant, Cary Michael Williams, played a few tunes on the traditional flute. Young Tulalip Storyteller Xavion Myles-Gilford also took the stage to share traditional Tulalip stories and received a great deal of applause for his work. Tulalip Artist and Master Carver Steven Madison held a live demonstration carving a large cedar salmon, which sold immediately after it was completed. Red Eagle Soaring, a Native youth theatre group in Seattle, performed several songs for the guests as well.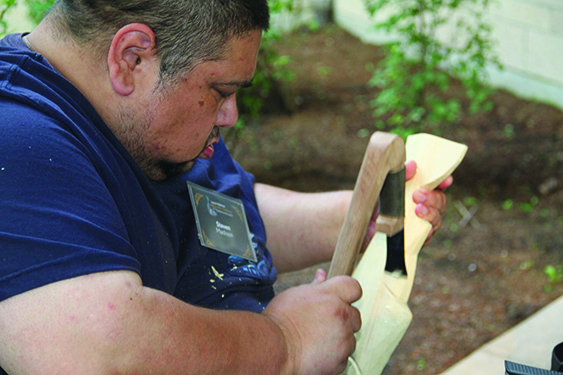 Last's year's salmon bake raised over $25,000 which was used to open new exhibits as the cultural center continues their mission to revive, restore, protect, interpret, collect and enhance the history, traditional cultural values and spiritual beliefs of the Tulalip Tribes. For seven years, the museum has taught both surrounding communities and tourists of the Tulalip way life, while bringing attention to serious topics such as the boarding school era and assimilation. Local kids learn words of the Lushootseed language while engaging in hands-on, interactive activities at each of the exhibits. The center also hosts a number of events including cultural nights, where the community can make traditional items like baskets and drums as well as participate in Coast Salish jams and traditional flute nights. 
As the night ended, the highest bidders retrieved their newly acquired Tulalip artwork from the auction and the raffle winners were awarded their prizes. The second annual Salmon Bake Fundraiser was yet again a great success.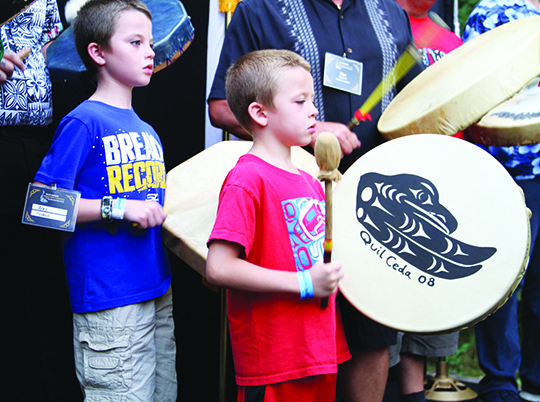 "It was a really good time," says Mytyl Hernandez, Hibulb Cultural Center Marketing and PR. "I think everyone wanted to enjoy a good salmon dinner while we shared a little bit of the Tulalip culture. Our artists and vendors donated over thirty items for the silent auction which went really well. I want to thank all of our vendors, artists, community members, tribal leadership for all of their support because without their support we wouldn't be as successful as we are."
For more information, including upcoming events, please contact the Hibulb Cultural Center at (360) 716-2600.