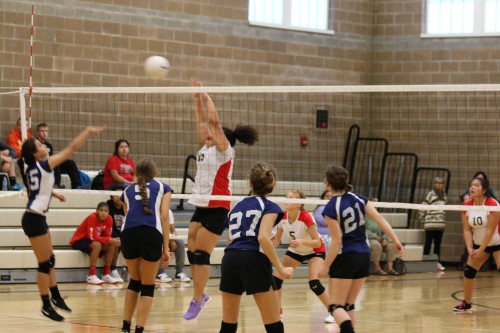 By Brandi N. Montreuil, Tulalip News

TULALIP – Tulalip Heritage Lady Hawks hosted the Providence Classical Christian Highlanders on Monday, October 20, at the Francy J. Sheldon Gymnasium at Heritage High School.
The Lady Hawks were up for a tough battle when they walked on the court to play the Northwest 1B varsity volleyball league's top contender, having only lost two games this season.
Despite the lacking score, the Lady Hawks performance during the game is a far cry from their last two seasons under coach Amy Andrews. New head coach Raveon Harrowa has used her strong background in volleyball to create a team spirit within the Lady Hawks ranks. This has resulted in consistent communication during rallies, something Coach Andrews struggled to develop in the team.
While the Lady Hawks continue to seek their win, the team's growth cannot be denied as sportsmanship and team spirit bring their own winning qualities to the young team.
Heritage Hawks – 12 10 9 – 0
Providence Classical – 25 25 25 – 3
You can watch all Heritage Lady Hawks home games on channel 99 on Tulalip Broadband or online at www.tulaliptv.com.
Brandi N. Montreuil: 360-913-5402; bmontreuil@tulalipnews.com