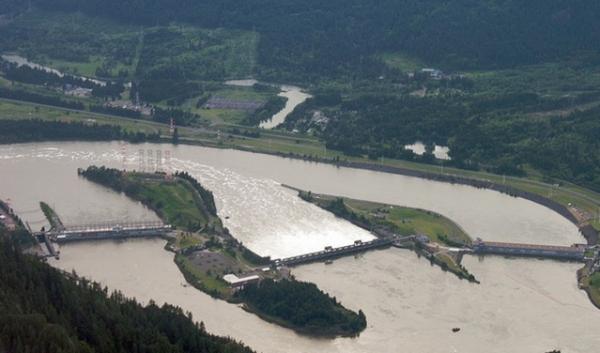 By Cassandra Profita, OPB
A national report released Tuesday says climate change will make it increasingly difficult for the Northwest to generate hydropower and protect salmon at the same time.
The Northwest gets 75 percent of its electricity from dams. As climate change reduces summer stream flows, the Northwest Climate Assessment report says the result will likely be less hydropower production from those dams – with reductions of up to 20 percent by 2080.
The reductions would be necessary to preserve stream flows for threatened and endangered fish, according to Amy Snover, director of the Climate Impacts Group and co-lead author of the Northwest report. Snover says with climate change leaving less water in rivers during the summer, what's left will have to be divided between storage for hydropower and flows for fish.
"It will be increasingly difficult to meet the two goals of producing summer and fall hydropower and maintaining sufficient flows in the river for protected and endangered fish," she said. "You can reduce some of the negative impacts on hydropower production but you can't do that and maintain the fish flows."
Snover says her report's projections are based on the way the Northwest operates hydroelectric dams right now. But that could change. Regional power managers say climate change is leading them to reconsider how they will operate dams in the future.
John Fazio, an analyst with the Northwest Power and Conservation Council, says climate change is going to shift demand for electricity in the region, too.
Winters will be warmer, so people will need less power than before at a time of year when there's lots of water in the rivers. And as summers get hotter, there will be more need for power to cool people off at a time of year when there's less water available to generate hydropower.
Fazio has been thinking about the best way to manage the hydro system under these climate change scenarios. He's suggested using other sources of power in the winter to make sure the system's reservoirs are full of water by summertime.
"My suggestion would be during the summer we could pull more water from reservoirs to make up for decrease in summer flows and then going into the winter, use generation from other sources to meet our (power) loads and let the reservoirs refill," he said.
Fazio's ideas are outlined the council's latest 20-year plan for meeting the region's demand for power.
"It would call for a change in the whole approach to how we operate the hydro system," Fazio said. "So far it hasn't gotten any traction anywhere. It's a complicated issue, but we're trying to tackle it."
Bonneville Power Administration, which manages 31 dams in the Columbia River Basin and distributes most of the electricity in the Northwest, has been pondering the issue of climate change as well. It's developed a road map for adapting to climate change and launched pilot projects to model the effects of climate change on stream flows in the Columbia River Basin.