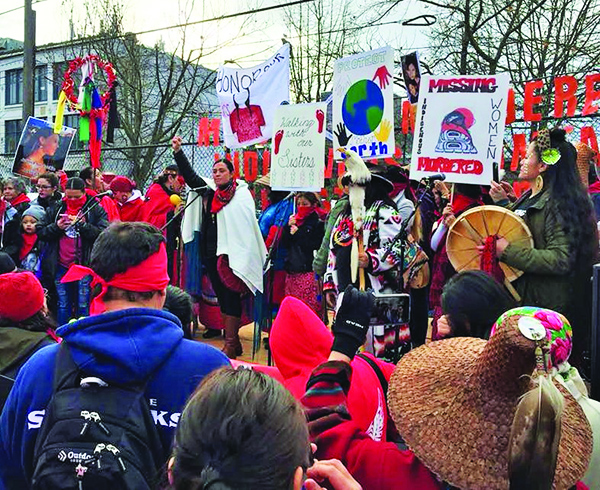 By Micheal Rios, Tulalip News; photos courtesy Theresa Sheldon and Matt Remle
On January 21, 2018, tens of thousands filled the streets of Seattle and Olympia to participate in the Women's March. Many heard a rallying cry to action that Saturday morning, which coincided with the first anniversary of Donald Trump's presidency.
The Women's March is a women-led movement bringing together people of all genders, races, cultures, political affiliations, and backgrounds to affirm our shared humanity and pronounce a bold message of resistance and self-determination. Occurring in its second consecutive year, the highly anticipated Women's March 2.0 created a powerful campaign to ignite thousands of activists and new leaders.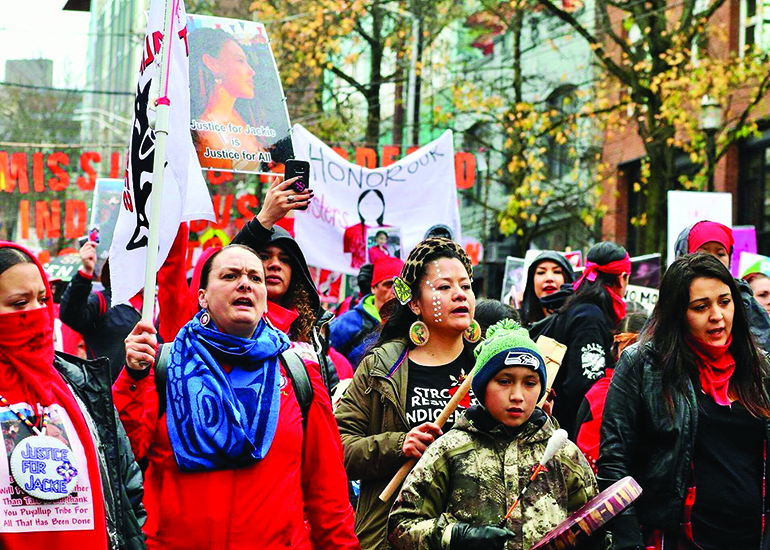 Indigenous women led the marches in Seattle and Olympia, highlighting the issue of missing and murdered Indigenous women (MMIW). The Indigenous presence, featuring hundreds of proud Natives wearing their traditional tribal regalia supporting families of MMIW victims in attendance, sought to bring awareness to the widespread cases of missing and murdered Indigenous women and colonial gender-based violence in the United States and Canada.
"To my dear relatives, welcome to the Coash Salish territory. Thank you all for being here," stated Deborah Parker, Tulalip tribal member and committed cultural advocate, in her opening speech. "We stand together united. We stand together with one heart, one mind. We will be singing the Women's Warrior Song that comes from our First Nations sister's in British Columbia. During the last verse we raise our fist in solidarity. We raise our fist and we honor the missing and murdered indigenous women from all over these lands. We remember our lost sisters, daughters, aunties, mothers, grandmothers and cousins."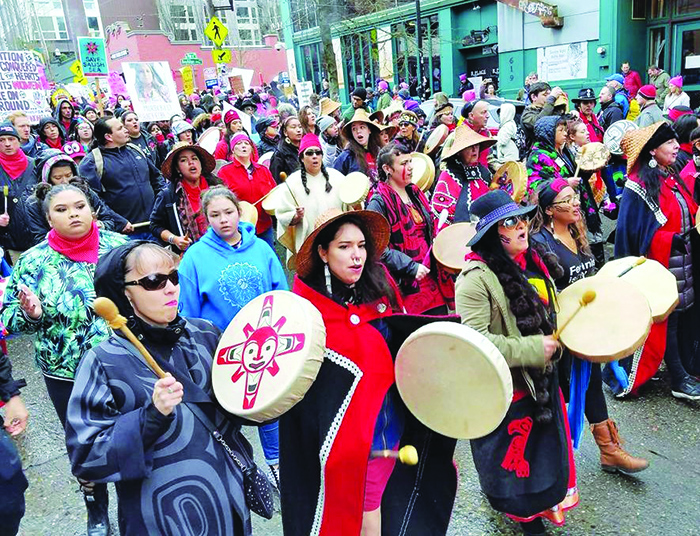 Women's March 2.0 marked one full year of the U.S. under Trump's administration, which coincidentally was also the day the federal government shut down because of a budget impasse. The last 365-days has been a year filled with battles over women's rights, immigration, and health care issues, but also gave rise to the #MeToo social media movement that aimed to demonstrate the widespread prevalence of sexual assault and harassment.
"Absolutely amazing organizing Native women did across Turtle Island in bringing forth the issue of Missing and Murdered Indigenous Women, and bringing forward the families and loved ones of MMIW for support, healing, encouragement," described Lakota tribal member and local Native American activist, Matt Remle. "I personally witnessed many tears shed, hugs shared, songs of encouragement sung and good medicine put forward. It was pretty emotional when the families who have had loved ones murdered or go missing were brought on stage to be acknowledged and lifted up. That's how it should be, supporting, uplifting, encouraging and helping however best one can. That's powerful and I have absolute love for our [women] across Turtle Island for doing this."
Across the nation, hundreds of thousands of people gathered in city streets to peacefully demonstrate the power of women and showcase a desire for change. The issues, from reproductive rights to better representation of women of color to awareness for missing and murdered Indegeous women, were as varied as the sign-waving, pink-hat-wearing attendees. However, the​ ​implication was clear: women are poised to take power and they intend to.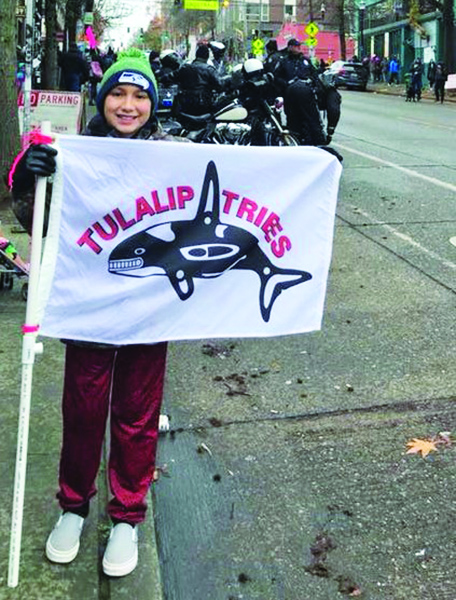 "Tulalip Tribes was well represented in today's Women's March that was dedicated to our Missing and Murdered Indigenous Women. Thankful to see leadership so active," said Theresa Sheldon, Tulalip Tribes Board of Director, who was urged by her young son, Klayton, to attend the march. "This is the weekend we are remembering and commemorating our 1855 Point Elliott Treaty which was signed on January 22. It's only appropriate that we take the time to acknowledge our ancestors and those who are still negatively impacted by all the forced federal policies that did not work, but caused great harm. We are resilient and we are healing and growing!"