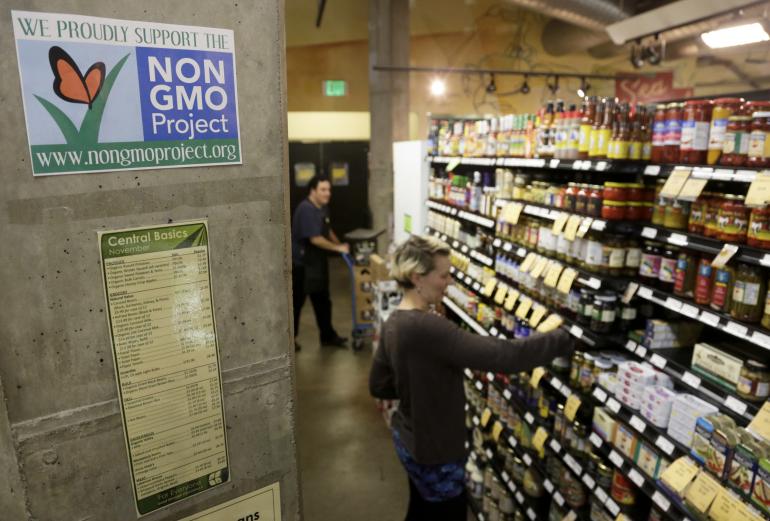 By Amrutha Gayathri, International Business Times
Washington state rejected on Tuesday an initiative to mandate the labeling of genetically-modified food items, bringing to an end an expensive campaign that pitted several out-of-state players against each other and drew criticism for failing to make clear the merits behind such a measure.
Initiative 522 was thrown out after 54.8 percent of the state's voters opposed the labeling while 45.2 percent voted in favor, USA Today reported. The opposition raised $22 million, setting a record for fundraising by one side in the state, with the biggest donations coming from Washington, D.C.-based Grocery Manufacturers Association, and corporations that produce genetically-modified foods such as St. Louis, Mo.-based Monsanto Company (NYSE:MON), Johnston, Iowa-based DuPont Pioneer and Germany's Bayer CropScience Ltd (FRA:BAYN).
A majority of donations supporting the measure also came from out-of-state entities such as Escondido, Calif.-based Dr. Bronner's Magic Soaps, an organic retailer and Washington, D.C.-based Center for Food Safety. The state's residents donated about $550 against the measure while about 10,000 individuals, including residents of the state, donated funds ranging from as little as $2 to $20,000 in support of the initiative.
Currently, there is no federal or state law that requires labeling foods produced by using genetic engineering, and the initiative was based largely on the premise that botched genetic engineering could cause "unintended consequences."
As many as 49 countries, including Japan, China, Russia, and the European Union, have laws requiring the labeling of genetically-modified foods, according to official text supporting the initiative, which also argued that U.S. food exports to several foreign markets had been hurt from concerns about genetic engineering and due to a lack of labeling of such foods.
A majority of genetically-engineered produce such as corn, canola, soybean and cotton, are largely used as ingredients in other food products including soups, sauces, mayonnaise, breakfast cereals, breads and snacks, according to the U.S. Food and Drug Administration, or FDA.
Food manufacturers can voluntarily label whether foods of both plant- and animal-origin contain genetically-engineered ingredients based on guidelines issued by the FDA, according to information on the FDA's website.
"However, if food from a GE animal is different from its non-engineered counterpart, for example if it has a different nutritional profile, in general, that change would be material information that would have to be indicated in the labeling," according to the FDA.
The cultivation of genetically-modified herbicide-tolerant versions of several crops has jumped in the U.S. since 1996, and according to the latest statistics provided by the Department of Agriculture, 93 percent of soybean, 85 percent of corn, and 82 percent of cotton acreage in the U.S., as of 2013, is genetically modified.