Source: Allan Aquila & Associates, LLC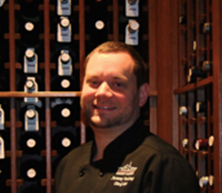 Tulalip, Washington — Tulalip Resort Casino is pleased to announce the appointment of Jeremy Taisey as the new Chef/GM of their Four Diamond Tulalip Bay Restaurant — bringing new vision and experience to the operation. Prior to joining the Resort's culinary team, Jeremy Taisey was cooking up cutting-edge fare at the Woodmark Hotel Kirkland, Las Vegas' Bellagio Hotel, The Regent Hotel Beijing, along with the Pine Valley Resort in Beijing and other local area hotels.
"We are excited to bring Jeremy Taisey on-board," states Executive Chef Perry Mascitti. "He possesses an incredible mixture of knowledge, creativity, and foresight that he will bring to the operation. Our guests are going to enjoy what he creates for them."
Native to the Seattle area, Jeremy Taisey has always been fascinated by the happenings in the kitchen. It was during an Easter brunch at a local hotel that he decided to become a chef. The next day, Jeremy Taisey enrolled himself in the Edmonds Community College Culinary Arts program, which allowed him to fulfill his dream.
In 2006, Jeremy Taisey decided to pack his belongings and venture to Beijing, China, to marry his fiancé of three years. It was during his time in China that Jeremy Taisey's career really took off. During his nomadic culinary journey, he cooked for many famous individuals, such as the Governor of Beijing, Israel's Prime Minister, the Princess of Thailand, and actors Jackie Chan, Jet Li, and Christopher Lloyd.
Jeremy Taisey returned to his hometown in 2012, bringing with him a blend of unique experiences and an unparalleled skill set. His goals for the Tulalip Bay menu are to create seasonal dishes featuring modern interpretations of Italian meals, using local ingredients with a focus on top-rated prime steaks.
When Jeremy Taisey isn't cooking up a storm in the kitchen, he can be found spending quality time with his wife and enjoying great food.