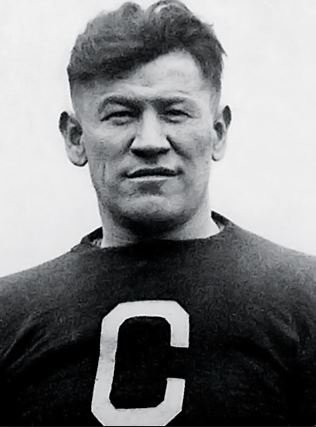 BY CHARLES PULLIAM (ALASKAN ALEUT), NATIVE PEOPLES MAGAZINE
His stories usually start and end with head-shaking disbelief.
More or less at the same time in the early 1900s, Jim Thorpe (Sac and Fox) was the world's best college football player, professional football player, hurdler, short-distance runner, shot-putter and discus thrower. He played professional baseball and basketball as well and even was recognized for his dancing ability.
Before Bo Jackson and Deion Sanders, Thorpe was the original multi-sport athlete. But he didn't just play, he dominated.
His Olympic feats in 1912 are asterisked because it was uncovered that he was paid to play baseball during his time at Carlisle Indian School. However, the Stockholm Summer Games gave Thorpe international recognition and legendary status as he won gold medals in the pentathlon and decathlon in record fashion. Thorpe competed in 15 events and won eight of them, all while wearing mismatched shoes.
Take that in for a moment. His shoes didn't match.
Thorpe still won four of the five events in the pentathlon and finished third in the other.
A true testament to his glory is Thorpe's time in the 1,500-meter run—he finished in 4 minutes, 40.1 seconds in the decathlon event at the Stockholm Games in his second time running the event in two days. The time wasn't beaten by another decathlete until 1972, and even with all of the technology, specialty (and matching) shoes and training available to athletes today, 100 years later, American silver medalist Trey Hardee ran the same event in 4:40.94 at the 2012 London Games.
Even the simple stories surrounding Thorpe carry a legendary, schoolyard prowess.
His Olympic roommate, Abel Kiviat, recalled one instance where Thorpe ended an elementary competition of trying to touch a hanging chandelier in the grand ballroom of the S.S. Finland—the ship that transported the Americans to the Games and served as the boarding house in Stockholm. It was a simple feat, but in a room full of athletes, no one came close until Thorpe leaped and grabbed the chandelier.
Kiviat said Thorpe only had to watch someone do something once and he'd try it and do it better.
Thorpe was born on May 28, 1888, near Prague, Oklahoma, on Sac and Fox Indian land. When Thorpe was 11, he was sent to Haskell Institute in Lawrence, Kansas, and in 1904, he entered the nation's other Indian school set up by the government and military in Pennsylvania: Carlisle.
This is where Thorpe began his track-and-field career in 1907, and just like the chandelier on the S.S. Finland years later, Thorpe turned heads by clearing a high-jump bar on his first attempt with ease when others were failing.
Carlisle also launched Thorpe's football career. Books are dedicated to single games, like when the Thorpe-led Indian school toppled defending-champion Harvard 18-15 in 1911, or the famous game a year later when Thorpe scored two touchdowns and drilled three field goals to lead Carlisle to a 27-6 dismantling of Army at West Point.
"It was like trying to clutch a shadow," wrote The New York Times on Thorpe's running against Army. Carlisle won the college national championship in 1912, led by Thorpe's 25 touchdowns. He was named an All-American for the second straight year.
In 1913, he signed to play professional baseball with the New York Giants.
Thorpe's fame from his college days at Carlisle carried over onto the football field as well, where he helped lay the foundation for the league that became today's mighty National Football League while playing for the Canton Bulldogs. Canton happens to be where the NFL Hall of Fame is located.
Thorpe was recognized as the greatest athlete of the first half of the century by the Associated Press in 1950 and in 1999, with the AP ranking only Babe Ruth and Michael Jordan ahead of him.
Thorpe died of a heart attack at the age of 64 on March 28, 1953, and yet his story continues both in history books and in the news.
Just in October, a federal appeals court ruled that Thorpe's remains would stay in Jim Thorpe, Pennsylvania, a town named after the legendary athlete, despite the objections of two of his sons. They had wanted Thorpe's remains to be returned to Sac and Fox tribal lands in Oklahoma.