by Micheal Rios, Tulalip News 
When it comes to suicide prevention, every day matters. In honor of World Suicide Prevention Month (September), the Tulalip Tribes thank those that work in our community and take action every day to bring suicide prevention services and awareness practices to our tight-knit community.
World Suicide Prevention Day, which first started in 2003, is recognized annually on September 10 and aims to:
Raise awareness that suicide is preventable
Improve education about suicide
Spread information about suicide awareness
Decrease stigmatization regarding suicide
Tulalip tribal member Jo-E-Dee Fryberg is only 17 years-old, yet she has found a passion for helping her people. She has focused on suicide prevention by helping youth in her Tulalip community and other communities succeed by finding hope where hope doesn't seem to exist.
Jo-E-Dee is one of three We R Native youth ambassadors reaching out to young Natives by promoting World Suicide Prevention Month in a YouTube video featuring Native youth who are survivors of suicide or suicide attempts. Their message: #WeNeedYouHere.
"We've been losing a lot of kids to suicide. It's something that never stops. But I'm hoping that with this generation we can finally stand up, talk to someone, and seek help for what we're feeling, instead of letting this cycle of youth suicide continue," says Jo-E-Dee. "The #WeNeedYouHere message, it speaks to people my age and from communities like mine."
We R Native is a multimedia health resource for Native teens and young adults run by the Northwest Portland Area Indian Health Board. They are a comprehensive health resource for Native youth, by Native youth, providing content and stories about the topics that matter most to them. We R Native strives to promote holistic health and positive growth in our local communities and nation at large.
Native youth ambassadors from across the nation began spreading the message for suicide prevention and awareness over the summer, "helping to spread positive vibes and create positive change in their local communities," We R Native said in a press release.
Creating awareness that suicide can be prevented is their first project. To increase the visibility of their campaign they created the hashtag #WeNeedYouHere, and individually they are speaking out.
Suicide has personally affected ambassador Jo-E-Dee. She shares how her involvement in canoe journeys and pow-wows helped her cope with her brother's death, and how she feels personally invested in spreading the #WeNeedYouHere message.
"My brother [Clinton "Crazy Wolf" Fryberg] committed suicide in 2010. His death changed me forever. I became suicidal and didn't know how to deal with those thoughts and feelings. I didn't know how to talk about it," recalls Jo-E-Dee. "Those of us who struggle with suicidal thoughts and feelings, we don't really understand what it is we're going through. I went to treatment, and through therapy learned how to talk about what I was feeling. I learned why I was feeling suicidal and how to find my way back to living a good life."
This challenge of suicide prevention hits home for a lot of us. Suicide is a very tough issue, but addressing the tough issues and speaking openly to let our people know that we care is crucial to the healing process.
"Here's some things I can do if I'm having suicidal thoughts: call someone and flat out tell them 'I'm feeling suicidal and I'm scared. I don't know what to do'," says Joe-E-Dee. "Going to church and staying invested in our cultural activities warms our hearts, you know, like you feel happy when go and it makes you want to keep on going back and doing what you are doing. I felt hopeless before, and if you feel hopeless this is what you need to know: there's always room for something new and it's never too late to start something good."
If you need help, or to give help, call 1-800-273-TALK (8255), or text START to 741741 to chat via text.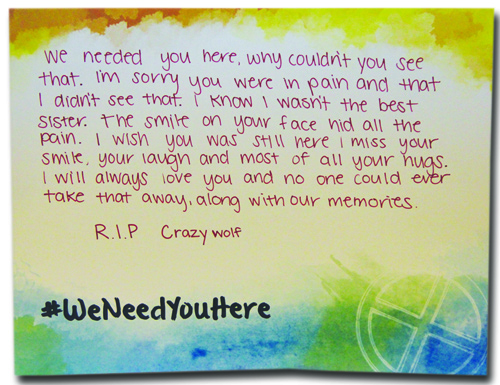 According to the World Health Organization, nearly 3,000 people on average commit suicide daily. About one million people die by suicide each year. Suicide rates are at an all-time high for U.S. military veterans. In addition, for every person who commits suicide, 20 or more others attempt to end their lives. What's obvious from the World Health Organization statistics is that suicide does not discriminate upon race, age, or gender. It is a social issue that plagues everyone, whether directly or indirectly.
The effects of suicide are not limited to those who die. Suicide is a serious public health problem that has shattered the lives of millions of people, families, and communities nationwide. We can all take action to reduce its toll. A variety of strategies are available for individuals and organizations across the United States to help prevent suicide.
On the local, tribal level the Tulalip Tribes have been hard at work on a Suicide Prevention Plan that aims to stop Tribal member suicides, based on the belief that suicide is preventable in our community.
Although suicides occur everywhere in the world, Native Americans are disproportionately affected by suicide and the lasting impact it has on our tight-knit communities. In Tulalip, we recognize the role that historical trauma plays in the mental health of our people. The events of history cannot be changed and the effects of trauma now exist in our bodies and the struggle for healthy coping skills and mental resiliency is a challenge. This plan is vital in our journey to healing; we know that every life is important and we are dedicated to educating our people and preventing unnecessary death.
Tulalip community members who are interested in receiving assistance with mental wellness should call the Family Services main number to schedule an intake for individual or family counseling: 360-716-4400 (18 and over) or 360-716-3284 (under 18).
Warning signs of suicidal behavior
Everyone can play a role in preventing suicide by being aware of the warning signs of suicidal behaviors:
Talking about wanting to die; feeling hopeless, trapped, or in unbearable pain; being a burden to others.
Looking for a way to kill oneself.
Increasing the use of alcohol or drugs.
Acting anxious, agitated, or reckless.
Withdrawing or feeling isolated.
Showing rage or talking about seeking revenge.
Displaying extreme mood swings.
What you can do
If you believe someone is at risk of suicide:
Ask them if they are thinking about killing themselves. (This will not put the idea into their heads, or make it more likely that they will attempt suicide.)
Call the U.S. National Suicide Prevention Lifelines at 800-273-TALK (8255).
Take the person to an emergency room or seek help from a medical or mental health professional.
If possible, do not leave the person alone.
Contact Micheal Rios, mrios@tulaliptribes-nsn.gov