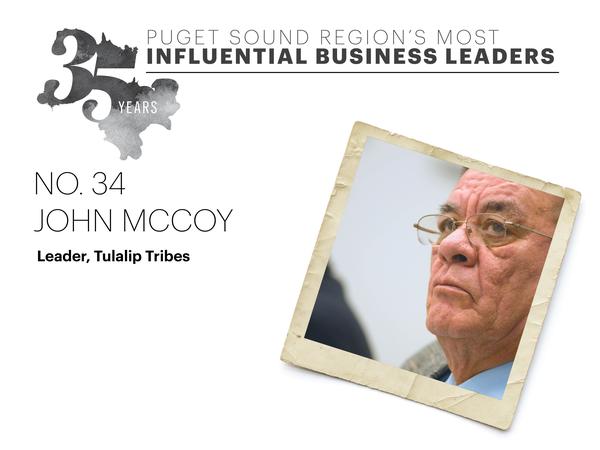 By Steven Goldsmith Managing Editor – Print- Puget Sound Business Journal
This is one in a series where the Puget Sound Business Journal counts down the top 35 most influential business leaders of the last 35. The countdown is part of the PSBJ's 35th anniversary celebration.
As a leader of one of the nation's most economically active tribes, Snohomish County's Tulalips, John McCoy is a national as well as regional business figure.
McCoy, 71, recently retired as general manager of the tribes' bustling Quil Ceda Village shopping, casino and hotel complex, but still serves in the state Legislature (10 years in the House, two in the Senate).
He was recognized as the Business Journal's 2005 Executive of the Year for the dynamic business environment he helped foster.
It all started 20 years ago, when McCoy — a no-nonsense negotiator who sports a bolo tie and a crew-cut — returned to his tribe after serving 20 years in the Air Force and several years as a computer technician at Sperry Univac and the White House.
McCoy helped move the reservation from a communications system that he described as "one step above smoke signals" to a state-of-the-art. That program evolved into Tulalip Data Services, which installed networking infrastructure on the reservation and provides technical support to tribal departments.
The shopping complex near Marysville became a triumph of planning, vision and commitment on the part of the Tulalip Tribes — one of many still working to parlay gambling revenue into a more diverse and sustainable prosperity.
In addition to the popular hotel-casino, Quil Ceda includes a business park, the 125-tenant Seattle Premium Outlets, and stores such as Cabela's and Home Depot.
For the Tulalips, much of this traces to McCoy.
"As you course your way through history, you see common people doing uncommon things," Bob Drewel, head of the Puget Sound Regional Council and a former Snohomish County Executive, told the PSBJ in 2005. "John believes himself to be a common person, and he does some very uncommon things."
See Also