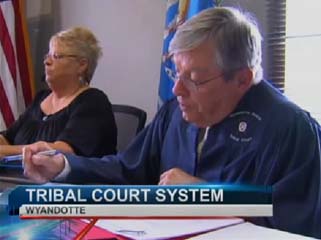 By Jennifer Penate
May 23, 2013 on fourstateshomepage.com
WYANDOTTE, OK.— Wyandotte Nation is now holding criminal court every month.
"Establishment of tribal courts is essential to obtaining and maintaining tribal sovereignty," said Jon Douthitt, Judge.
Jon Douthitt is the presiding judge. This is the second court he's helped establish in the four states, following Quapaw. He says there's one main challenge.
"Anything you do without proper jurisdiction is subject of being voided or attacked," said Douthitt.
"I think that's one of the complicated and convoluted issues of Indian law, is what is jurisdiction," said Geri Wisner, Prosecutor.
Geri Wisner is the court's prosecutor. She will only handle tribal code violations committed by a Native Americans.
"I will not be forwarding anything to the state unless it was a non-Indian suspect on a crime," said Wisner.
However, the federal government will have jurisdiction over major crimes like murders. Wyandotte Nation Chief Billy Friend says having this court in place is momentous, allowing the community to prosper.
"Just gives us the opportunity, as far as collecting fines and fees instead of them going to the state or county government, it actually comes back to the tribal government," said Chief Billy Friend, Wyandotte.
Chief Friend's ultimate goal is to establish an appellate and supreme court. Wisner says her mission is to talk to elders about how issues were handled traditionally. The goal is find a way to help offenders rather than issuing them fines or jail time.