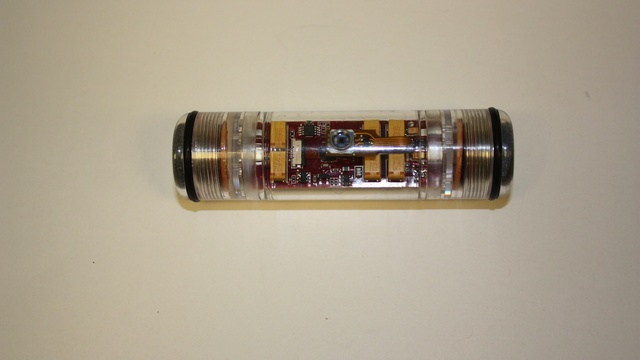 By Courtney Flatt, Northwest Public Radio
It's hard to know exactly what happens to young salmon as they swim out to sea – what sort of wild, sometimes fatal ride they experience when they plunge through a dam's turbine.
A few robotic fish are helping researchers find answers.
They may lack fins, gills, and scales, but these fish are equipped with sensors that can detect pressure changes, water temperature, and the direction they're facing.
Major pressure changes can make fish experience something akin to the bends in divers. Fish can also get whipped around by turbine blades.
Researchers at Pacific Northwest National Laboratory have worked with several iterations of robotic fish. Two years ago, EarthFix first covered the robo fish.
Back then, researcher Tom Carlson said it's important to downsize the mechanical fish so that they can test what it's like at dams smaller than those on the mainstem Columbia River.
"Everybody tries to imagine what it might be like to be a fish. I don't think any of us do it very well," said Carlson, who is now retired. "The experience of the fish may be quite different … They may not have the same sensation of water flow that we might imagine as humans when we're swimming."
This newest generation is even smaller than the models used two years ago, when testing found the sensors still worked well after facing up to 600 times the force of gravity – definitely something that's hard to imagine.
The newest sensor fish are the same size as the juvenile salmon they'll be sometimes be "swimming" alongside: about 3.5 inches long and 1 inch in diameter. (Researchers are developing other models to mimic more types of fish.)
"The earlier sensor fish design helped us understand how intense pressure changes can harm fish as they pass through dam turbines," said scientist Daniel Deng, now in charge of the sensor fish project.
"And the newly improved sensor fish will allow us to more accurately measure the forces that fish feel as they pass by turbines and other structures in both conventional dams and other hydro power facilities. As we're increasingly turning to renewable energy, these measurements can help further reduce the environmental impact of hydropower," Deng said.
The new devices will be tested at three small hydro projects in the U.S., two conventional hydroelectric dams in the U.S., irrigation structures in Australia and a dam on the Mekong River in Southeast Asia. They can be used with several types of turbines and pumped storage plants.