By Brandon Ecoffey , Native Sun News Managing Editor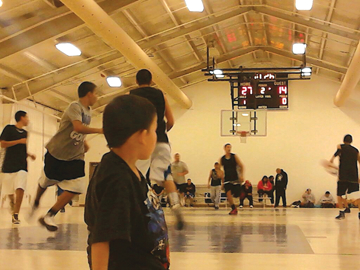 PINE RIDGE— The notoriety of the unique passion and style with which Native people play the sport of basketball has grown with the successes of college athletes like Jude and Shoni Schimmel. However the oversimplification of the term "Rez Ball" that has been tied to the two star guards for the University of Louisville has left out many aspects of Indian Country's connections to the game, including those that are fostered at independently run basketball tournaments all across the country.
Stereotypical portrayals of Native America are often infused with images of black and white photographs from the pre-reservation era showing tribal members in traditional regalia. In representations of contemporary Native America the mainstream news cycle is often flooded with photographs of dire poverty and gang life. These elements do exist in Indian Country but what is often left out is the everyday life lived by many in predominately Native communities that is infused with the sport of basketball.
Although basketball was first brought to most reservation communities by Christian missionaries as an incentive or outlet to the harsh assimilationist policies within boarding schools the sport has been embraced throughout Native America.
For some like Beau Cuevas, a Mni Coujou Lakota, who has played the game his whole life basketball, holds a special place within him.
"For me it's a way to relax because on that court nothing else matters it's you and 9 others guys going to battle. It's the only other place besides Inipi (sweat lodge) and Sundance that I feel at home, it's a brotherhood," said Cuevas.
One phenomenon that has been present in Indian Country since as early as the 1900's has been the formation of travelling teams made up of Native American ball players. Possibly the earliest recorded Native American independent basketball team in history hailed from Fort Shaw, Montana. The team that was comprised of women competed in the 1904 World's fair in St. Louis and helped to create interest in the game of basketball.
Throughout the year athletes from around Indian Country participate in both local and national basketball tournaments held in all parts of the U.S. The participants in these reservation or urban Indian community based tournaments vary from former high school stars, to successful Divisions 1 athletes, street ball legends and even potential NBA prospects like Luke Martinez who played at the University of Wyoming.
Occasionally in tournaments where tribal enrollment verification is not required high caliber non-Native participants are also brought in by Native teams to compete as demonstrated by sightings of former University of Wisconsin star Jordan Taylor at a tournament held at Indian Center in Minneapolis, MN and former South Dakota State University forward Tony Fiegan who played in one in Rapid City, SD last spring.
Cooper Kirkie a member of the Crow Creek Sioux Tribe who is one of the many talents who travel across the country to play in these tournaments says that the talent level playing is comparable to that of the NBA's Developmental league or some of the pro leagues in Europe.
"With more and more Natives playing division 1 ball it is really getting to be good talent in these tournaments. The ones who are playing college ball and don't go on to play after are the first round draft picks for these teams. Usually someone sees them play and someone else will know their auntie or cousin and call them up and bring them out," said Kirkie.
Kirkie has travelled to over a dozen states including Florida, Washington, and Wisconsin to play in Native tournaments and feels that his desire to travel, that he inherited from his Grandmother, would have went unfulfilled without basketball.
"I am really blessed to be able to travel and see different parts of the country that without basketball I may not have ever been able to experience," he said. "There are just so many good players out there is feels good to be able to go to other nations and compete against what they have. It is like counting coup. It isn't about being violent or disrespectful it's just going out and doing our best."
With the arrival of gaming and energy dollars in to Indian Country the dynamics of these teams have begun to change as well as the sponsorships. The team Kirkie is on receives its funding from tribal members who are enrolled in a Florida based casino tribe who pays for the team to fly to and from tournaments throughout the year with per cap dollars generated by the tribal members' casinos. The sponsorship money is a welcome relief from days past when Cooper was forced to gather money on his own.
"I remember when I first got started and I had to either save up money all the time or approach the tribe and ask them for $200. Sometimes they would give us that and we would get together some food stamps and we would travel on that," he said. "The thing about our sponsors is that they are really good hearted people who do this because they like to see us play and they like to spend family time together with us. It isn't like if we play a bad game that this is going to stop. It isn't about that and it feels good playing with no pressure and being with family."
Some tournaments are of the small scale where local teams converge to compete against fellow tribal members for jackets, sweaters, and occasionally t-shirts. However independent basketball has begun to take on a new feel with the onset of the same casino and energy dollars that sponsor Kirkie's team being funneled in to the circuit with some tournaments awarding as much as $10,000 and custom designed Pendleton jackets to the winners. Recently the team Iron Boy which featured former Cheyenne Eagle Butte standout and Pine Ridge Native Daelan High Wolf took home the $10,000 prize at the March Madness tournament in Dells, Wisconsin.
The reasoning behind the creation of these tournaments varies from event to event. Some are local fundraisers while others are for competition but one authentically Native aspect of the Native Independent basketball circuit is using the game and the events as a way of memorializing lost loved ones. Travis Albers hosts a tournament each year in Bismarck, North Dakota honor of his brother Tanner who past away from cancer several years ago. Tanner was a star player in South Dakota alongside Travis, both would play together at United Tribes Technical College in Bismarck. Just this last year Tanner was inducted in to the school's hall of fame. For Travis who himself is veteran of the independent hoops trails the memorial tournament he runs is bigger than just basketball.
"Me and my brother had been playing basketball together since we could walk. It was something we did together, we did everything together," said Albers. "When I have this tournament it isn't just basketball. I want people to come and talk about memories they had of him and to talk about how he treated them good and remember things other than basketball."
Travis and Tanner would play together with each other at all levels of the game including college and then with one of the more storied independent teams, Iron Five, for more than ten years together. For Travis the independent game has changed but it is still something that serves a purpose within Native communities.
"We have have a lot of athletes who could go on to play at higher levels but for whatever reason they sometimes get pulled back. But for those on the reservation they are still stars. Some of them are like NBA players to us but the tournaments are good ways to gather to remember the ones the passed away," he said.