Source: Native News Network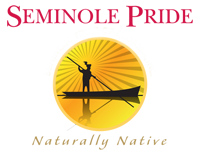 WINTER HAVEN, FLORIDA – The Seminole Tribe of Florida, Inc., through its growing citrus production business, Seminole Pride, has acquired a majority interest in Noble Food Service, the sales and marketing division of Noble Juice of Winter Haven, Florida.
"Our combined entity offers everything from premium orange juice, which is the standard bearer of citrus juices, to a full array of specialty citrus juices, the fastest-growing segment of the business."
Said Tony Sanchez, president of the Seminole Tribe of Florida, Inc, the Tribe's business development arm.
"By joining forces in a sales and marketing operation, Seminole Pride and Noble Juice will create one of the industry's most extensive line of citrus juices and expand their distribution to more restaurants, schools, hotels, hospitals and catering operators throughout the United States,"
Sanchez said.
Seminole Pride products will now be sold through a broad national network of juice retailers, while Noble Juice will benefit from the minority supplier status of Seminole Pride. The two entities will share profits from future growth.
Citrus juices sold through Noble Food Service include:
Orange
Red grapefruit
Blood orange
Pummelo Paradise
Tangerine
Tangerine guava mango
Tangerine clementine
Organic orange
Organic orange tangerine
Organic grapefruit
Lemon
Lime
Noble Food Service also markets organic apple juice, lemonade, organic lemonade and bottled spring water.
"The Seminole Tribe of Florida and the Roe family share a strong commitment to the sustainability of Florida's bounty,"
said Quentin Roe, chief executive officer of the Noble companies, including Noble Food Service.
"In addition to responsible growing practices, we both feature eco-friendly containers, including the juice industry's only 100 percent plant-based bottle and label."
The Seminole Tribe of Florida, Inc., the business development arm of the Seminole Tribe, is working to diversify its product offerings under the Seminole Pride brand, which currently supplies spring water and beef, in addition to juice. Seminole Pride uses only those oranges that are picked at the peak of maturity to ensure a sweet and delicious juice.
Fruit for Seminole Pride is grown on the Brighton Seminole Reservation and at approved groves throughout Florida. The Seminole Pride business is one example of the Seminole Tribe's mission to better the lives and livelihoods of all the American Indian peoples.