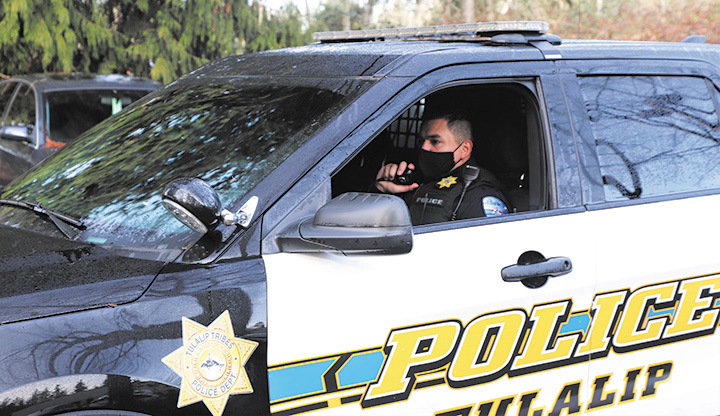 By Micheal Rios, Tulalip News
It's a common occurrence for American children, especially young boys, to dream of one day becoming a police officer, fire firefighter or army soldier. Whether its socialization from Saturday morning cartoons or play fighting with their prized action figures, there typically comes a point where a child's hero worship manifests itself into visualizing a future self where they are the actual hero. That may look like a brave police officer catching bad guys, a fearless firefighter running into a blazing fire to save people, or a valiant soldier fighting to defend freedom and democracy.
For some, this calling to be a hero who protects and serves their community never fades. Such is the case with homegrown Tulalip tribal member Kanoe Williams. He recently returned from a lengthy stay in New Mexico where he attended and graduated from the U.S. Indian Police Academy.
The 29-year-old Kanoe becomes the latest in a long, proud history of tribal members who chose to wear the Tulalip Police Department shield. He sat down with Tulalip News staff to reflect on his journey to this point and what he hopes the future holds for him in law enforcement.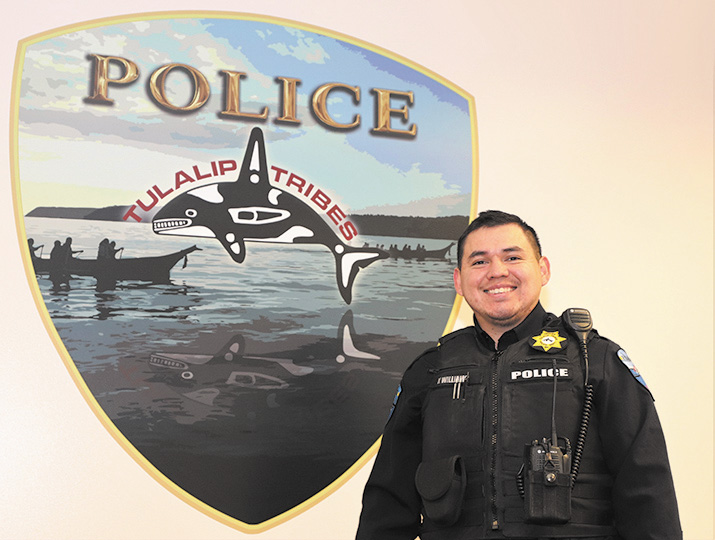 What inspired you to join TPD?
"My inspiration to become a Tulalip police officer is a passion to serve my community. The thought first came to me when I was 24, but I knew I wasn't ready then to take on this role. Now, I'm a little older, more mature, and willing to take on this responsibility to protect and serve our people."
Describe the process to become a tribal police officer.
"First things first, you gotta have the courage to apply and put yourself through a series of tests. A polygraph to test your honesty and integrity, a medical to test physical capableness and general fitness, and a series of interviews to make sure you're a good fit to join Tulalip police.
After passing those required tests, then it's on to police academy where you learn the basics of the law and other essential skills for successful police work. Attending academy was the longest I'd ever been off the Reservation, so there was an adjustment period, but I knew it was all part of the process to create a better future for myself, my family, and my Tribe."
What kind of impact do you hope to make in the community?
"A positive one, that's for sure. What that may look like will vary from person to person and family to family. But in general, I want our people to feel safe and confident that when they need police assistance that we have their best interest at heart, always. By giving our people the respect and empathy they deserve, I hope to earn their trust as an officer who knows what they are doing and is fair in enforcing the law to everyone.
Looking even further in the future, I hope to become a training sergeant who is able to recruit more of our tribal members into joining and give them the confidence to do this job well."
It's a fascinating political and social climate to become a cop, especially when considering social media. Did any of this play a role in your decision?
"It's funny because if you just looked at the news and social media you might wonder why anyone would want to become a cop today. However, most the time, when you see first responders around large groups of kids like a school, the Boys and Girls Club, or the Youth Center, the interactions are always positive. The younger kids will often share how they want to become a police officer or firefighter. That's empowering.
To pursue and accept a role to serve your community is empowering as well. And something I want do so that our next generation continues to dream of becoming heroes and choosing careers where they serve others instead of only themselves. Deterring and preventing crime may not be glamorous to everyone, but knowing those we love and care about are safe is the ultimate reward."
Why is it important for Tulalip to have representation in its police force?
"There are many tribes that don't have their own police force. They are instead policed by outside agencies and county police who don't understand what its like for our people who live on a reservation. When we have Tulalip tribal members hear the call to serve their own people by becoming officers, we are not only embracing our sovereignty but creating a better community.
Growing up on the reservation, we see and hear things that are very different from outside communities. Our experiences make us more compassionate and understanding because we know there all different kinds of traumas at work and those traumas can be healed in a variety of ways. Through community outreach and creating networks with all the departments that want to make our people healthy, our police department actively works with our people, not against them.
In my short time in the department I've witnessed firsthand how much our officers, tribal and non-tribal, respect and care for our Tulalip community. I've also been hearing the stories of past tribal members who built the police department into what it is today. That's a legacy I intend to build upon for all of us."