Security Guards and Metal Detectors for Tribal membership meeting
Posted by Zig Zag on Warrior Publication
June 2, 2014
(Chiloquin, Oregon)Saturday May 31  A long awaited General Council meeting was held at the Klamath Tribes Administration building that had been originally scheduled for Saturday May 17. The original meeting was rescheduled when the Klamath Tribal Council misinformed the public regarding accusations of "threats" toward Tribal Council. According to Klamath Tribal Councils press release, "some Klamath Tribes members have been campaigning to organize a hostile takeover of the meeting. Threats included chaining and padlocking doors to force the Tribal Council and meeting attendees to remove Gentry from the council and to overturn the results of a recent referendum vote."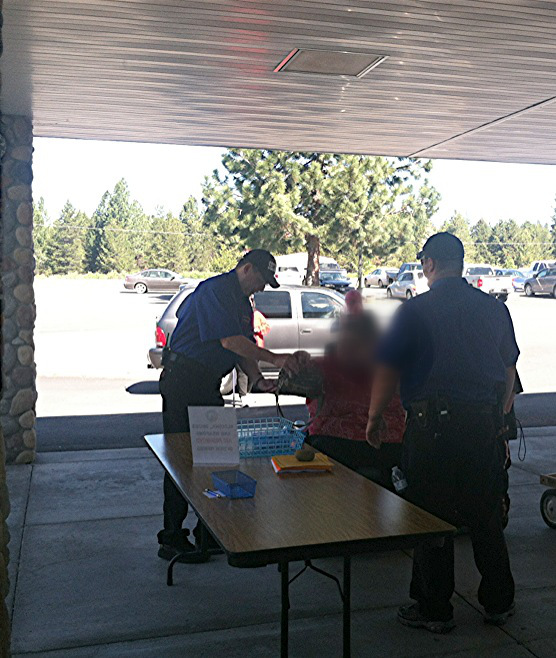 Klamath members were "wanded" and searched by security hired from Medford before entering the front doors, and asked to provide Klamath Tribal ID to Chairman Gentry's wife, Mary Gentry, prior to entering the auditorium. Everyone was asked to sign in and wear a name tag. Signs were posted on the front door of the Administration building that read "video/audio recording is NOT permitted, unless specifically authorized by the Klamath Tribes."
Approximately 100 eligible voting tribal members were in attendance, many who wanted accountability and answers from their elected officials regarding the recent illegal referendum that granted Chairman Gentry signatory authority to sign the "Proposed Upper Klamath Basin Comprehensive Agreement" on behalf of membership. This agreement, now called the "Klamath Water Recovery and Economic Restoration Act of 2014", was introduced May 21st to Senate by Senators Wyden, Merkley, Boxer and Feinstein.
Every opportunity membership had to discuss the referendum was denied by Chairman Gentry at the General Council meeting. Though membership rights have been compromised by tribal negotiators, the outstanding concern Klamath tribal members have is that their elected leaders did not properly follow the laws of the Klamath constitution regarding a referendum vote.  Throughout the meeting, the Klamath Tribal constitution, bylaws and Roberts Rules of Order were only acknowledged by Chairman Gentry when the rules benefited council and were denied when rules were invoked to conduct General Council business.
"This is a dictatorship!" exclaimed Ramona Mason a Klamath Tribal member.
When addressing Klamath Tribal Council regarding their disrespectful behavior toward membership, elder Heidi Kimbol stated,
"You all look very bad."
Klamath Tribes General Council meetings were established to give tribal members the power to discuss issues, make important decisions for their community and to conduct business accordingly. Only limited authority has been granted to tribal council and membership reserves majority sovereign authority to themselves.
But at Saturday's meeting it was clear that the Klamath Tribal council has abused their authority, publically displaying their unethical treatment of the general membership. And membership finally had the opportunity to unify and vocalize how discontent they are with how their elected leaders conduct themselves.
The General Council meeting began at 10:00 am and finally ended at approximately 5:00 pm, commencing with Councilman Don Gentry's wife, Mary Gentry, accusing a young woman of "stealing from the tribe." When asked for clarification on what Mrs. Gentry was referring to, she stated the woman stole coffee cups from a previous public event, cups which were provided for any guests in attendance, free of charge.
Though security was originally hired to prevent a "hostile takeover" of the meeting, the only event where security needed to intervene concerned the Chairman's wife, Mary Gentry, who was ranting, crying and shaking as she was escorted outside of the building.
Media Contact: Kayla Godowa (541)-844-6114
Rowena Jackson: (541)-246-0281
Danita Herrera: (541)-852-6106