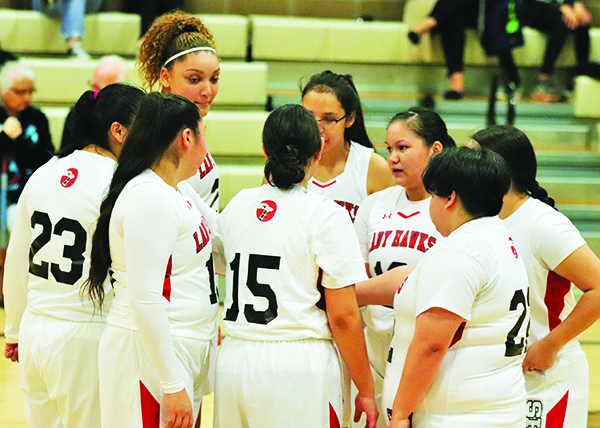 By Micheal Rios, Tulalip News
The Tulalip Heritage girls basketball team opened their 2019-2020 season with a home game on Saturday, December 7. They hosted the Darrington Loggers at Francy J. Sheldon gymnasium.
Last season the Lady Hawks finished with a lackluster (4-12) record. In the weeks leading up to this new season the coaching staff opted to focus on pace of play and defensive hustle as their areas for improvement. Assistant coach Jeff Monsegur said, "We spent a lot of time working on cardio, just running and more running, so that we can have a quicker tempo on offense and keep our defense up in the 2nd half of games."
With a few weeks of hearty conditioning and practice reps the Lady Hawks were prepared to make their team debut with a renewed sense of vigor and upbeat energy.
In their opening game against Darrington, their girls showcased a quicker pace right out the gate. They took an 8-2 lead after back-to-back buckets by Krislyn Parks and a 3-pointer by Deachae Jones. Darrington fought back and tied the game at 12-12 early in the 2nd quarter before employing a full-court defense that stymied the Lady Hawks. At halftime the home team trailed 19-21.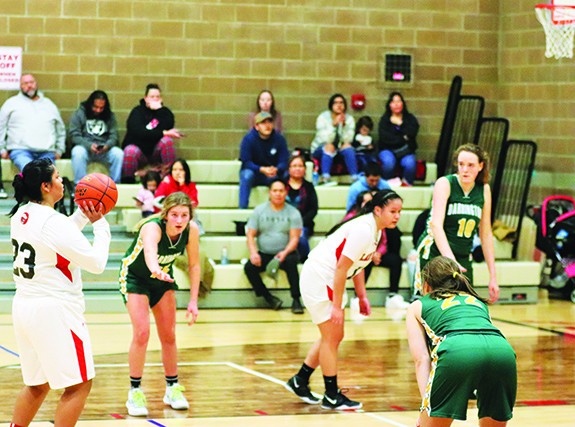 The second half was a highly competitive affair with both teams routinely diving on the hardwood for loose balls and coming up with timely buckets. Darrington opted to double team Jacynta Myles, forcing the Lady Hawks guards to create for themselves. Led by the aggressive driving of Krislyn, who earned a whopping 14 free-throw attempts by drawing fouls, Tulalip stayed within a bucket or two the entire game.
Down 36-37 with just over two minutes remaining, Darrington went back to their full-court defense and forced Tulalip to commit errant passes that led to three quick turnovers. Even so, with only seconds remaining, the girls had a chance to capture victory when Deachae shot a potential go-ahead 3-pointer. Unfortunately, her attempt fell just short and clanged off the rim for a miss. Tulalip 37, Darrington 41.
Krislyn led the Lady Hawks with 14 points, while Jacynta collected over 20 rebounds.
"We did so much running over the past three weeks so we wouldn't burn out in the 2nd half of games, like we did last season. All that running really showed tonight," reflected Krislyn following the game. "We'll continue to work on our team hustle and never giving up on any plays."
"Even when we lost our lead we stayed positive and kept cheering each other on. That attitude really helped us stay in the game," added Jacynta. And on her huge rebounding total? "Because of my height the team relies on me to get rebounds. I don't want to let them down so I try to get every one that I can."
Tulalip basketball is on the road for their next 3 games. They'll return home on Thursday, December 19 for a matchup with Grace Academy.