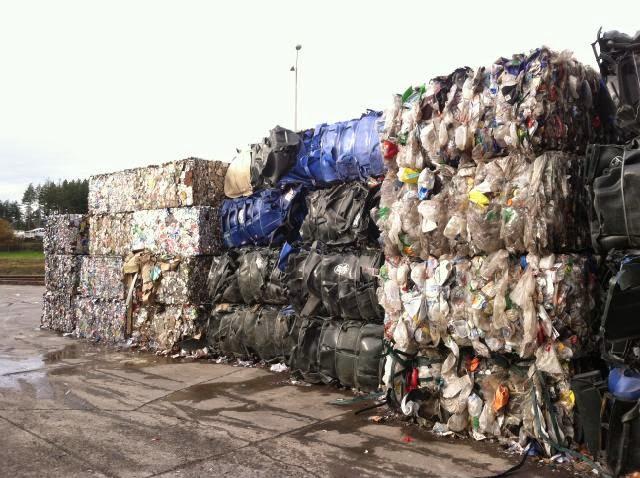 By BELLAMY PAILTHORP, KPLU
Washingtonians have lost some bragging rights.
We still recycle at a rate that's much higher than the national average, but we're no longer improving on the amount of recyclables we divert from landfills. The statewide rate went down in the most recent data set, to 49 percent in 2013.
The state Department of Ecology was quick to point out that Washington remains a national leader in recycling. Our rate is still well above the nationwide average of 34.5 percent. But we're backsliding.
"We've been above 50 percent for the last two years. And now we're back down to 49 percent," said recycling data analyst Dan Weston.
It's not all bad news, Weston says. We've improved our rate of recycling plastics, for example. But rates are falling for commodities that have seen price drops, such as glass and ferrous metals. He thinks dealers may be holding onto them, waiting for prices to rebound. And there's been less recycling of construction and demolition materials despite a recent increase in new construction.
"We're not quite recycling those materials at the rate that we had been prior to the recession. And so that's definitely an area where I think we'll be seeing a much stronger focus over the next few years," he said.
Food waste is another area that needs improvement, hence the new ban on compostables in Seattle trash, with fines kicking in this July.
The state has also just started free recycling for fluorescent lightbulbs to keep toxics such as mercury out of the waste stream.
But Weston thinks we're already capturing most of the low-hanging fruit at this point, so making additional gains will probably require incremental progress in all areas.
"We know how to recycle what we're currently recycling and we just need to do a little bit more everywhere," he said. "Making those additional gains is just going to require more work than we've been doing in the last few years."