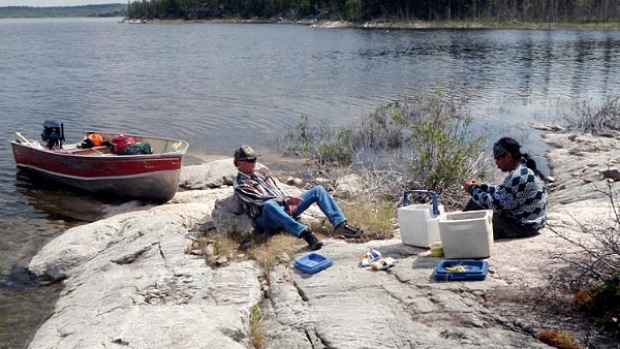 Brent Fleck of Laurie River Lodge in Manitoba calls offending section of brochure 'stupid'
CBC News (Canada) Posted: May 29, 2014 6:40 AM CT Last Updated: May 29, 2014 9:03 AM CT
The owner of a Manitoba fishing lodge said he's devastated by a section printed in his visitors guide that says aboriginals cannot handle alcohol, and has issued an apology.
"It was a total mistake and should not have been in there. It's an old trip planning guide that I've used for like 15 years and I had no idea that that was even in there," Brent Fleck of Laurie River Lodge said via phone from the facility near Lynn Lake, calling the offending section "stupid."
"I've issued an apology to the chief down in Pukatawagan and to the natives that work for me and … it's certainly not our opinion and not something that we want to forward in any way shape or form."
The lodge's Facebook page was filled with angry comments over a section of the 37-page brochure for people planning a trip to the lodge. A paragraph on Page 10 warns guests not to give alcohol to aboriginal guides.
"We take great care when hiring our staff, however the subject of native guides must be touched upon," reads the section.
"We use Cree Indian guides from the town of Pukatawagon (sic) in northern Manitoba. They are wonderful people and fun to fish with however, like all native North Americans, they have a basic intolerance for alcohol. Please do not give my guides alcohol under any circumstances."
Although Fleck said it was written 15 years ago, that section of the guide was noticed recently by someone and spread rapidly on social media.
Fleck said he has removed the offending guide from the lodge's website and offered an explanation as to why it was there in the first place.
"You might be interested to hear that the paragraph in question was written years ago in an attempt to remove the pressure that a guide feels when his guest asks him if he would like a drink at shore lunch," he told CBC News.
"We run a very high repeat business here at Laurie River and many of our guides have guided the same guests for 20 years or more. Friendships are cemented with great memories of days on the water. That same friendship puts a guide in an awkward position if a guest offers him an alcoholic beverage.
"He is a professional and he is responsible for the health and welfare of his guests while on the water. If he accepts the drink, his ability to ensure that safety is diminished. If he does not accept it he may feel that he runs the risk of offending the guest. The best solution is to let the guest know well beforehand that he should not offer," Fleck added.
"The sentence was poorly worded and for that I feel horrible. When this whole thing first came to light I'm like, 'Holy cow, how could I be so stupid. I had no intention of offending anyone and I feel horrible that I did.
"We take great pride in the professionalism of our entire staff here at Laurie River Lodge and I am always bragging about the quality of my guides. In my mind they are the best guides in Manitoba, maybe even all of Canada and I had absolutely no intention of insulting anyone."
Chiefs demand apology
Once the story about the controversial brochure hit social media and the mainstream media on Wednesday, Manitoba First Nations chiefs called for an apology from the lodge.
Arlen Dumas, chief of the Mathias Colomb First Nation, which includes Pukatawagan, wrote a letter to Fleck on Wednesday and demanded he apologize for his "racist, discriminatory incitement of hatred."
David Harper, grand chief of the Manitoba Keewatinowi Okimakanak, which represents First Nations across northern Manitoba, was also outraged.
"It's totally derogatory, totally treating us like an animal. Basically, you're saying, 'Do not feed the bears,' right? 'Don't give alcohol to these First Nations.'
"Nobody in their right mind would say such comments."
Fleck said he told Dumas he would comply with the chief's requests to make things better.
"My only concern is that I've hurt some of the people who work for me and who have worked for me for over 20 years and that wasn't my intention," he said.
Backlash on Facebook page
The wording was denounced by people posting on the lodge's Facebook page.
"Disgusting … it speaks volumes of your own intolerance to basic intelligence," read one comment.
"An incredible display of racism," read another.
Harper said the Manitoba government should look into the matter to see whether it could crack down on the lodge through licensing or some other mechanism.
"In order for licences to be approved, these kind of comments should also be a factor."
Deputy Premier Eric Robinson, who is aboriginal and a former tourism minister, said an apology was necessary, but he was also giving the lodge owners the benefit of the doubt.
"I think it's an oversight on their part and perhaps they didn't proofread what was written."