By Kalvin Valdillez
On the morning of Sunday March 25, Tulalip community members gathered at the Tulalip Bay Fire Department to enjoy the most important meal of the day while honoring an important man, to both the Tulalip community as well as the Fire Department. LeRoy Fryberg Sr. dedicated more than thirty years of his life volunteering as a firefighter for Tulalip Bay Fire Department and the Department plans on hosting a pancake breakfast every year in remembrance of the local hero.
"My grandpa's love and passion for the Tulalip Fire Department goes all the way back to the beginning," explains Tulalip tribal member and LeRoy's granddaughter, Christina Parker. "As kids we used to go with our grandpa on calls. We would be driving down the road and all of a sudden, he'd tell us 'hold on!' He had a lead foot so we'd fly all the way to the fire department. He loved helping the community and fought hard to get dollars to start this fire department. His love for the Fire Department was unconditional, they were like his family."
The community was treated to a delicious breakfast prepared by the firefighters. Kids and elders had a blast, taking turns spraying the fire hose. Tulalip citizens were also able to tour the fire station, play ping-pong and meet the new Fire Chief, Ryan Shaughnessy.
"LeRoy was one of the commissioners here for a long time as well as a great firefighter," explains Chief Shaughnessy. "He helped bridge the gap between the district and the Tribe and helped us out with funding and really moved the fire department forward. That's what we want to do today is honor him.  He still has family in the fire department; we've got Marlin Fryberg Jr. as one of our fire commissioners and Ross Fryberg as one of our new firefighters. This is a really exciting time for us, we've got all kinds of new things going on. We are a community fire department and we serve a fantastic community. It's nice to meet community members when it's not an emergency situation. It's fun for us, our crew enjoys it. We're happy to be here and happy to serve."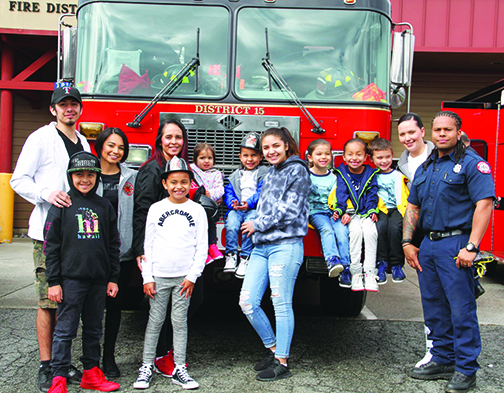 "Today was the first annual LeRoy pancake community event," says Tulalip Bay firefighter and LeRoy's nephew, Ross Fryberg. "A couple of the guys thought it would be a good idea to commemorate him for all that he's done for this community and I obviously wanted to be a big part of that. My uncle worked here for nearly forty years, the firehouse is actually named after him. I just want to continue that tradition, his legacy. I know that those are big shoes to fill, but I want to continue to encourage younger people to follow in his footsteps and serve within the community in which they were raised."
According to family members in attendance, the event was the perfect way to honor LeRoy's legacy. The Tulalip Bay Fire Department is currently working full steam ahead, making new changes within the department including the unveiling of a new logo that features the Tulalip killer whale, as well as officially changing the name of the department from Snohomish County Fire District #15 to the Tulalip Bay Fire Department and hosting more community-based events.
For further details, please contact the Tulalip Bay Fire Department at (360) 659-2416.