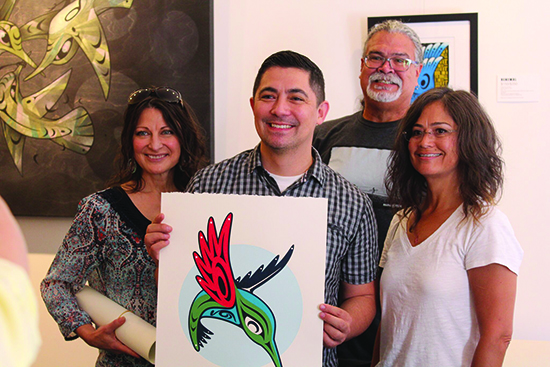 By Kalvin Valdillez, Tulalip News
In the late summer of 2016, Nooksack artist Louie Gong opened the doors of his 'Inspired Natives not Native Inspired' brick and mortar shop in Seattle's Pike Place Market, located directly above the tourist-favorite gum wall. After several years of independently grinding and selling his traditional yet contemporary artwork online, Louie decided to bring authentic Native American art to the masses by opening Eighth Generation and by doing so, he began to break stereotypes. In a world where big-name companies such as Forever 21, Urban Outfitters and Pendleton often appropriate Native designs, Louie took control by becoming one of the only Native-owned retailers selling authentically made Coast Salish art in the entire nation.
Louie has journeyed a long way since first making his mark in the fashion scene by taking a Sharpie to pair of Vans shoes and mixing traditional and urban art together. Since then, he has used his platform to empower and promote fellow Indigenous artists and has become one of the most prominent voices in the Native American community. Many tribal nations across the United States often gift   wool blankets to community members and leaders during traditional ceremonies. Blanketing honored guests is a tradition in Native America that has been practiced for centuries. These blankets were almost exclusively Pendleton but now tribes have the opportunity to support Louie's movement during potlatches, powwows and many other tribal events.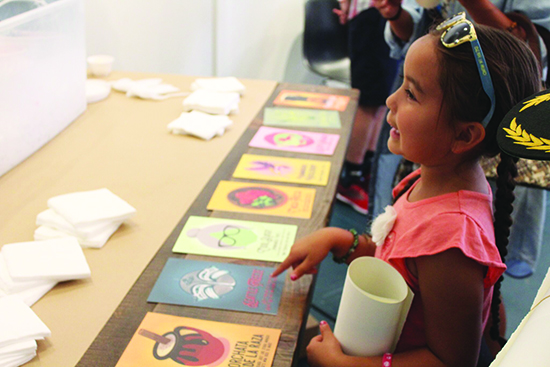 On Saturday August 26, Eighth Generation celebrated their one-year anniversary by hosting an open house at their storefront. Tribal members from across the nation, including Ahousaht, Quinault and Lummi attended the event to show support for Louie and Eighth Generation.  The event featured a giveaway of several Eighth Generation products including blankets, soap, a limited number of signed Louie Gong Hummingbird prints as well as an original Louie Gong framed art piece valued at $1,200. During the event, Louie took a moment to reflect on the success of Eighth Generation throughout this past year.
"We've been open for a year and I feel like I'm at the end of a marathon," he expresses. "When we launched it wasn't time to rest, it was really time to put our nose to the grindstone and work even harder than the time leading up to the launch. Now that we've been open for a year and gone through all the different lessons that we had to learn, many of them the hard way, I feel like its finally time to take a deep breath, reflect on what we've learned over the last year and recalibrate to do even better next year. I feel like I've finally reached a time of reflection so I'm going to take some time away and think about how to move forward in a strategic way and how to continue scaling up Eighth Generation in a way that's consistent with our values and our long-term vision. Not just creating opportunities for ourselves but also creating opportunities for other cultural artists and other community-based Native people."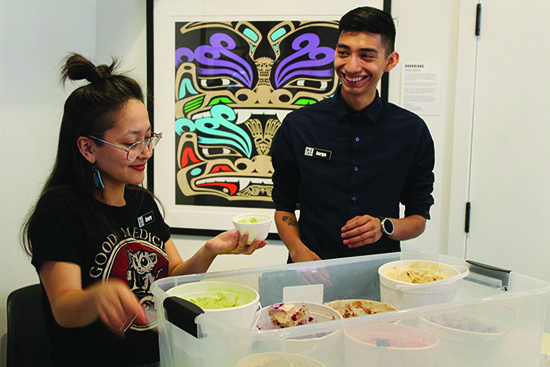 For the celebration, Eighth Generation collaborated with a local Native-owned business, the Central District Ice Cream Company, to debut eight new tasty ice cream treats: Hummingbird Huckleberry, Seattle Freeze (deep chocolate ice cream with Salish Sea salt and almond cookie crumble), Horchata De La Raza, COOL καψə? (nettle mint ice cream with chocolate chips), Genmaicha, Wunder Beer, Chica Fresca and Sleepy Dragon (lychee and lavender ice cream).  The Eighth Generation team also created artwork for each ice cream flavor.
"There's no better way for us to celebrate the work that Eighth Generation does than by collaborating with another Native-owned company," Louie states. "Over the course of last year, we were fortunate to become aware of Central District Ice Cream and the fact that they're also Native-owned. We teamed up to create eight unique ice cream flavors that we launched today at our one-year celebration. It was the perfect way to act in a way consistent with Coast Salish and Northwest Coast teachings around how to conduct a celebration, but to also do it in a way that reflects the light-heartedness and contemporary nature of Eighth Generation. By incorporating traditional ingredients into the ice cream, including some medicines, it was a way for us to do what I try to do with my art, which is to make cultural teachings and ideas relevant to contemporary life."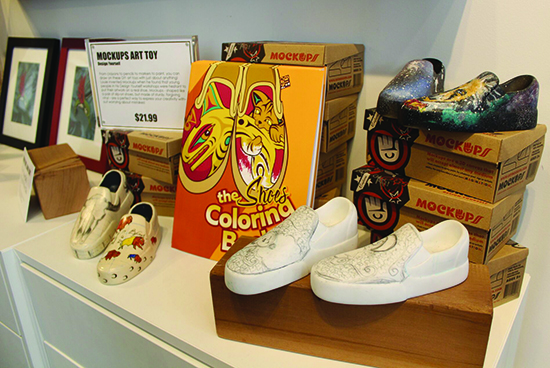 After a successful first year, Eighth Generation continues to inspire Native artists and break stereotypes. For further information and to view the Eighth Generation catalog, please visit www.EighthGeneration.com or visit the store in person at 93 Pike Street Seattle, WA 98101.