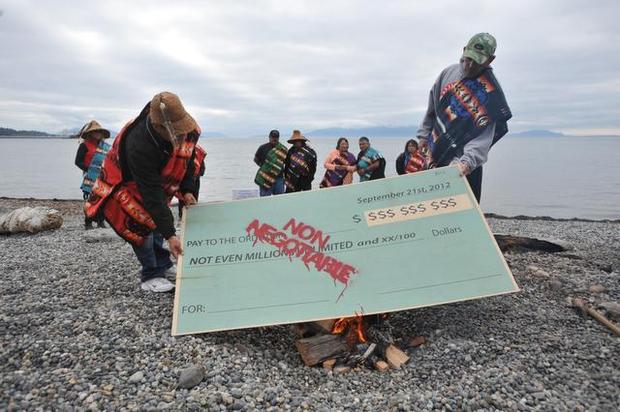 By Ralph Schwartz, Bellingham Herald
Lummi Nation sent another clear message about a proposed coal terminal on Tuesday, Feb. 3: Under no terms will it accept Gateway Pacific Terminal at Cherry Point, an area near the Lummi Reservation with cultural and economic value to the tribe.
Lummi Chairman Tim Ballew  responded Tuesday to a Friday, Jan. 30,  request from terminal proponent SSA Marine to meet face to face and discuss how to "harmonize the facility with the environment."
"I can assure you that we have carefully considered the impacts associated with this project and have concluded that these impacts simply cannot be avoided, minimized, or mitigated," Ballew wrote in his response to Skip Sahlin, vice president of project development for Pacific International Terminals, an SSA Marine subsidiary created to develop Gateway Pacific Terminal.
"While we appreciate your desire to engage on these issues, we remain steadfastly opposed to this project and do not see the utility in pursuing any further discussion," Ballew added.
Officials at SSA Marine had no comment.
Ballew sent  a letter Jan. 5 on behalf of the Lummi Indian Business Council to the U.S. Army Corps of Engineers, asking the agency to immediately reject a permit for the coal terminal because it would interfere with the tribe's fishing grounds. The tribe has a right granted by an 1855 treaty to fish in its customary areas, which include Cherry Point and the shipping lanes that would see more traffic with the opening of Gateway Pacific Terminal.
Plans indicate the terminal could open as early as 2019 and would export up to 48 million metric tons of coal a year overseas.
Corps spokeswoman Patricia Graesser said the agency would give an initial response to the Lummis' request on Wednesday, Feb. 4, but it wouldn't be a decision on whether to reject the permit.
As determined in past court cases about disruptions to tribal fishing areas, the Corps needs to decide whether Gateway Pacific Terminal would have impacts that were more than negligible. Lummi Nation in its request to the Corps cites a vessel traffic study, which concluded that the traffic added by the terminal's operation would increase by 73 percent the disruption of Lummi fishing by vessels.
In reaching out to the Lummis on Friday, Jan. 30, Sahlin mentioned the politics around the coal terminal decision, "and the pressure from many divergent interests to sway decision making."
SSA Marine officials have accused terminal opponents of  getting the facts wrong. Sahlin said in his letter that more productive discussions would result if SSA Marine and Lummi Nation met face to face, as they have previously.
"We would welcome the opportunity to a return to such a fact-based interaction," Sahlin wrote.
"Negotiation between Lummi and Pacific International Terminals is not an option," Ballew said in a prepared statement. "Our treaty rights are non-negotiable and not for sale."
In an interview, Ballew said the Corps in consultations with the tribe could reach a decision on the Lummi request in months rather than years. Graesser said in an email to The Bellingham Herald the Corps' decision does not have a deadline.
The Corps will continue to draft an environmental impact statement for the terminal, a step that comes before permit approvals.
"I'm of the opinion that this government-to-government consultation (between the Corps and the tribe) puts the EIS process on the back burner," Ballew said, "and their attention now should be on … making a decision based on the information that we've given them."
Read more here: http://www.bellinghamherald.com/2015/02/03/4113940_lummi-nation-rejects-coal-terminal.html?rh=1#storylink=cpy