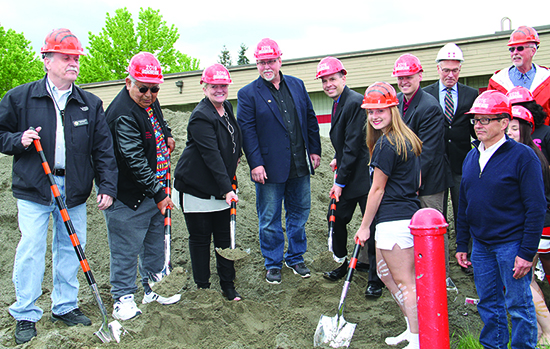 by Micheal Rios, Tulalip News 
Shovels and hard hats were on deck as ground was broken for a new cafeteria at Marysville Pilchuck High School (MPHS) on the afternoon of Friday, April 29.
"This is a proud day, a wonderful day, a day of new beginnings. It's a day where we can celebrate starting anew," announced Becky Berg, Marysville School District Superintendent. "This is a monumental day where we actually get to symbolically break ground. More importantly we get to come together as a community that's been through something that not many communities understand and something that has made us stronger in the process. The young lives lost are not forgotten, ever, but the young lives currently attending the school will benefit from this wonderful structure. This is an amazing school district with a bright future ahead of us."
It's been 18 months since the MPHS shooting and the ripple effects of that fateful day are still being felt. However, the Marysville community continues to heal while visioning to the future. With the help of key state legislators and the backing by House Democrats, $5 million has been provided to build the new cafeteria. That will cover a very large portion of the estimated $8.2 million cost for the new building.
"Today we honor the wishes of our Marysville Pilchuck community and the needs of our Marysville Pilchuck students," stated school board president Pete Lundberg. "We're very thankful for the support of all those who let us know what they wished for us to do. I see this as a sign of the beginning of the future, positive steps in the Marysville School District that we can see going forward. As we keep our eye on the horizon, this new facility will be a wonderful accompaniment to not only the Marysville Pilchuck student and staff, but to our community as well."
The old cafeteria, the scene of Jaylen Fryberg's murder/suicide, has been closed since the shooting. School district leadership, along with community backing, has remained clearly in favor of not using that cafeteria ever again. The design for the new 16,000 square foot cafeteria, which is expected to open fall 2017, includes a kitchen, ASB office and community meeting space.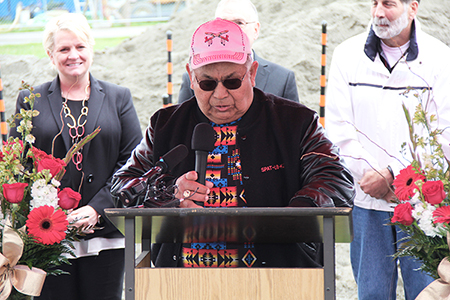 "I want to thank each person who is here to witness the ground breaking of this structure," said Tulalip tribal member Don 'Penoke' Hatch, grandfather to shooting survivor Nate Hatch. "I want to also thank my tribal members who are here because it's not just the Marysville School District that's struggling. It's our parents in our Tulalip community as well. Hopefully, all of us can unite together to make this thing successful for everybody, for every one of the students in the school district."
As the Marysville and Tulalip communities continue to heal, the ground breaking for an all new cafeteria was a step forward. The looks of anticipation and hopefulness that several students in attendance displayed are evidence of progress and recovery.
"When we look at the recovery process from an event like this there are several milestones along the way and I think this ground breaking represents yet another milestone in the recovery for the city as a whole, but most importantly for the kids and staff here at Marysville Pilchuck High School," said Marysville Mayor John Nehring. "We are so grateful to all those who worked so hard to make the financing available for this project. I am so personally grateful for the strength of the leadership, staff, and kids here who continue to inspire us each and every day."