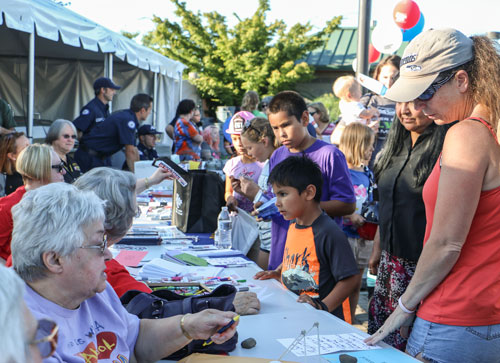 By Brandi N. Montreuil, Tulalip News
Tulalip and Marysville Police Departments partnered with Snohomish County Sheriff's Department to host the Annual National Night Out held at the Tulalip Amphitheater at the Tulalip Resort Casino on Tuesday, August 5.
The national event brings together law enforcement, local organizations, and community members to strengthen relationships to promote crime prevention, while educating community members about crime prevention methods, such as neighborhood watches and citizen patrols.
Traditionally Tulalip Police and Marysville Police Departments have split hosting duties, each taking a turn hosting the event in their respective cities. As this year's host Tulalip invited local service organizations such as Snohomish County Volunteer Search and Rescue, Tulalip Bay Fire Department, Tulalip Behavioral Health, Medical Reserve Corps, Tulalip Legacy of Healing and others, to participate in the national event that celebrated its 31st anniversary this year.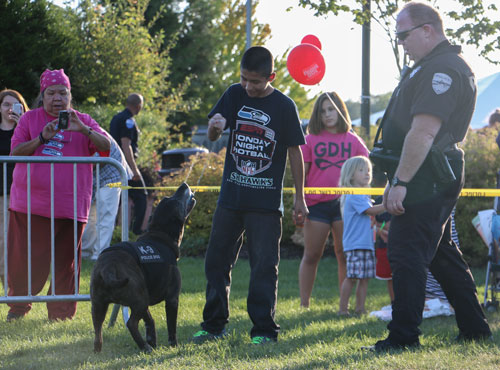 An estimated 250 community members from the Tulalip/Marysville area attended the event and were able to ask questions about crime prevention and gain crime prevention awareness resources. In addition, were two K9 unit demonstrations that enabled participants to learn how K9 officers search and find drugs.
"Last night's National Night Out against crime was a success," Ashlynn Danielson with the Tulalip Police Department. "Events like this one bring together community members and law enforcement to promote crime prevention. We received positive feedback from participants."
Due to the success of this year's National Night Out event, Tulalip Police Chief Carlos Echevarria is considering planning an annual Tulalip Community National Night Out.
Brandi N. Montreuil: 360-913-5402; bmontreuil@tulalipnews.com