Hoban Retire TulalipNewscom from Brandi Montreuil on Vimeo.
Pioneer of education programs at Tulalip retires
By Andrew Gobin, Tulalip News
Tulalip − After 37 years of service for the Tulalip Tribes, Maureen Hoban retires from a career dedicated to education. Through creativity and insight, she developed grant funded programs tailored to the needs of the membership to facilitate their success. Making many friends throughout her career, all of whom praise her can-do attitude and great humor, she leaves a legacy of multiple education programs that cater to a diverse student base, ranging from early childhood learning to post high school academia and training. The October 24th celebration, which was a surprise for Hoban, was held in recognition of the time and service she has given to this community.
Raised on Mission Beach, Hoban feels that Tulalip has been a part of her entire life. Although her pursuit of education and a career at Everett Community College (EvCC) took her away from the reservation, she returned to Tulalip in 1976 to form the head start program; now the Tulalip ECEAP program. She quickly began creating other education programs, continually seeking out and writing grants to procure the funding. The programs she started were geared towards making tribal members qualified for work.
"Education had to follow the economy. Whatever jobs were available, that's what we trained for," said Hoban, continuing with a humorous anecdote about the first training offered at Tulalip. "I came to Tulalip shortly after the Boldt Decision. People were getting ready to go fishing again, and there were many who didn't know how to work the nets. And so, one of the first trainings that we offered, in a partnership with EvCC in the late 70s was called networking. Our grant money came from [Washington] DC, who thought we were on the edge of technology. Immediately they sent out two men in suits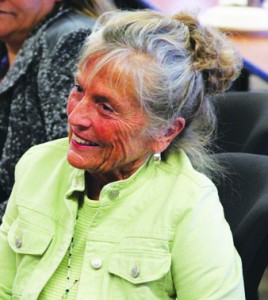 to look at our program. When they arrived at the class they found us hanging nets and were perplexed. 'What are you doing?' they asked. 'Well…we're networking,' I said. By the end of the day they had rolled up their suit pants and were knee high in water on the beach, pulling nets in with the students."
Hoban has a unique ability to pinpoint a need and meet it with a program that is beneficial beyond its end. Networking, though no longer in existence, continues to benefit Tulalip fishermen.
Stemming from economic needs, Hoban went on to develop Project Salmon, the predecessor of Tulalip Heritage High School, to allow high school students to finish the fishing season without falling behind. As the economy progressed, and other opportunities became available, she shifted the programs she developed from training to academic disciplines.
Susan Loreen of Edmonds Community College recalled how Hoban worked with students, ushering them into education, continually supporting them throughout their academic careers.
"She was always all about students and student success," said Loreen.
Hoban looked critically at the needs of students, speaking to them about their individual needs and showing students how they could help themselves, in turn making them determined in their endeavors.
"This is one lady you don't want to let down, because she truly supports your education," said Jay Napeahi, a former student that benefitted from the college programs Hoban brought to Tulalip. She encouraged him to continue with his education, showing him all that he stood to benefit. He, like many others Hoban interacted with, became the first of his family to finish college.
Today, Tulalip offers many options for adult education including NACTEP, dive training, CDL training, welding, GED courses, and higher education, in addition to continuing programs such as ECEAP and Early Head Start.
Hoban has a heart for people, not just at Tulalip, but all those she interacts with. She is humble about the work she accomplished, never seeking credit or glory, and always looking for what we can work towards next. Even at her retirement celebration, a day meant to honor her career, she spoke with humility.
In her closing remarks, Hoban said, "We are all here to pay it forward. Isn't that what it's all about? Helping to advance our community in whatever way we can has always been the focus of my career. I learned to be resilient from the people at Tulalip, who never quit no matter what their circumstance is. It is that tenacity we share that make these programs possible and successful."