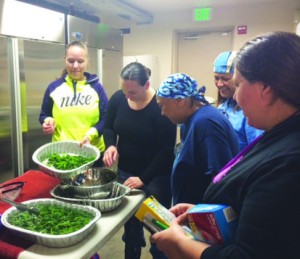 By Micheal Rios, Tulalip News 
On Sunday, March 15, 2015 the Hibulb Rediscovery Program held a native gardening plant class to give Tulalip tribal members the opportunity to connect with their ancestral roots. This class was coordinated by Rediscovery Program staff members Inez Bill, Joy Lacy and Virginia Jones.
"We were very glad to see the large volume of interest. The class filled up very quickly," says Virginia Jones. "We are thankful for the interest and wish we could offer it to more people. We are glad that people understand why we need to offer this class to our tribal members. We were anxious to see what kind of turn out we were going to have considering it was pouring down rain, but, despite the terrible weather, we were grateful to have a full class.
"The people got to hear advice about working with plants that has been picked up over the years from different teachers. The group went out and endured the rain. They learned how to harvest, clean, and process stinging nettles. They got to learn some of the uses for stinging nettles and what type of areas to look for them in. It was exciting to see. The class really came together and did the work. After the work was done they shared a light lunch.
"One of the important messages I hope everyone was able to take home is that it's our responsibility to take care of these plants and the world they live in. It is just like fishing, hunting, clam digging, and berry picking. If we don't protect their environments then there won't be any places for us to harvest them from. If we overharvest, then there won't be enough to sustain themselves. This is something that our people did for thousands of years. Now it is all being threatened by pollutants, new development areas, and people. I think a lot of the older generation can agree that the 'woods' just aren't what they use to be. If we are going to go out and take these living things, then it is also our responsibility to protect them.
"Again, we thank everyone for their interest in the class. We are glad that there are so many people willing to reintroduce these plants back into their lives. These plants are able to provide their body and spirit with so much more than store bought foods."
For more information about Hibulb Cultural Center events visit www.hibulbculturalcenter.org