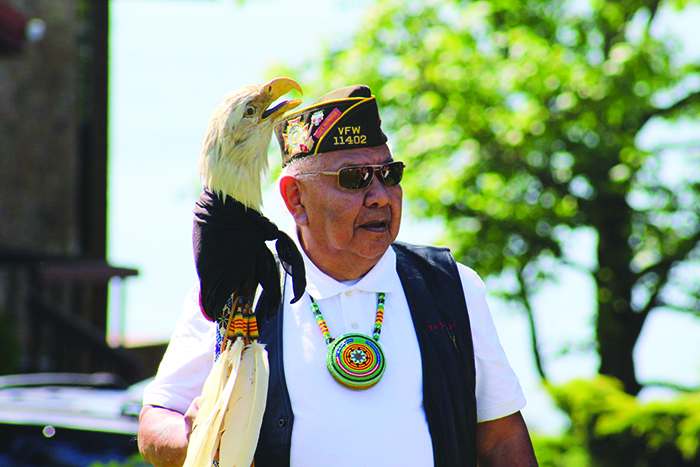 By Kalvin Valdillez, Tulalip News 
In commemoration of Memorial Day, the Tulalip Tribes held memorial services at both Priest Point and Mission Beach cemeteries, to honor and remember the fallen soldiers who paid the ultimate sacrifice while fighting for this Nation's freedom. The Tribe thanked the veterans, Gold Star Mothers and active duty members of the military for their service.
Tulalip Board member and Vietnam Veteran, Mel Sheldon, hosted the services and thanked the Honor Guards, veterans and families who prepared the cemetery for the memorial services.
"It's heartfelt to see all the flags on bedsides of Veterans who served, especially for those who paid their life, the ultimate sacrifice," Mel expressed.
Several Tulalip Veterans shared their experience with the community, recounting their days while on active duty. The services included roll call as well as a 21-gun salute at each cemetery. This year, the Tribe enlisted two Vietnam veterans as guest speakers for the memorial services.

Washington State Council President for the Vietnam Veterans of America, Francisco Ivarra, spoke to the Tulalip community about the important role of family during wartime.
"When we talk about a veteran we have to include his wife, girlfriend and family. It has to be inclusive, because when a Veteran comes home from war, combat and foreign lands, they are not the same person," said Francisco. "For those of us who served, war will always be with us for the rest of our lives. That war filters down to our families. What we are feeling, going through and experiencing, so are our families. We fought the battle, but when we come home, they are also fighting the battle."
President of the Vietnam Helicopter Pilots Association, John Shafer, served alongside Mel during Vietnam. John shared that there were over 42,000 aviators during the Vietnam War and made sure to take a moment to pay respect to Raymond Moses, a Tulalip Veteran who recently was laid to rest.
John also thanked the Tulalip Veterans and community members stating, "It is an honor to be here today with the Tulalip families and Veterans. [In the military,] Native American men and women have the highest participation role, in history.  The Tulalip families stepped up for our country and I thank each of you for your service."