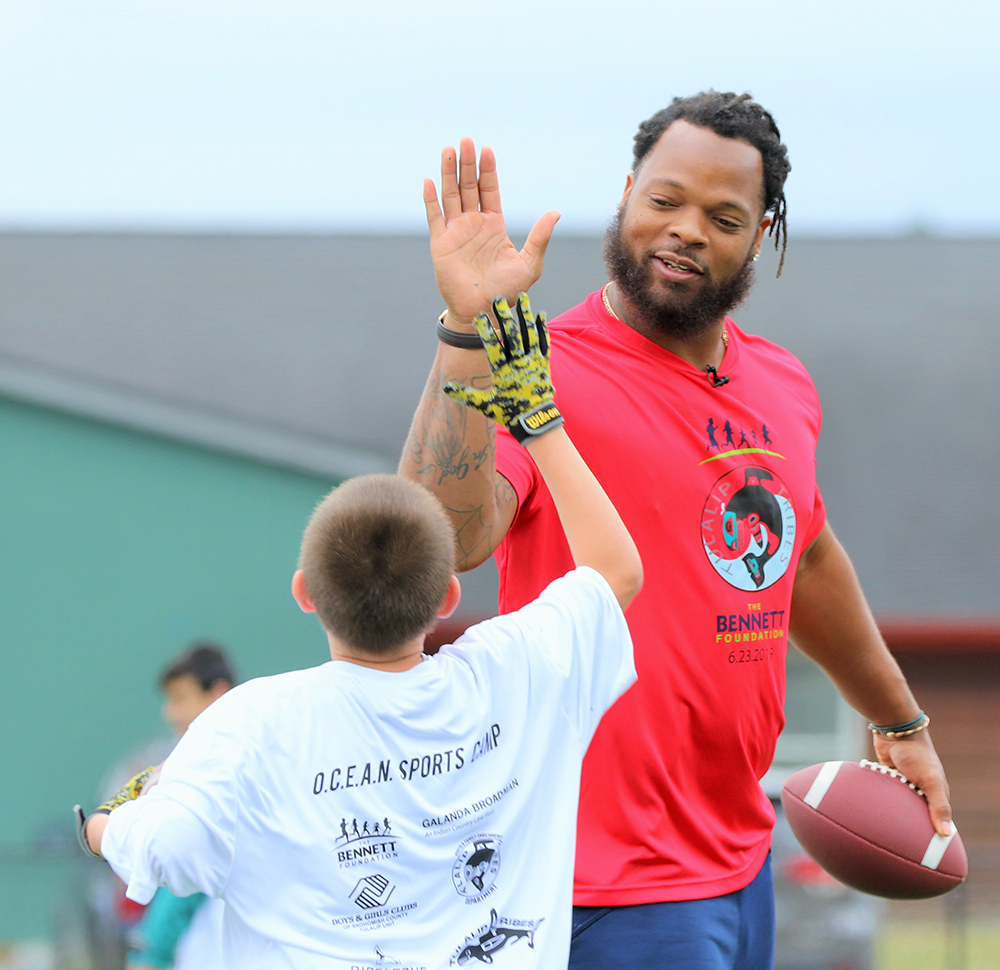 By Micheal Rios, Tulalip News
The Pacific Northwest is Seahawks country. From Blue Fridays to rallying chants of "Sea-Hawks!", the 12th Man is synonymous with Seahawks fandom. But even for the most devout of fan bases, it's a rarity for beloved players to make themselves accessible to their adoring fans, let alone those who live on a small reservation an hour outside of Seattle. Amazingly, Super Bowl champion Michael Bennett proved to be the rare exception when he held an inclusive football camp on the Tulalip Reservation.
"It's important to give tribal people, the original people of Seattle, the opportunity to be with the players they follow and love to watch on Sundays," said Bennett. "Even though their circumstances are different, I want to help empower them to fight for what they want to fight for while always being the people they want to be."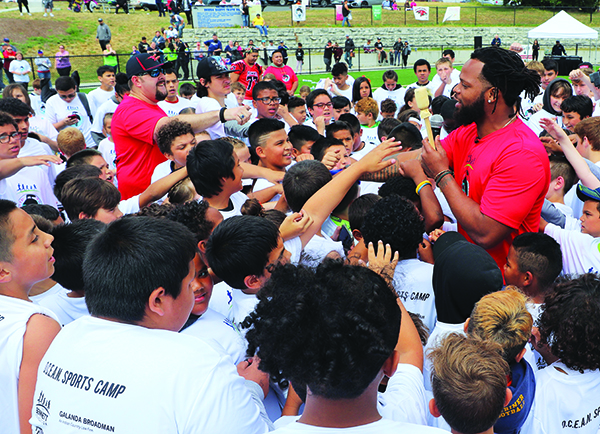 Nearly 250 kids between ages 7-18 years old participated in the highly anticipated O.C.E.A.N. sports camp held at the Tulalip Sports Complex on Sunday, June 23. Registration was completely free of charge for any youth of Tulalip and surrounding communities thanks to collaborating partners Rise Above, Boys & Girls Club of Snohomish County, Tulalip Tribes, Galanda Broadman and The Bennett Foundation.
"We've been using football camps as a way to promote healthy lifestyle choices and overall wellness for close to seven years now," explained Bennett Foundation cofounder Pele Bennett, Michael's wife. "The Foundation has been fortunate to host camps in other states and countries. Even though Michael is no longer a Seahawk, we love being able to return to Seattle where we are so welcomed and make an impact to the local communities."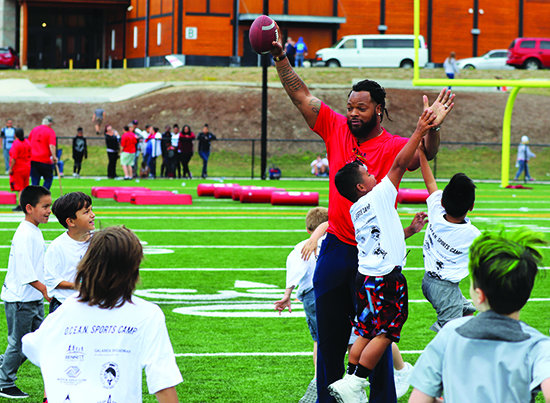 During his five-year tenure as a Seahawk, Bennett was a defensive stalwart with an uncanny ability to get after the opposing team's quarterback. Even casual fans remember his celebratory sack dance that happened so frequently it earned him three consecutive trips to the Pro Bowl and his team back-to-back Super Bowl appearances. Now, he's using his abilities and larger-than-life personality to tackle a new opponent, childhood obesity.
"When you look at obesity and diabetes in our community, the black and brown communities around the world, it's rampant," said Bennett. "Food and nutrition are the biggest barriers to the overall well-being of our peoples. People don't have Whole Foods everywhere they go. For tribal people, they don't have access to their traditional foods. It's important to have a sense of compassion and empathy for what other people are going through, and work together to break down those barriers that divide us."
Bennett and his wife Pele started The Bennett Foundation with the goal of raising awareness about obesity and providing communities with educational opportunities to learn how to live a healthy and active lifestyle. As one of the longest running programs of The Bennett Foundation, O.C.E.A.N. is an acronym for fighting Obesity through Community, Education, Activity and Nutrition. The objective of the O.C.E.A.N. sports camp is to educate the community on healthy food choices and promote physical fitness as a family.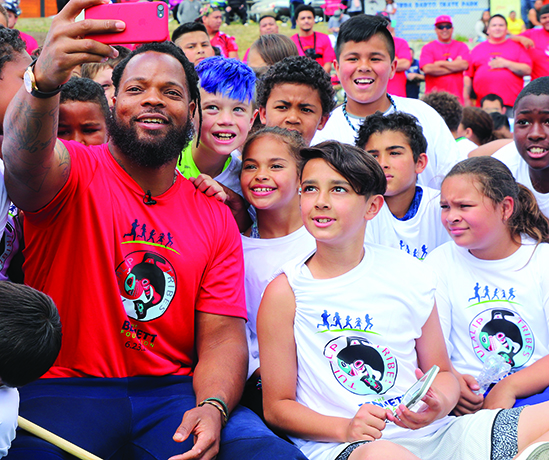 Every camp is designed specifically for each individual community, and may feature a health expo, a family fitness clinic, or an exciting fitness challenge. For Tulalip, the emphasis was on physical fitness through a variety of football drills and skill building exercises that were enjoyed by all youth participants.
Among the hundreds of eager kids who made it out on the picture-perfect summer day in Tulalip were families journeying from as far south as Olympia and as north as Nooksack. Of course, many local parents and guardians took full advantage of the on-reservation event to have their young athletes meet a sports superhero they've only seen on TV playing for their favorite football team.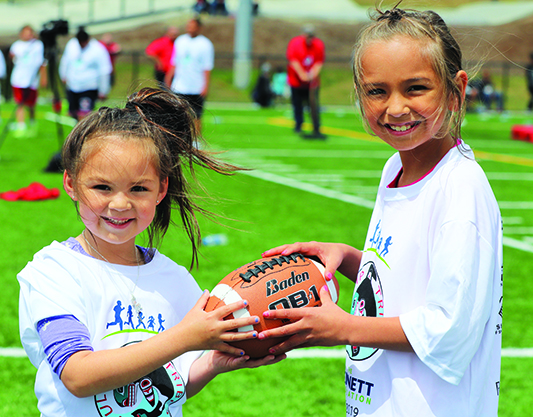 Excited 8-year-old Annavay Hatch and 7-year-old Lila Joel described meeting the former Seahawks Pro Bowler as "Good. Wait, no, it was great!" Both ran multiple passing routes in the hopes of catching a football thrown by Bennett. Annavay beamed a huge smile after catching a Bennett pass, while Lila was unable to, but still had lots of fun trying. "I caught zero. The ball was slippery, but I came really close a couple times," she said.
Making a memory she's sure to never forget, 11-year-old Noelani Cultee ran a Doug Baldwin-like comeback route, jumped up, extended her arms as far as she could and made a highlight catch by bringing in a Bennett pass thrown well above her head. Following the impressive play she boasted, "That was so cool. I thought I wasn't going to catch it because I could feel it slipping through my fingertips, but I held onto it!"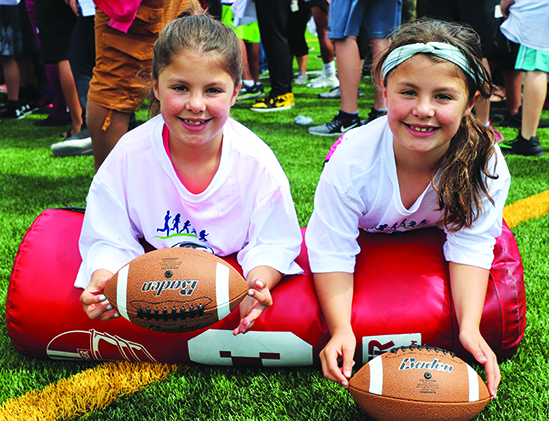 Countless youngsters made the most of their opportunity to catch a pass from the Super Bowl champ. One after another managed to reel in a pass and after each successful attempt they'd quickly run the ball back to Bennett and give the professional football player an ecstatic high-five. At one point Bennett joked he'd connected on so many touchdown throws that the Seahawks should sign him as their backup quarterback.
As the kids motioned around the football field transitioning from station to station they completed a number of physical activities. Aside from the countless curl, post, slant, and out routes ran, they also engaged in agility ladders, tested their lateral reactions with cone drills, jumped mini hurdles, and got stronger with lunges, squats and pushups just like the pros. With a DJ providing musical hits to workout to, there were only positive and encouraging vibes in the air.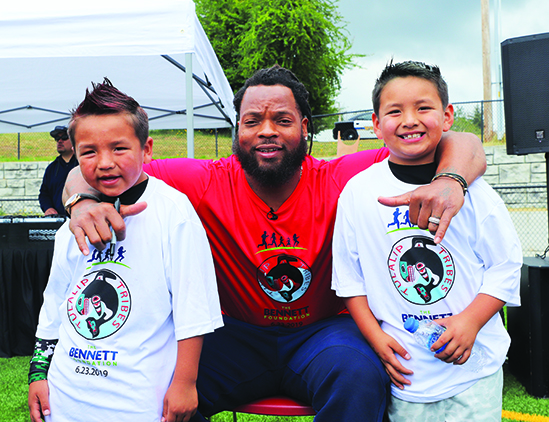 "You can just feel the positive energy that's here in this moment," marveled Jaci McCormack (Nez Perce), founder of the nonprofit Rise Above which uses sports to educate and empower native youth to live healthy lives. "There's no way to measure how these camps and athletic clinics impact these kids long term, but if we could measure that I think it would be a significant.
"These kids are going to remember catching a pass from Michael Bennett for the rest of their lives," continued Jaci. "It's not necessarily about football, it's about Michael and all the volunteer coaches choosing to be here and spend time with them. We care about them, they are our future and for them to choose to make positive choices every day is the ultimate goal. Experiences like this speaks volumes to our kids and lets each of them know they matter."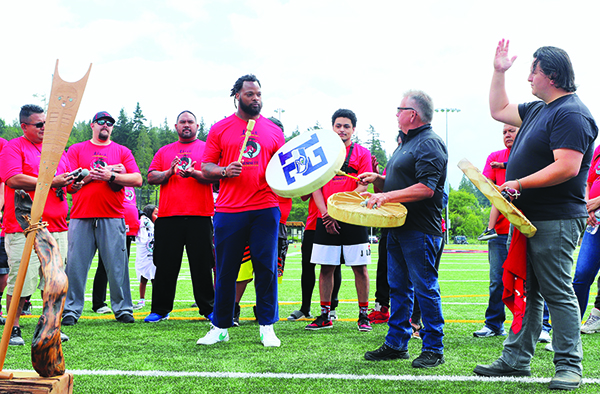 Following the football-filled afternoon, everyone gathered in the end zone to conclude the event with a traditional song. Bennet was gifted a unique 'Salish Song' paddle and commemorative 12th Man hand drum. Generously giving of his time, the NFL defensive end stuck around for an additional hour and a half to ensure every camp participant and adoring fan, including many parents and volunteer coaches, received an autograph and one-on-one picture.
"When you interact with tribal people, you feel the spirit of everything around, the essence of where you are," reflected Bennett as he walked off the field and took in the scenery that is Tulalip Bay. "Here there's a culture behind everything, there's a significance to everything being done. It's powerful, something I'll never forget."