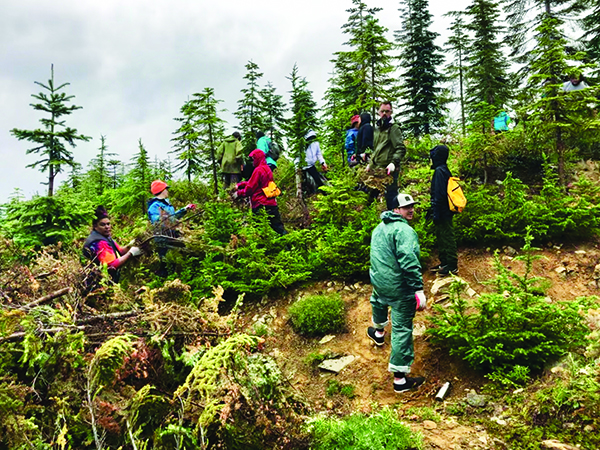 By Kalvin Valdillez; Photos courtesy of Kelly Finley, Michael Lotan, Ross Fryberg, and Tawnya Baggerly
"You would think it's just another camp but when you get up there, you realize it's so much more. You experience living how our ancestors used to; no phones and no technology at all. It was nice to get away, I had a really fun time," expressed Tulalip tribal youth, Ross Fryberg Jr.
With an abundance of breathtaking views of the natural world, the mountainous lands near the Skykomish Watershed area was once home to the Snohomish people who lived upon its plentiful resources since the beginning of time. As the original caretakers, the connection they shared with the land was strong. For generations, the Snohomish gathered cedar from the tall trees on the mountain side to weave a number of every day tools such as baskets and hats. They gathered a variety of plants for both medicinal purposes and nourishment, hunted elk, and fished in nearby rivers and streams, and most importantly, they cared for the land, honoring the living spirit of the mountains, waterways and trees.
Although times have changed and we now live in a fast-paced, technology based society, the Tulalips, as descendants of the Snohomish, maintain that relationship to their pre-colonial homelands. They perform spiritual work like harvesting huckleberries and cedar, as well as hunting and fishing just as their people had generations prior.
Five years ago, the Tulalip Natural Resources Department, in partnership with the YMCA, debuted Mountain Camp for the youth of the community, offering a chance to get away from the busy world, unplug and enjoy the great outdoors. Since its inception, Mountain Camp has provided an opportunity for Tulalip youth to get in touch with the Tribes' origins and gain a new perspective about Mother Earth, learning of the many ways she provides for Northwest tribal people. Mountain Camp was such a success, it inspired Fish Camp, a similar summertime experience that takes place on Lopez Island and teaches youth about marine life and the Salish Sea.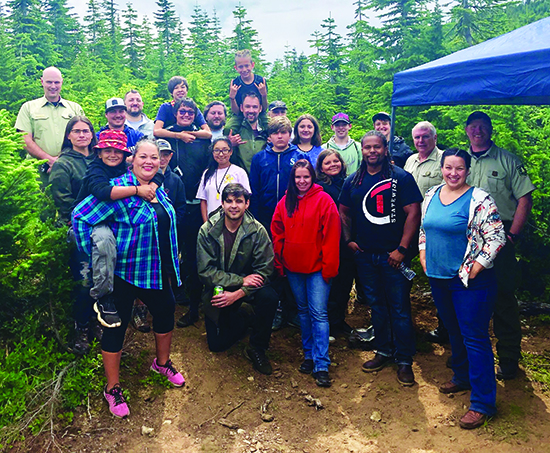 Nine kids, ages 11-13, set out for a five-day adventure to the mountains on the morning of August 5. Meeting at the Tulalip Administration building, they received a weaving lesson from Anita (Keeta) and Jamie Sheldon. The kids assembled a number of baskets, and also bracelets and anklets, before the trip, while Lushootseed Teacher Maria Martin shared traditional stories. 
This year, the Natural Resources department added Tulalip youth and Mountain Camp Alum, Seth Montero, to the crew. After showing an incredible amount of interest in natural resources, Seth returned to camp to continue learning from the natural environment and pass his teachings down to his younger peers.  
"We've been trying to work on a program for kids who have aged out and still want to participate in the program," said Tulalip Natural Resources Outreach & Education Coordinator, Kelly Finley. "Seth went to YMCA camp earlier this summer and learned how they do things at their camps. He picked up a lot of leadership skills so that he could come to our camp this year and be a leader-in-training, and hopefully one day a future counselor."
The campers loaded onto the YMCA bus and officially set course to Skykomish, Washington, a two-hour road trip along Highway 2. After reaching their destination, the campers strapped on their backpacks and made a mile-and-a-half hike to Barclay Lake where they set up camp for the first few days. During this time, the kids enjoyed the sunny weather by swimming and fishing at the lake as well as identifying a variety of plants and bugs. To get a little shade from the heat, the campers went out into the woods and played Prometheus, a fun version of the capture the flag game, where the players objective is to steal their opponents' flag without being seen. 
After three nights at the lake, the campers hiked back to the YMCA bus and traveled up the mountain to about 5,000 feet above sea level. The kids set up camp here, at the sacred swədaʔx̌ali grounds, where tribal members gather huckleberries during the late summer months. The campers were joined by Natural Resources Senior Environmental Policy Analyst, Libby Nelson as well as Lushootseed Language Teacher, Michelle Myles. Libby provided a fun interactive lesson about the plants of the swədaʔx̌ali area, while Michelle shared stories in Lushootseed and worked on traditional introductions with the kids. Libby explained that during past camps the weather was clear at night and you could stargaze and see meteor showers. This year, however, the fog rolled in as Michelle shared traditional stories, providing a cool, yet somewhat eerie, setting. 
Before calling it a night, the youth gathered enough huckleberries for pancakes the next morning as they were expecting a number of guests from the Tribe, Natural Resources, the Rediscovery Program and the Mt. Baker-Snoqualmie Forest department bright and early. 
Upon awakening, the kids enjoyed food and company with their many guests before heading to the huckleberry fields to help out with the restoration of the swədaʔx̌ali area.
"The first work was kicked off five years ago by the first Mountain Camp youth," said Libby. "And we also have Forestry do a lot of work here in September as well. Ross [Fenton] came up from Forestry and led the kids in clearing out some of the area. That's been our goal, to keep the berries from being shaded out by conifer trees. That keeps the berry patches open, encourages new growth and makes it nicer for Tulalip berry pickers. Since last year, we put up new signs that talk about the elder's teachings about huckleberries. We had each kid read one of the teachings of the elders and we talked about it a little bit."
The crew headed back to the campsite where they wove cedar headbands with Tulalip tribal member, Chelsea Craig, and listened to their guests speak about the importance of preserving the resources of the land for future generations.

"The goal is to go up there and talk to the kids about natural resources, talk about why it's important for Tulalip tribal members specifically to work in the natural resources field, what it means to us spiritually and culturally," explained Ryan Miller, Tulalip Natural Resources Environmental Liaison. "We try to get them excited about that and get them to have some ownership of it. We tend to bring them up there and teach them as much as we can about the huckleberry restoration and let them know that we pass this on to you, it's your job to continue to pass this on to the next generation and make sure these resources are here for them as well.
"I forget every year how amazing it is up there," he continued. "I'm surprised every time I go back, just by the utter beauty of the site. There's nothing but mountains and clouds around you, you only hear the sounds of nature. These kids have the opportunity to go out there and experience something that is much closer to what our ancestors experienced for thousands of years. It's almost like you can feel the connection to the earth a lot stronger there."
The campers spent the remainder of their time playing games and picking berries at the swədaʔx̌ali site. Many of the campers had yet to enjoy the tasty berries grown at high altitude, but according to lead camp counselor Michael Lotan, once their taste buds got a hold of the delicious ancestral snack, they couldn't get enough.
"A lot of people told the kids they needed to eat the berries to feed their inner Indian," Michael stated. "So, that's all they did after that, was roam around looking for ripe berries and eating them. All of them want to go back up and pick more when the berries are ready in a couple of weeks. That's another good thing this camp does, is show them we have this area that needs to be used otherwise we'll lose our rights to use it."
On their last day in the mountains, the youth packed up camp and headed to the river. Ending Mountain Camp with an extreme splash, the kids rafted down the Skykomish River before heading back to Tulalip for a welcome home celebration with their family and new friends.
"I really connected with the land because my ancestors were once there," expressed first time Mountain Camper, Matthew Hunter. "We picked huckleberries and I even got to bring some home for my mom. The restoration was fun; we cleared some trees out and made a big pile so they can burn them later. It's important that we grow more berries. This was my first time camping up there and I learned how to weave cedar, harvest huckleberries and connect with the land, campers and counselors. It was totally new experience for me and really fun."
For more information, please contact the Tulalip Tribes Natural Resources Department at (360) 716-4617.