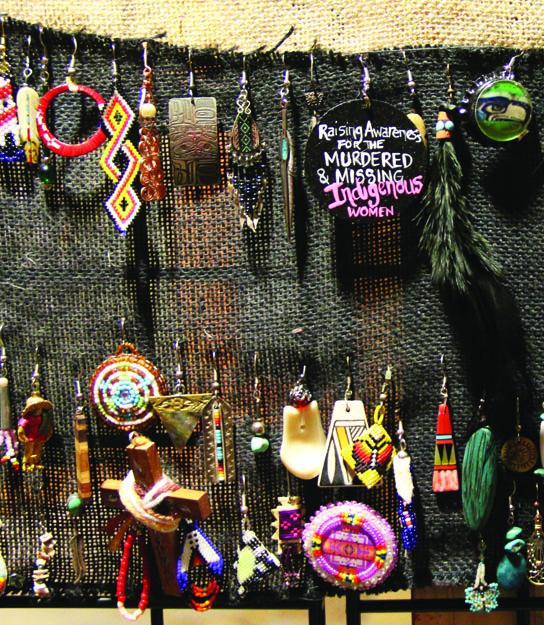 by Micheal Rios, Tulalip News
The reality.  Since 1980, over 1,181 Native women and girls in Canada have been reported missing or have been murdered. While there isn't a comprehensive estimate, there are many factors that contribute to the disproportionate number of Indigenous women who are missing and murdered in the United States.
Indigenous women have incurred devastating levels of violence in the United States. According to the US Department of Justice, nearly half of all Native American women have been raped, beaten or stalked by an intimate partner; one in three will be raped in their lifetime; and on some reservations, women are murdered at a rate 10 times higher than the national average. But many factors complicate the reporting and recording of these numbers, including fear, stigma, legal barriers, racism, sexism, and the perpetuation of Native women as sexual objects in mainstream media.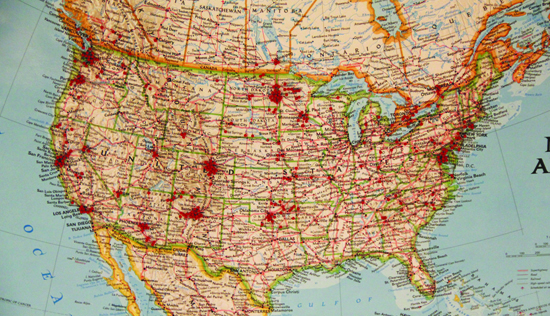 The exhibit.  On Friday, January 8, the Hibulb Cultural Center and Natural History Preserve debuted the travelling earing exhibition, Sing Our Rivers Red, created by Diné (Navajo) and Chicana artist Nanibah "Nani" Chacon. The exhibition uses 1,181 single-sided earrings to represent the Indigenous women reported murdered and missing in both Canada and the United States. Nani's intention is to use the power of this art piece to raise awareness about this epidemic that occurs in the United States and all across Turtle Island. Over 3,406 earring were donated from over 400 people, organizations, groups, and entities from six provinces in Canada and 45 states in the U.S.
Former Board of Director, Deborah Parker, who had an immense role in the 2013 Violence Against Women Act (VAWA) reauthorization, was present to witness the exhibit debut and speak on its importance.
"I thank everyone here for honoring the work that's been going on, for honoring all the missing and murdered Indigenous women who are represented by these earrings. I know for some of us this is a difficult issue to even talk about," said Parker. "When we talk about policy, protecting, and justice for missing and murdered Indigenous women there's not always the words that can be said to fight on behalf of those who cannot speak. I know this is such a somber, such a hard issue to think about, but it's so important for us to discuss. So I really want to honor each and every one of you who are here tonight because you are part of the story, you are part of the prayers, and I'm hoping and praying you are part of the solution.
"This exhibit is a good way to open up that dialogue and discuss the issues represented in this art and those earrings. We no longer have to remain silent. I strongly believe when we speak of the missing and murdered Indigenous women that we honor them on the other side, we honor their name and their presence. They deserve to be honored and to be talked about in a way that will bring justice because no one deserves to go missing from their families, no one deserves to be murdered. Hopefully, we leave this exhibit feeling motivated to stand up and to speak out for justice."
Before closing the evening's debut, several strong and motivated Tulalip women donated earrings and shared words of their importance. The earrings will join the many others that represent and speak for those who can't speak for themselves.
Board of Director, Theresa Sheldon, was one of those who donated earrings to the exhibit. "Planting those seeds of change right now is just the beginning. Making it a regular conversation with people, finding where it is that you are comfortable to discuss these issues, and learning how to further the conversation helps victims become survivors," explained Sheldon. "I truly thank you all for answering the call and being here. Please share what you witnessed tonight and carry on the words that were shared and know that you can make a difference. By sharing these messages and breaking the cycle of silence you have that ability to provide opportunities for healing."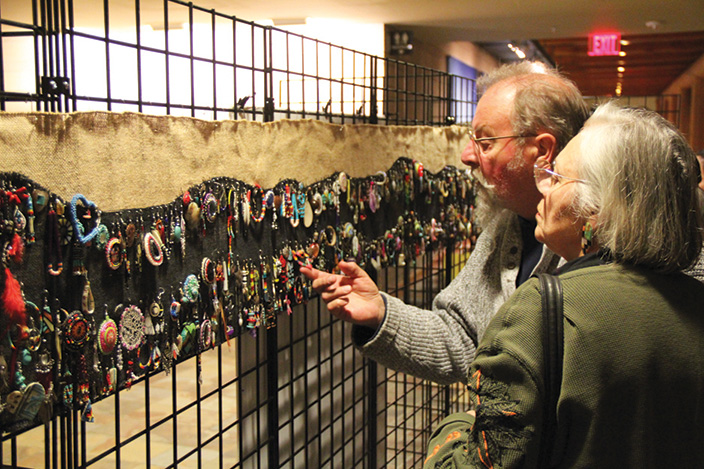 The mission. The Sing Our Rivers Red exhibition and events aim to bring awareness to the epidemic of missing and murdered Indigenous women and colonial-gender based violence in the United States and Canada. The events strive to raise consciousness, unite ideas and demand action for Indigenous women and girls who have been murdered or gone missing, raped, and assaulted, and who have not received the proper attention and justice.
Sing Our Rivers Red stands in solidarity and with collaborative spirit to support the efforts built in Canada and to highlight the need for awareness and action to address colonial gender violence in the United States. The events recognize that each of us has a voice to not only speak out about the injustices against our sisters, but also use the strength of those voices to sing for our healing. Water is the source of life and so are women. We are connecting our support through the land and waters across the border: we need to "Sing Our Rivers Red" to remember the missing and murdered and those who are metaphorically drowning in injustices.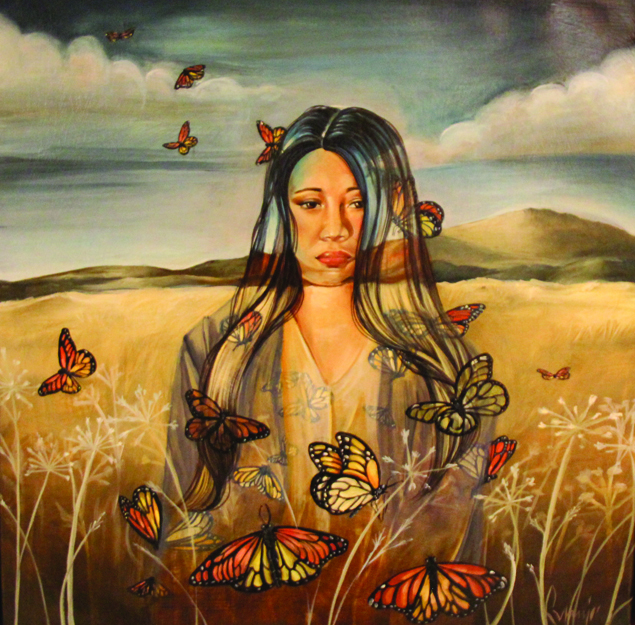 Sing Our Rivers Red will be on display at the Hibulb Cultural Center through the end of the month. For hours and directions, please visit HibulbCulturalCenter.org