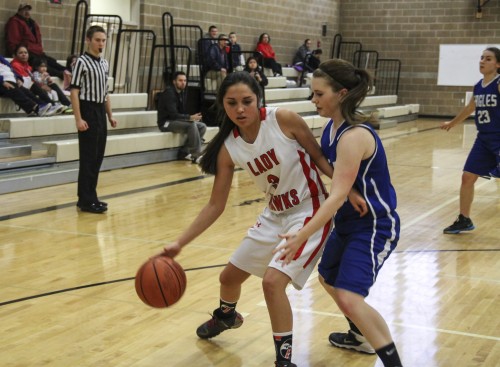 Lady Hawk #3 Myrna Redleaf
By Brandi N. Montreuil, Tulalip News
TULALIP – Fifteen-year-old Myrna Redleaf can easily be described as the most athletic player on the Lady Hawks team, evidenced by her strong baseline drives and her speed. Although a dual athlete playing both volleyball and basketball, winning isn't what she is about. Sure she loves the glory that comes with winning, but she's about being there for her team.
When asked why she chooses to play both sports she said, "I like both sports. I like to switch on and off."
Redleaf has been playing basketball since 8th grade. Now in 10th grade at Heritage High School, she is in her second season as a Lady Hawk. In the 2013-2014 basketball season, Redleaf started as a point guard. That season her team would have an incredible record 22 wins and 4 losses, only meeting their toughest opponent during the trip-district championship games in the Neah Bay Red Devils. This year, Redleaf is one of few returning players and considered a veteran on the team.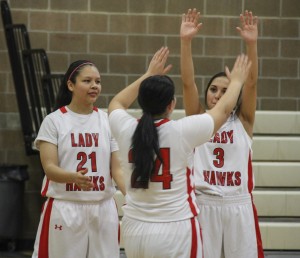 Redleaf says she is still getting used to the switch of playing style between the two sports. "I get nervous when a lot of girls come at me. It is hard." Unlike volleyball where physical contact isn't part of the sport, basketball can have a lot of physical contact. When players make a drive down the court during an offensive play to go up to make a shot, a lot of contact can occur.
This season is off to a rough start as the Lady Hawks adjust to building the team camaraderie that it had last year. Many of the players on last season's team graduated or switched schools. Redleaf explains the loss of key players, such as Katia Brown, Adiya Jones and Kalea Tyler, can be felt, but she is hopeful that this season will be great.
Despite feeling nervous to step in the spotlight and test her skills as a leader, Redleaf credits the mentoring style of coaching she receives with new Lady Hawks head coach, Cyrus "Bubba" Fryberg. "Last year there were a lot of good girls on the team so we didn't go over as many drills as we are this year. I think more one-on-one is helping me."
Dedicated and focused on and off the court, Redleaf, who's favorite subject in school is math, says playing basketball has helped her focus and build confidence on the court as well as in school. "It helps me work as a team and communicate my thoughts."
Her goal this season? Play hard and get a lot of shots in. As a scoring point guard, her main goal is to distribute the ball and get the players involved while also having to score, which means she has to have a good long shot, something she practices daily. "I practice a lot! I am still working on my long shots." Her concerns are, "mainly shooting and handling the ball." Despite playing one of the toughest games this season against Grace Academy, where the Lady Hawks were only able to score four points to Grace's 49 and had over 20 turnovers, Redleaf is looking forward to meeting them on the court again.
"Grace was a tough game. There is a lot of stuff that we need to work on but other than that, we hustled pretty well during that game. I am looking forward to playing them again, or Highland Christian," said Redleaf with her signature smile. "You just keep going. This is probably rock bottom and the only place we can go from here is up."
Redleaf plans to attend college after high school to study business. She hopes to work in the human services field with the Tulalip Tribes.
Brandi N. Montreuil: 360-913-5402; bmontreuil@tulalipnews.com