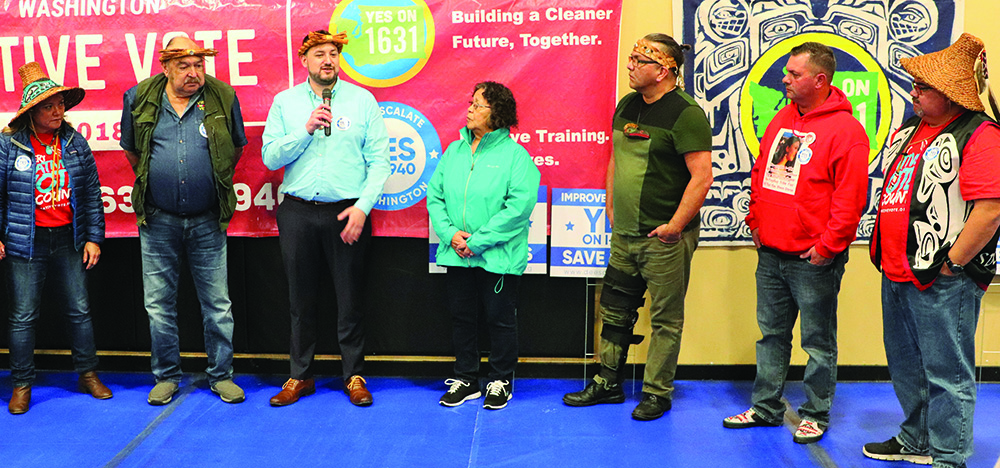 By Micheal Rios, Tulalip News
On October 27, tribal leaders embarked on a momentous 10-day tour to visit all 29 of Washington State's tribal nations in a first-of-its-kind effort to encourage Native citizens to have their voice heard by voting in the November 6 midterm election. 
According to the National Congress of American Indians (NCAI), nationwide 34% of eligible Native voters are not registered to vote. The turnout rate of American Indian and Alaska Native registered voters is also very low, being historically 5 to 14 percentage points lower than the rate of many other racial and ethnic groups. The Rez-to-Rez tour aimed to change that by going directly to Native voters and encouraging them to vote.
"The Puyallup Tribe is proud to sponsor the N8tive Vote 2018 Rez-to-Rez tour," said Puyallup Tribe Chairman Bill Sterud. "This is the very first time we've had an intertribal tour like this. Now is the time to stand up and use your voice so get out and vote!"
While encouraging Native voter turnout, N8tive Vote 2018 also shared information about initiatives 1631 (Carbon Emissions Fee Measure) and 940 (De-Escalate Washington).
"This is a historical election year for Washington natives with both I-1631 and I-940 involving Native peoples and communities at their core," said Quinault President Fawn Sharp. "As Natives, we have power… the power of our voice, the power of our unity and strength, and the power of our vote. We encourage all Natives to exercise that power by voting in this year's election."
The N8tive Vote 2018 movement came about thanks to a political coalition, called the First American Project, founded by an all-star collective of Native American leaders from within the state and their allies from fellow communities of color. With a mission to advocate for righteous environmental and civil rights policies, the First American Project's first priority was to pass I-1631, the comprehensive climate change policy that was co-authored by tribal leadership. 
After visiting 21 tribes in seven days, N8tive Vote's Rez-to-Rez tour made their 22nd stop at Tulalip on Friday, November 2. An engaged gathering of 40+ individuals from youth to elders convened at the Tulalip Youth Center for an evening dedicated to empowering each and every Native citizen to cast their votes and mail in their ballots. 
"My hands go up to all of you who are committed to spreading awareness and encouraging participation in this most important midterm election," expressed Tulalip Chairwoman Marie Zackuse during the voting rally. "We must work hard to protect our people and our sovereignty that is being attacked every single day. We must never forget our ancestors who stood up strong and fought for us as a people to have the right to vote, to have our voices count."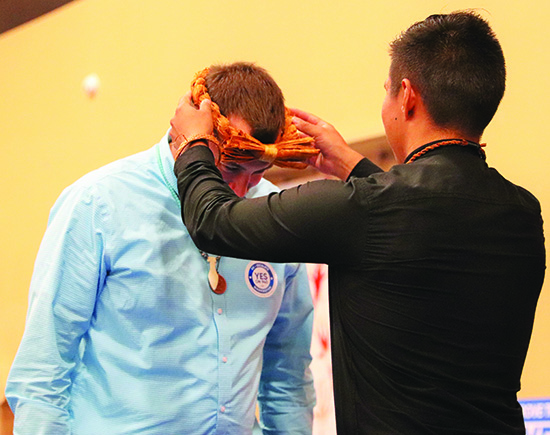 During the evening's event, Tulalip tribal members Terry Williams and Ryan Miller were both recognized for their steadfast commitment to strengthening our community by advocating and creating policies that protect the environment and our treaty rights. For their years of service and dedication they both were wrapped in blankets and gifted cedar woven headbands.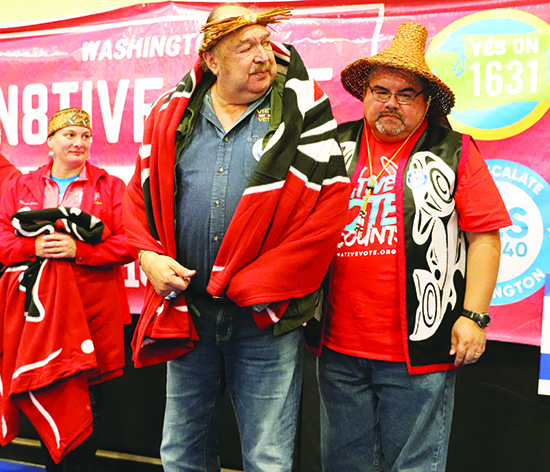 "It has been a very good day. A day where we came together as different tribes to speak the same language and see the same vision of what's in front of us," reflected Terry, who made his career as a treaty rights commissioner working for Natural Resources. "The togetherness allows us to walk in unison with good hearts and good minds as we look to protect our Mother Earth." 
---
Celebrating midterm election results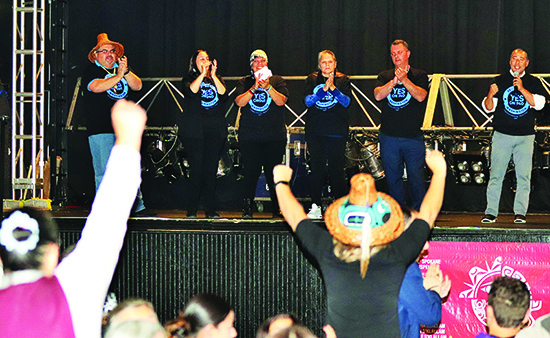 Progress, justice, and history is being celebrated around Indian Country as Election Day results showed Democrats regaining control of the House of Representatives, Sharice Davids (Ho-Chunk) and Deb Haaland (Laguna Pueblo) becoming the first-ever Native women elected to Congress, and the tribal-sponsored Initiative 940 (De-Escalate Washington) passed with strong support.
"Washington becomes the first state in the nation to respond to the national conversation about use of force by passing a ballot measure by a direct vote of the people," stated De-Escalate Washington's official campaign page following the victory. "Yes on 940 will improve training, save lives, and help build better relationships between law enforcement and the communities they serve."
A large contingent of 250+ Native citizens gathered at the Puyallup Tribe's stylish showroom for an election night viewing party. The occasion also marked the final destination of N8tive Vote 2018's Rez-to-Rez tour.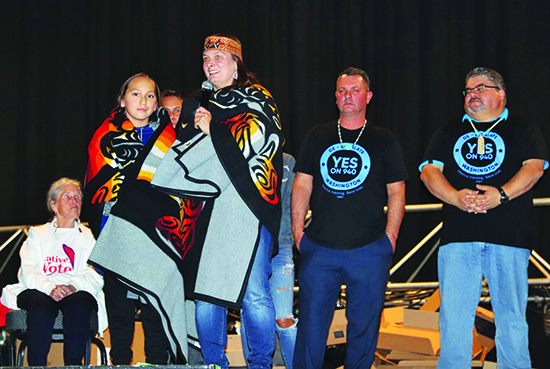 "Today, we finished our 29th tribe on our amazing Rez-to-Rez tour," reflected Tulalip tribal member Theresa Sheldon while addressing the crowd of supporters. "We have driven across the state from plateaus to the ocean, up and down the Salish Sea to encourage our people to vote! It's been a fast and furious trip and I'm so thankful for this time.
"It's been an absolute honor and privilege to have served on this journey to empowering our Indigenous communities," she continued. "That fact that Initiative 940 passed is amazing; that is victory, that is justice, and that is speaking to the power of what we can achieve when we stand united."
Celebrations were also enjoyed more locally by the Tulalip Tribes and their allies thanks to tribal member Senator John McCoy retaining his position by defeating challenger Savio Pham, and the passing of Fire District 15 Proposition #1, which will provide the Tulalip Bay Fire Department with much needed funding to upgrade emergency medical services.