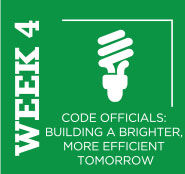 By Monica Brow, Tulalip News Writer
Tulalip, WA-The final week of National Building Safety Month is all about creating and maintaining an energy efficient home. General electric has developed an online test that can be used to estimate the carbon footprint for each household and points out what levels you are at compared to the national average. This useful tool will give you an idea of where to begin when creating a more energy efficient home.
The usual and more common energy efficient methods that, if you haven't already implemented one more you should do so, will save you money on water and electric bills along with helping out the environment. They include fitting your home with energy efficient doors and windows, proper home insulation, installing low flow toilets and shower heads, using LED or florescent light bulbs, and energy star appliances.
Some of the less common techniques aim toward sustainability through recycling. They include lessening garbage waste by recycling and saving kitchen scraps for garden composting. Install a rain water barrel to catch water for gardening. Use a manual lawn mower instead of electric or gas powered will save money and provide a workout. When building or renovating a home, find reclaimed building materials instead of buying new; this adds a uniqueness that isn't mass produced and can be cost saving.
Carbon foot print calculator http://www.ge.com/ivillage/calculator/
For NBSM handout material or questions contact Orlando Raez of the Tulalip Tribes Community Development at 360-716-4214
10 tips for green and sustainable building
Heating and cooling uses more energy and drains more energy dollars than any other system in the home. Approximately 43% of utility bills cover heating and cooling.
Close curtains and shades at night to keep warmth in and keep them open during the day.
Try new lighting control technologies like motion-sensitive or timed off switch lighting. Using these new options can reduce lighting use by 50% – 75% and save the lighting portion of energy bills that account for 11% of overall household energy consumption.
Replace ordinary light bulbs with Compact Flurosent Light (CFL) bulbs. If every household replaced just one light bulb with a CFL bulb, America could save enough energy to light nearly three million homes.
Install a programmable thermostat to keep your home comfortably warm in the winter and comfortably cool in the summer.
Replacing windows can save between 7% and 24% of the household heating and air-conditioning costs.
Plug home electronics, such as TVs and DVD players, into power strips, and turn the power strips off when the equipment is not in use as TVs and DVDs in standby mode still consume several watts of power.
Choosing energy-efficient products can save families approximately $400 a year while reducing greenhouse gas emissions. Chose ENERGY STAR certified products when you buy or replace household appliances.
In the workplace, buy and use ENERGY STAR labeled office equipment, and other products. Be sure that the "stand-by mode" function is activated as this automatic "sleep mode" saves energy and money when the equipment is not in use.
Regularly change the filters in the heating and cooling system of your home or office as dirty filters can cost up to $5 a month extra, overwork the equipment and result in dirtier indoor air.
Consider purchasing "electrostatic" filters, which are washable, long lasting, and provide cleaner air. Clean or change filters more often if smokers or pollution sources are present.