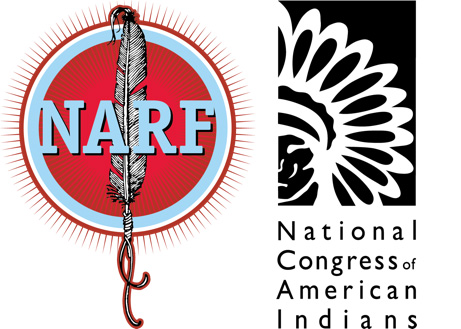 Source: NCAI Press
WASHINGTON, D.C. | Today, the National Congress of American Indians (NCAI) Executive Committee adopted an emergency resolution opposing the nomination of Eric Miller to the  U.S. Court of Appeals for the Ninth Circuit. NCAI and the Native American Rights Fund (NARF) had previously sent a joint letter to the Chair and Ranking Member of the U.S. Senate Judiciary Committee expressing their grave concerns about Mr. Miller's nomination.
"Our concern is that [Miller] chose to build a law practice on mounting repeated challenges to tribal sovereignty, lands, religious freedom, and the core attribute of federal recognition of tribal existence. His advocacy has focused on undermining the rights of Indian tribes, often taking extreme positions and using pejorative language to denigrate tribal rights. Indeed, his law firm website touts his record, with over half his private practice achievements coming at the expense of tribal governments," said NCAI and NARF leadership.
Today's emergency resolution immediately responds to reports that the Senate leadership will proceed with Miller's nomination hearing during the Congressional recess next week.
"We are gravely concerned that the Committee is planning to consider this nominee at a time when members of Congress are not in D.C. and will not be able to fully examine his record on Indian law issues," said NCAI President Jefferson Keel. "This is not how a lifetime appointment to a federal court with jurisdiction over 427 federally recognized Indian tribes should be handled."
Both NCAI and NARF are committed to protecting the rights of tribal governments. For nearly two decades, NCAI and NARF have jointly advocated for the nomination and confirmation of federal judges who, along with their commitment to uphold the Constitution, are committed to the principles of tribal sovereignty, treaty rights, and the federal trust responsibility enshrined within it. Mr. Miller's record reflects hostility toward tribal sovereignty, treaty rights, and the federal trust responsibility, or their role in the Constitution and federal law.
Read the full NCAI Resolution #DEN-18-042 here<http://www.ncai.org/resolutions/DEN-18-042_Resolution_Text.pdf> along with the joint letter NCAI and NARF<http://www.ncai.org/policy-issues/tribal-governance/legal-judicial/NCAI_NARF_Re_Eric_Miller_9th_Circuit.pdf> sent to the Senate Committee on the Judiciary on August 21, 2018 on questions and concerns regarding Eric Miller's nomination.