By Brandi N. Montreuil, Tulalip News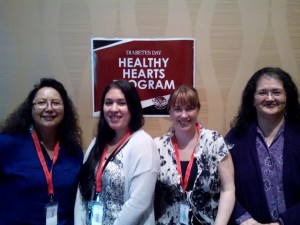 TULALIP- Healthy Hearts, Healthy Minds is a research program focusing on Native American cardiovascular disease (CVD) and diabetes patients residing on the Tulalip Reservation, or within 20 miles of the reservation. Their goal is to lower stress levels in patients resulting from CVD and diabetes management.
The program is taught through weekly sessions over a 3-month period, and is individually focused.  Participants are required to have a medical diagnosis of CVD, diabetes, or pre-diabetes. Culturally sensitive curriculum features coping skills and self-care techniques based on diagnosis requirements.
"Research found that Natives have this problem with CVD and diabetes. They are at a really high risk for getting these disorders. The idea is to try to find out what it is that is making them more at risk and to find an intervention," said June LaMarr, program's community principle investigator.
While the program does not treat diabetes patients as the Tulalip Diabetes Program offered at the Tulalip Karen I. Fryberg Health Clinic does, the project coordinator Michelle Tiedeman explains collaboration between the two programs ensures all healthcare concerns are addressed in patients.
"Their program focuses on the diabetes portion, we are addressing those symptoms of stress resulting from diabetes self-care management. The idea is we are hoping to lower those levels in order to increase those diabetes self-care behaviors that are needed to maintain glucose levels," said Tiedeman.
In each session participants can expect help identifying stress triggers and develop tools to reach goals relating to diabetes care. Participants are requested to complete a base-line assessment, which includes a fasting blood draw, brief physical assessment, and a survey questionnaire, before starting their first session.
There is no cost to participate in the program, but participants are provided a small incentive for participating and can earn up to $190 in gift cards and checks.
"We are looking for people who are experiencing some type of stress in managing those diabetes self-care behaviors. We are trying to help them learn ways to feel less overwhelmed by everything they are asked to do, and help them basically fall into a healthy routine with their diabetes," said Tiedeman. "We don't want people to think they can't participate in both diabetes programs, we want ours to be viewed as an additional service. Because it is a research project, we are hoping that the program is found effective, so we can look to the future and maybe offer something more sustainable in the community."
Healthy Hearts, Healthy Minds is funded by the National Institutes of Health and National Institute on Minority Health and Health Disparities. For more information in participating in the program or the program itself, please contact 360-716-4896 or email healthyhearts@iwri.org.
Brandi N. Montreuil: 360-913-5402; bmontreuil@tulalipnews.com