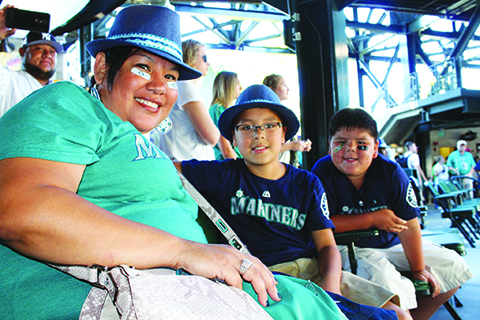 By Kalvin Valdillez, Tulalip News
On a beautiful warm summer evening, hundreds of tribal members from across Washington State traveled to Safeco Field to watch the Seattle Mariners take on the New York Yankees. Every summer the Mariners partner with the Emerald Queen Casino to present Salute to Native American Night, in which the baseball clubs celebrates Pacific Northwest Native American culture.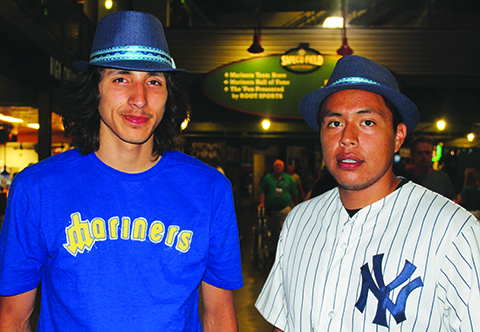 The Mariners often present gifts on game nights, such as t-shirts and bobble heads, to fans that arrive early to the stadium. In honor of Native American Night, the baseball club gave away fedora hats designed with salmon, in traditional Coast Salish art, to the first 10,000 fans to enter Safeco. Several tribes received tickets to the game to disperse amongst their members. The majority of the Tulalip community sat together in section 149, near left field, creating a fun atmosphere with friends and family while enjoying America's favorite pastime.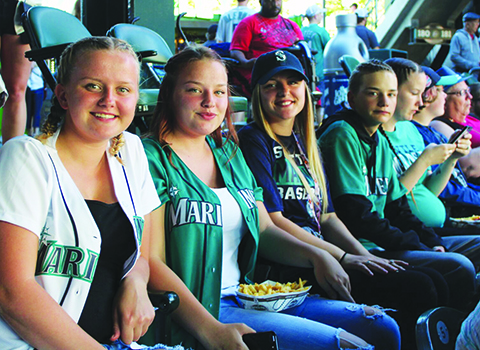 The sold-out stadium contained a playoff-type energy as the fans were treated to a close and intense ball game. Mariner's Second Baseman, Robinson Cano, hit a solo homerun in the bottom of the eighth that gave Seattle a 5-4 advantage. However, the Yankees came back to tie the game in the ninth inning. The game extended into extra innings, where the M's we're able to score a walk-off run to win the game, providing a thrilling victory for the fans of Seattle.