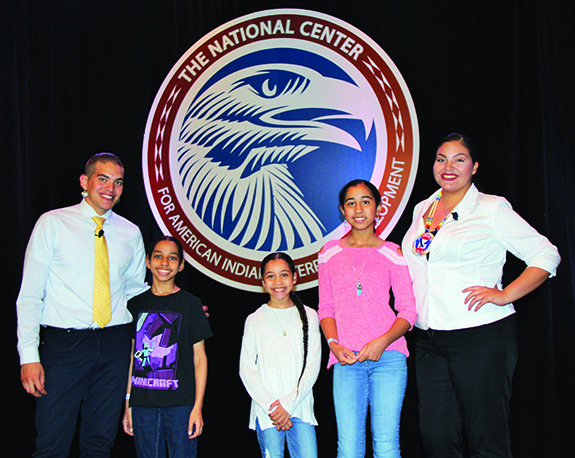 By Micheal Rios, Tulalip News
Engaging and inspiring Native American youth toward success, a one-of-a-kind Youth Entrepreneurship Summit (YES!) was held in the Tulalip Resort Casino's Orca Ballroom during the afternoon of Tuesday, September 5.
Designed for Native high school and college-aged students interested in business and entrepreneurship to hone their skills and learn more about what it takes to become successful in business, YES! offered Tulalip youth especially an opportunity to hear good words and success stories from Native business owners around the area.
To get the eager young minds' creativity flowing, the summit opened up with a thought exercise. Everyone closed their eyes and pictured themselves in a tunnel, and at the end of the tunnel there is a ball of light.
"That ball of light represents your success, your dreams, your ambition, and everything you are striving for in life. That's what is at the end of your tunnel," declared event co-M.C. Dyami Thomas (Klamath/Leech Lake Ojibway). "Now envision on both sides of your tunnel are open doors. These open doors represent your struggles, obstacles, and all the negativity in your life. These doors stay open and there are thousands of them, but as you zoom towards the ball of light and move passed each door it closes. You can look right and look left into the open doors, but never walk through them because once you walk through one you never know if can get back on your path to the ball of light.
"This tunnel, your tunnel, represents tunnel vision to the person your meant to become. Always see that light at the end of the tunnel. When you feel lost, sad or lonely then close your eyes and see yourself in that tunnel and look towards your ball of light. Some of us like to quit and give up because they aren't making big steps, so they start making excuses and entering those open doors only to never make it back on their path. You all have to understand that no matter if it's a big step or many small steps, each step is heading in the same direction, and it's toward that ball of light; to your success and ambition making your dreams come true."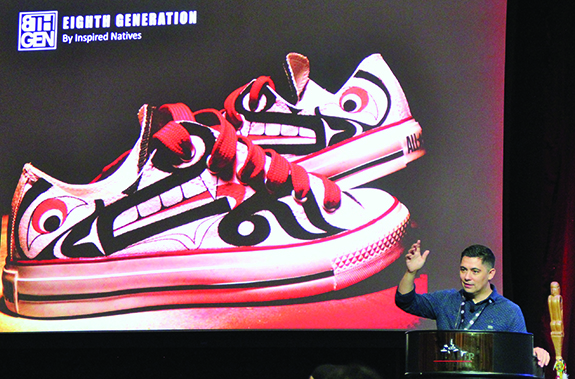 Following the exercise, audience members were amped to hear several successful Native entrepreneurs share their stories. Guest speakers included Louie Gong (Nooksack – artist and owner of Eighth Generation), Rebecca Kirk (Klamath – singer, actress, and talent manager), Jordan Skye Paul (CRIT Mohave – user experience manager at Pinterest), and Dyami Thomas (model, actor and motivational speaker).
Among the crowd of engaged youth was a family of Tulalip tribal members, mother Angela Davis and her three children Abigail, Samuel, and Samara Davis. Angela said she was excited to bring her kids to the Youth Summit after seeing a flyer online, "Entrepreneurship is something we've been talking about with our children for years now. We encourage them to be their own individual, to be unique, and embrace their Native American culture. Attending this event is another way for us to encourage and implement what we've been teaching them."
11-year-old Samuel commented his takeaway from the Youth Summit was that you can start from scratch and make something really big out of your passions. Younger sister, 9-year-old Abigail added, "I learned you can build amazing things if you really put your mind to it. If you try really hard and focus on what you want to make out of yourself, then you can make it happen."
With encouraging and inspiring feedback from future Tulalip entrepreneurs, YES! was effective at engaging the youth who attended and helping to plant seeds for future success.