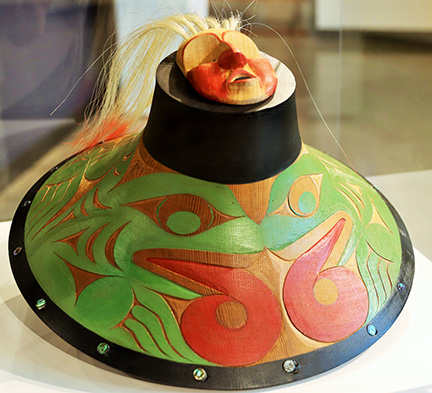 By Micheal Rios, Tulalip News 
Thirty years ago, you couldn't find a map using the term "Salish Sea" for the Puget Sound region. There were Seattle galleries and souvenir shops aplenty selling Native art, but the masks, totem poles and sinuous formline animal prints were designs from hundreds of miles away, not from here. 
Thirty years ago, no major art museum in Washington had mounted an exhibit highlighting Native created works of our own lands and waters. Salish artists were indeed honing their skills and creating beautiful works of art, but the critical interest and most gallery attention was focused on art from Alaska and the Canadian coast.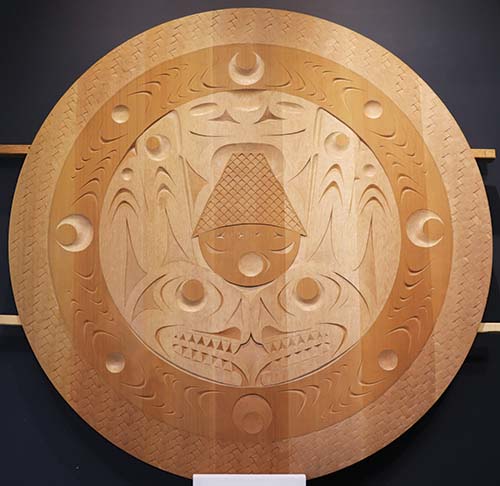 In 1989, the balance started to tip. Washington's Centennial exhibit of Native arts opened, managed by Patricia Cosgrove and Kenneth Watson. Both art historians were on a mission to convince Washingtonians that totem poles are not indigenous to this area and that Salish art is. The exhibit was incredibly successful, and soon many influences aligned to literally change the landscape of the Northwest Native art market.
Ever since, the diligence and commitment of so many artists and their allies has led to the word 'Salish' entering mainstream vocabulary. This insured the characteristic sweeping lines and subtle patterns of Salish arts remains recognizable and emblematic of the greater Seattle area.
Through the effort of many, this vision has come true. High quality galleries like Seattle's Stonington Gallery and Steinbrueck Native Gallery feature experienced and rising artists from across the Salish Sea region. Generations of new artists have risen in skill and popularity. Today, Salish art is an explosion of innovation and creativity that still has a firm foundation in our region's heritage.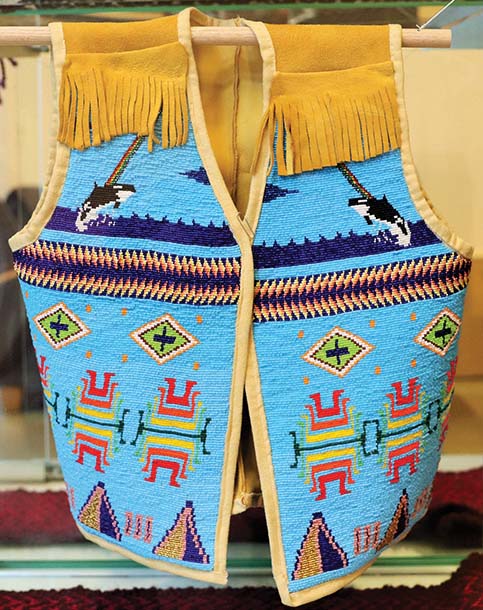 That innovation and creativity of Coast Salish artistry is currently on full display at the Mobius Art Gallery, located in Bothell on the Cascadia Community College campus. Inside the gallery mounts an unprecedented five-week long exhibition titled Native Spirit: Art from Indigenous Cultures.
"The artists and artwork in this exhibition embody a wide range of spirit and narratives that live within their Native cultures," stated exhibit curator Chris Gildow. "Their skills, creativity, and passions are equaled only by their commitment to breathe life into artwork they create. Their artwork tells us about the connection between human and animal worlds, about salvation and transformation, and about our relationship with the Earth. This exhibition lets us share these stories and traditions with the entire community."
On Tuesday, October 9, the auditorium adjacent to Mobius Art Gallery was filled with excited art enthusiasts and college students who heard there would be a traditional Native American welcome ceremony to mark Native Spirit's grand opening. Led by Ray Fryberg, the Tulalip Canoe Family filled the auditorium with traditional song and dance to commemorate the special occasion. 
Eight artists were selected to be showcased in the Coast Salish themed exhibit, which includes handcrafted submissions by five talented Tulalip tribal members: Mike Gobin, Tillie Jones, Ty Juvinel, James Madison, and the artist known as Cedar.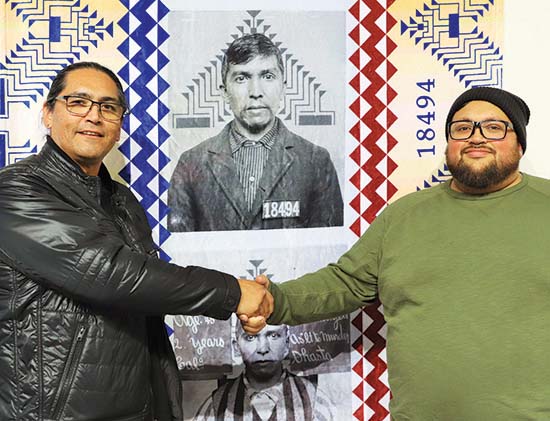 "It shows there's a lot of talent in Tulalip," said art gallery contributor Ty Juvinel. "We've grown a lot as artists. Seeing all the different artwork and local artists represented here is awesome."
"I met the curator of this exhibit, Chris Gildow, about a year ago when he asked me about a Salish exhibit that he wanted to put on here at Cascadia College," added Lower Elwha artist Alfred Charles, Jr. "As artists, he gave us free reign to create whatever we wanted. I'm excited that so many people came out and shared their art with the community. This exhibit turned out great."
Coast Salish art is rich in its diversity of forms. Masks, weavings, wood carvings, jewelry, and intricate bead work are but a few of the common mediums often associated with the Coast Salish style. Subject matter includes, but is not limited to, human and animal forms, spiritual themes and mythic figures. A diverse selection of artwork was chosen to be on display. 
Native Spirit: Art from Indigenous Cultures will be on display until November 15. Mobius Art Gallery is open and free to the public Monday – Thursday, 10:00am to 4:00pm. For more information please visit www.cascadia.edu/nativespirit