Join tribal leaders to learn about policy changes and other strategies that support the People and Land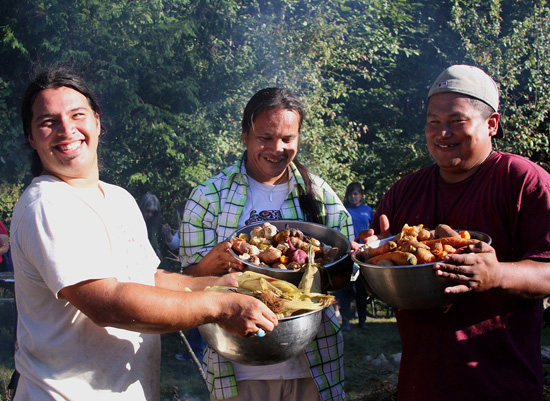 Source: Ryan Key-Wynne, NWIC
Studies show that returning to a more traditional diet can help Native Americans improve health and reduce problems such as diabetes. People from throughout Indian Country have put those findings to work and are contributing to policy changes and strategies that promote access to traditional foods.
Many of these champions for traditional diets will gather at the second annual Our Food is Our Medicine conference, hosted by Northwest Indian College's Institute of Indigenous Foods & Traditions. The conference brings together tribal leaders and allies, giving them opportunities to teach and learn from each other while initiating ongoing relationships that will benefit all.
"We are very excited to host this gathering, which brings people together to discuss successful models for activating policy change in tribal communities," said Meghan McCormick, coordinator of the Institute of Indigenous Foods & Traditions, which is a program of NWIC's Cooperative Extension Department. "While many tribal agencies throughout the United States engage in work related to wellness through traditional plants and foods, there is often little collaboration between these organizations. Most are burdened by incredibly heavy workloads.  This gathering will be a platform for people to connect, share ideas, and inspire one another."
One speaker who is sure to inspire at the conference is Micah McCarty (Makah), the former chairman of the Makah Nation and current chair of the First Stewards Board (among many other leadership roles). McCarty is one of the keynote speakers lined up for the conference. His work in Neah Bay, Washington led to significant headway in strengthening the response to oil spills in coastal waters, helped to protect tribal whaling rights, and fostered strong connections between tribal and non-tribal governments.
In addition to invigorating keynote speakers, the conference will include interactive workshops, plant walks, traditional food sharing, storytelling and cooking demonstrations.
"This year we are focusing on policy in support of the People and the Land," McCormick. "We will be discussing strategies that will bring traditional foods in tribal programming and how to build partnerships with land holders to sustainably harvest and protect resources"
Some workshops will include:
Tribal Food Sovereignty Projects
Policy in Government Programs
Tribal Food Policy Council
Policy to Improve Access & Protection of Gathering Sites
GMOs
Seed Saving
Composting
Climate Change & Policy
Seaweed Demonstration
Activating your Story
The conference will take place Sept. 11-13 and will be held at Bastyr University, an innovative university focused on natural health education near Seattle, Wash. The registration cost for the conference is $200, day passes are $100.
For more information, contact Meghan McCormick, Institute of Indigenous Foods & Traditions coordinator, at (360) 594-4099 or mmccormick@nwic.edu. To register, visit bit.ly/ofom2013.